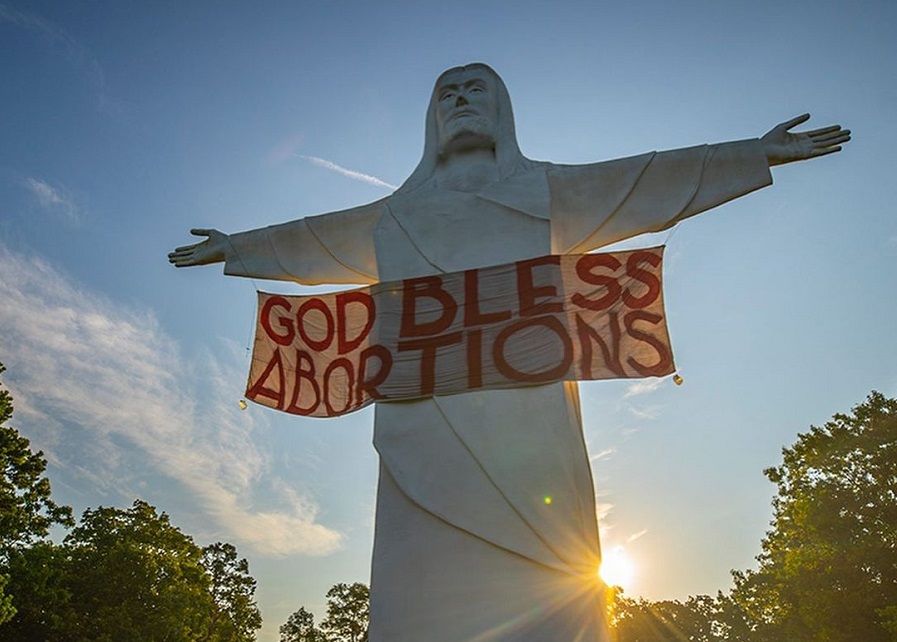 The owners of Arkansas's largest statue of Jesus woke up one recent morning to a shocking surprise: a 44-foot banner reading "God Bless Abortions" had been hung across it, from arm to arm.   
The banner was put there by the activist group "Indecline" as an act of protest against the anti-abortion laws on the books in Arkansas, which are some of the strictest in the country.
The Jesus statue, known as Christ of the Ozarks, stands an impressive 67 feet tall and sits on private land in Eureka Springs, Arkansas.
What Was the Motive?
Apparently, the culprits disguised themselves as construction workers and snuck onto the grounds late at night to hang the banner. In a statement, they wrote:
"We think Jesus would understand the concept of a difficult decision. He supposedly had to make a few of them and understood sacrifice very intimately…. When people have strong beliefs about decisions that don't affect them, those beliefs are worth questioning. We are just here to ask those questions."
While the group acknowledges it broke the law, it also insists critics should shift their perspective.
"We believe that walking into a Jesus theme park at night and hanging a banner that was removed the following morning is a far cry from the draconian laws Arkansas politicians are pushing on women in need. If people can't see that, they need their moral compass recalibrated."
What Happens Next?
The curator in charge of maintaining the statue announced that he plans to press charges against the protestors. And he had a few choice words for the folks responsible:
"Lord help them," he said. "Maybe He'll somehow touch them and make them realize how bad that message really is."
We posted about the incident on Facebook, where our followers had a spirited debate over the merits of the protest:
What is your reaction?