Perhaps now more than ever before, there seems to be a rift between people of different religions. You see it everywhere in news articles, on social media, and perhaps in your own life. Depending on the nature of your disagreements, it can be tricky getting along with someone who is not the same religion as you. However, it's important to respect the religious autonomy of others.
Throughout history, countless people were enslaved, neglected, demonized, or even killed because of a difference of beliefs. It's a good idea to do our part to make sure we are being loving of all people, no matter how different they are for us. Whether it's a friend, a family member, a coworker, or just an acquaintance, here are some things you can do to help keep the relationship positive, or at the very least, neutral.
**Have Humility
**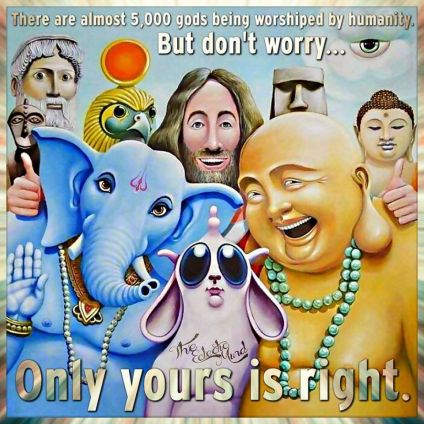 This is the big one. The problem of not getting along over religious differences is really all about big egos. At least one party has to think he has all the answers to the questions of life and has to insist that anyone who thinks differently is lacking in some capacity.
When defending a decision to believe in one religion and not others, people will often say that theirs is true and makes sense. We have to remember that people of any faith can genuinely give that exact response. We need to be humble; our understanding of the universe is very limited.
People can see and feel the same things we do yet be compelled to believe in a different faith. Everyone adult that is religious has given thought to why they chose to be so. Respect their autonomy and that neither of you knows the full truth.
Find Things You Have in Common
There's a lot more to life than religion. While many people hold their religion near and dear to their hearts, there are many other things you likely have in common with the other person. Perhaps the two of you love the same kind of music. Maybe there's a television show you can't get enough of, or you two have the same hobbies. Finding these commonalities can help you find something to focus on. When you have something in common with a person, it's typically easier to get along with him or her. Not only is this a great way to find a conversation starter, it's a way you can find out what to do if the two of you ever hang out.
Don't Try to Convert Them
If you are a religious person who is friends with an atheist or agnostic, don't try continuously to get them to come to your church. Mentioning it once or twice is fine, but when you spend every waking moment together trying to get him or her to come to your church or holding them to your religious tenets, the relationship isn't likely to go well.
As a general rule, try to only invite him or her to church once. There may be an event you think he or she will be interested in, or it could just be a casual invite. If he or she doesn't seem at all interested, then let it go.
From the other perspective, try to be open when someone is talking to you about religion. You should realize most people hold religion near and dear to their hearts, and it's something that's really important to them. Let them down gently if you aren't interested in attending their church. If they keep bringing them up, tell them you aren't interested right now, but you will let them know if you change your mind (even if you don't think you will).
Avoid Negativity
Saying anything negative about a person's religion isn't going to go over well. As mentioned before, religion is very important to many people, and so you should be sure to avoid negative comments when referring to someone's religion. The same is important for someone's lack of religion. Having respect for each other is important. You probably don't want to be judged for your religious stance, so make sure you don't show disrespect to other people, either.
Getting along with people of other religions can present some complications, but it certainly isn't impossible. Finding some common ground and having respect are likely all you have to do. In addition, take an opportunity to read up on the religion so you know a little more about it. You may be surprised what great friendships can happen between people of completely different religions.