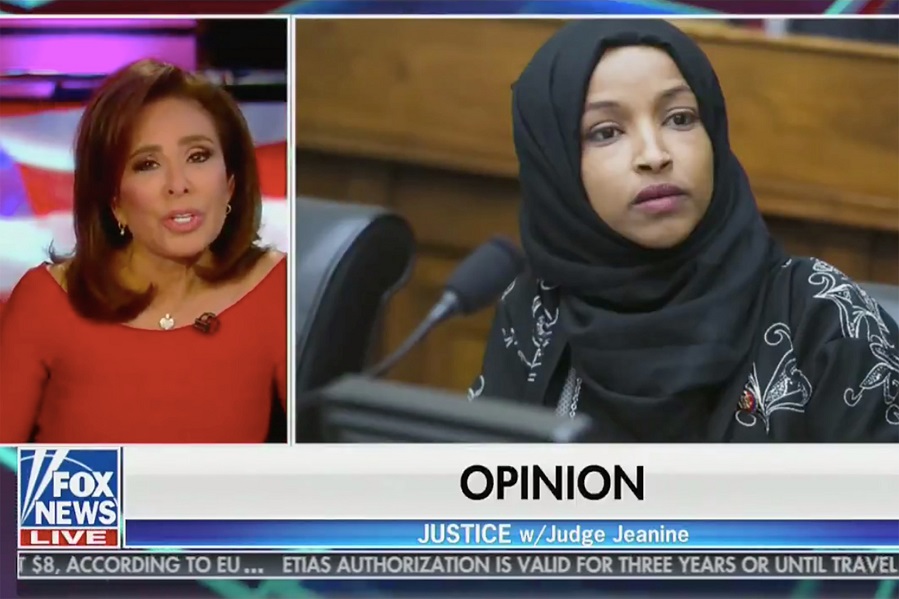 ---
In November, Ilhan Omar became the first Muslim woman elected to Congress (along with colleague Rashida Tlaib). Although many cheered the news, it became clear almost immediately that Rep. Omar's faith would prove contentious among some of the more conservative members on Capitol Hill. In fact, a few detractors even argued that the newly-elected congresswoman shouldn't be allowed to wear her hijab while in office, citing an obscure centuries-old rule that bars head coverings on the floor of the House.
Recently, Rep. Omar landed back in the spotlight over her questionable comments about Israel that some viewed as anti-Semitic. A subsequent apology called "insufficient" by critics kept her name in the headlines.
With the stage set, enter television personality Jeanine Pirro. The popular Fox News host took issue with Rep. Omar's Muslim faith during a televised segment over the weekend:
Swift Backlash
In a rather rare occurrence these days, Ms. Pirro's remarks were widely condemned across the political spectrum. Even many on the right who have expressed concern over certain aspects of Islam took issue with the segment, pointing out that religious freedom is a foundational element of the American Constitution and our democracy.
Critics also jumped on a rather obvious flaw in Ms. Pirro's argument. People of other faiths have not faced scrutiny over their choice of attire, so why should she?
Does America Have an Islamophobia Problem?
Despite the condemnations even one from Fox News itself the damage was done; the message had already been viewed by millions of people.
This incident necessarily leads to questions about Islamophobia in America. Hopefully there comes a day where one's choice of religious attire regardless of what faith it represents will be rightly viewed as inconsequential. But hearing someone argue exactly the opposite on a major television station seems to indicate we are not there yet.
Do we, as a country, have trouble treating Muslims equally?