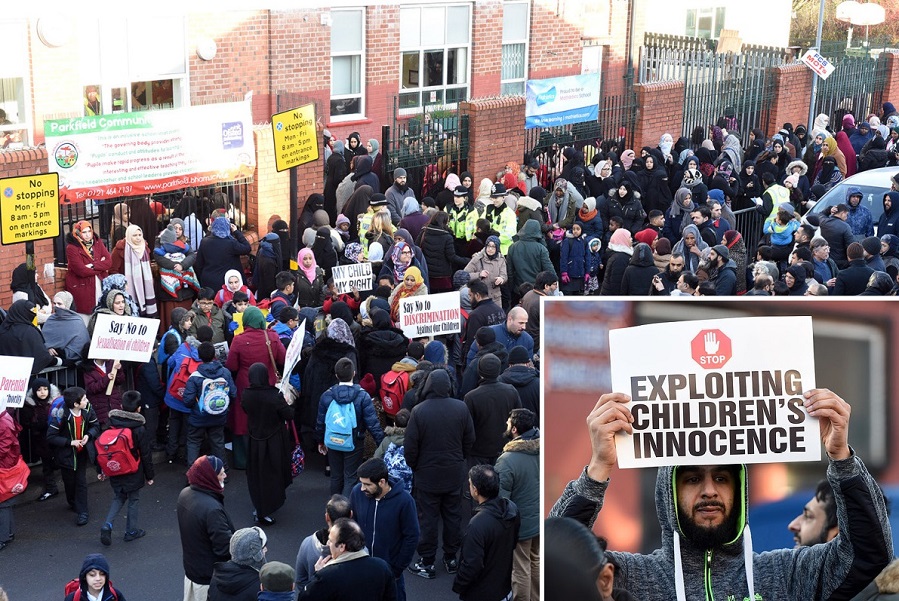 ---
A public elementary school in the U.K. has become ground zero for an intense political standoff between two opposing groups: Muslim families and LGBT rights supporters.
The dispute centers around an educational program at Parkfield Community School in Birmingham called 'No Outsiders.' The program is intended to teach children about LGBT issues and promote acceptance of all identities.
Assistant teaching head Andrew Moffat, who is gay, helped design the curriculum and sees it as an important strategy for combating bigotry in schools. By addressing ideas like homophobia and transphobia before they are allowed to take root, the thinking goes, there is an opportunity to eliminate them entirely.
But not everyone agrees particularly those who pray to Allah.
Outcry from Muslim Community
Parents raising their children under the Islamic faith were none-too-pleased to hear their children were learning about LGBT issues in the classroom. Angry protests soon erupted outside the school demanding a change.
Numerous Muslim parents went on the record to accuse the school of "indoctrinating students" with ideas that are "inconsistent" with the teachings of the Quran. Others simply argued the topics aren't age-appropriate for young kids. "Children are coming home, girls are asking whether it is true they can be boys, boys as young as four asking whether it is true we can be girls. There is no need for it," one mother told reporters.
However, the most vocal opposition to the program stems not from a concern for children's well-being, but instead from religiously-inspired homophobia. The video below, shared widely on Twitter, shows a Muslim protest leader condemning the LGBT education initiative and shaming Mr. Moffat for telling kids that "it's okay for you to Muslim and for you to be gay."
Children can be heard echoing chants of "shame" off camera.
Amid the ongoing protests, public pressure to discontinue the program further escalated when over 600 children were held out of classes and some were withdrawn from the school entirely. Faced with no other option, school officials announced they were canceling the curriculum.
Religious Freedom vs. Homophobia
For those of us who've supported the LGBT rights movement over the years and loudly cheered the 2015 Supreme Court decision, this type of rhetoric is particularly disturbing even if it's coming from across the pond.
Fundamentalist religious beliefs whether they be Muslim, Christian, or some other faith are frequently at odds with LGBT rights. How, then, are we to balance these two competing ideals? What comes first: combating homophobia or protecting religious freedom?
Everyone has a right to their own beliefs, so long as those views don't cause or encourage harm to anyone else. This is already a difficult line to draw, but when you introduce public education the issue gets even more complex.
What do you think? Should religious groups have the power to dictate what's taught in classrooms?