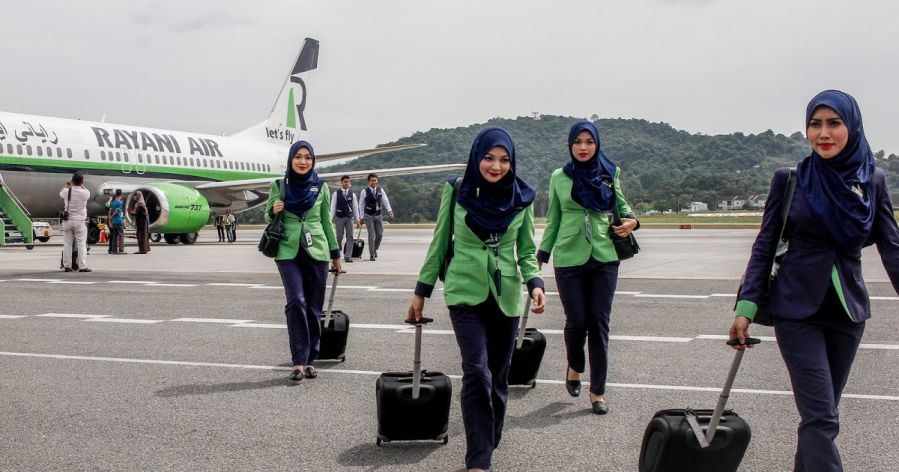 ---
Government officials in the Indonesian territory of Aceh are now requiring all Muslim flight attendants to wear a hijab when flying into the region's airport. Violators who defy this enforcement of sharia law will face punishment from the religious police.
The government reportedly sent a letter to the various airlines who use Aceh as a travel hub to notify them of the change. "All female stewardesses must wear a hijab in accordance with the rules of sharia," the authorities wrote in the letter.
Several domestic airlines responded with approval, noting they will comply with the new policy wholeheartedly. However, not all carriers appear thrilled by it. Malaysia-based companies AirAsia and Firefly, who operate frequent flights into Aceh, say they plan to replace their female crews with all-male crews in order to avoid conflict.
Probably a smart move, given that officials are planning to come down hard on violators. "If a Muslim crew member fails to comply, we will reprimand her. If she does it repeatedly, I will order police to nab her" said Mawardy Ali, a local government leader.
While non-Muslim flight attendants appear to be exempt, it's unclear how much leeway there is in the new policy.
**Hijabs on Heads
**
The new rule mirrors the religious laws that govern Aceh, a unique territory which operates independently of the rest of Indonesia. Similar to Saudi Arabia and other conservative Islamic countries, women in Aceh are required by law to wear hijabs while in public.
Apparently, people began complaining when Muslim flight attendants stopping over in Aceh for short layovers chose to ignore the rule. The Aceh government decided to issue the new regulations to clear up any ambiguity and prevent women from baring their heads however briefly while in between flights.
"I hope the airlines respect the uniqueness of Aceh where sharia is implemented," Mr. Ali cautioned.
A Demand For "Sharia-Compliant" Flights
Interestingly, Indonesia is not the only country in the region to inject Islamic law into the airline industry.
Back in 2015, neighboring Malaysia launched Rayani Air, the nation's first "sharia-compliant" airline, and only the fourth of its kind in the world. Rayani Air mandated that Muslim flight attendants cover their heads, completely prohibited alcohol on its flights, and served only halal food.
Although Rayani created quite a bit of buzz when it opened, it didn't take long for the sharia-compliant airline to lose its appeal. Ironically, it had nothing to do with the dress code.
Critics accused the company of focusing too much on religious customs and neglecting other important aspects of operating an airline. Local news reports documented numerous safety violations, and interviewed passengers who complained about lengthy delays, cancelled flights, and amateur-looking handwritten boarding passes. Some pilots downright refused to fly the planes because they were kept in such poor condition.
Rayani ceased operations in 2016.
Coming to an Airport Near You?
While some are confident that sharia-compliant airlines are destined to remain relegated only to highly-conservative Islamic countries, others aren't so sure. They point to research showing that Islam will soon overtake Christianity as the world's largest religion. With this growth in Muslim population, they worry the influence of sharia law could expand along with it.
Would you have any issues with flying on a sharia-compliant airline?