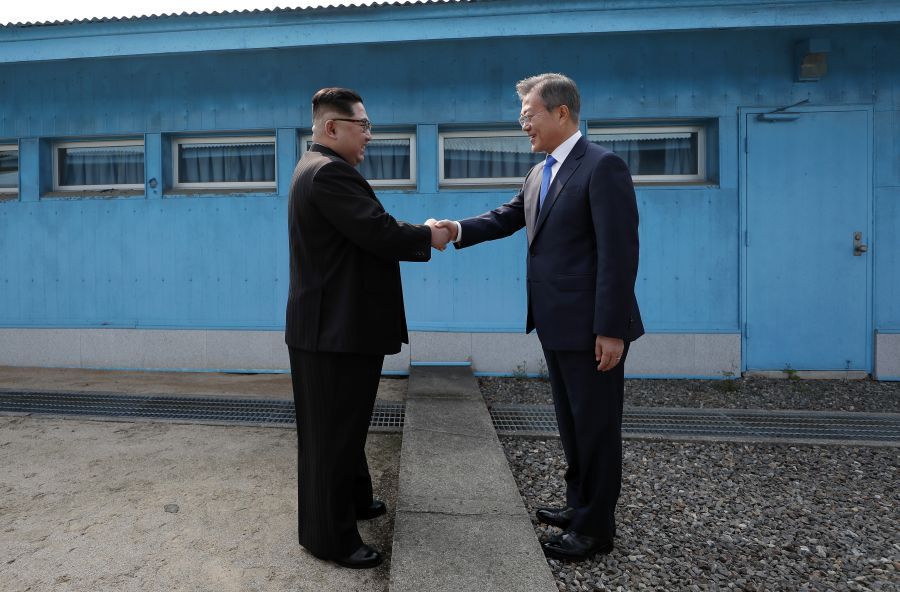 ---
In a historic move, North Korean leader Kim Jon Un stepped across the border into South Korea for the very first time on Friday for a face-to-face meeting with President Moon Jae-in. The two men sent waves across the global political landscape when they declared mutual intent to finally put an end to the Korean War a conflict which began 68 years ago.
After years of heightened tensions between the neighboring countries, a lasting peace between the North and South finally to be a possibility. While no formal treaty has yet been signed, this remarkable first step is cause for much optimism.
President Trump reacted to the news on Twitter, confident that pressure from the U.S. played a significant role in the breakthrough:
Giving Peace a Chance
Leaders of North and South Korea hadn't met in over a decade, and many experts were worried the conflict would get a lot worse before it ever got better. The highly-anticipated peace summit was an especially surprising turn of events given that just months ago the North was threatening nuclear strikes.
Speaking at a banquet after the summit, Kim Jong Un said "we need to maintain peace" and vowed to "open a new era of co-prosperity," which he thinks will be necessary for both countries to realize their full potential.
Even more monumental, perhaps, was an agreement by both countries to get rid of nuclear weapons and work toward a "nuclear-free Korean peninsula."
"There Was Never A Good War, Or A Bad Peace"
Despite positive reactions from world leaders, some people remain skeptical. There are those who doubt North Korea will follow through on these lofty promises due to its history of nefarious activity. Others insist forming a peace accord would have the side effect of letting North Korea's laundry list of human rights abuses go unpunished.
But for a world dealing with all too much violence, war, and suffering, peace any peace will be heralded as a step in the right direction.
Your reaction?
[Update 4/30] South Korean President Moon Jae-in thinks Trump should get a Nobel Prize for assisting in the peace talks: