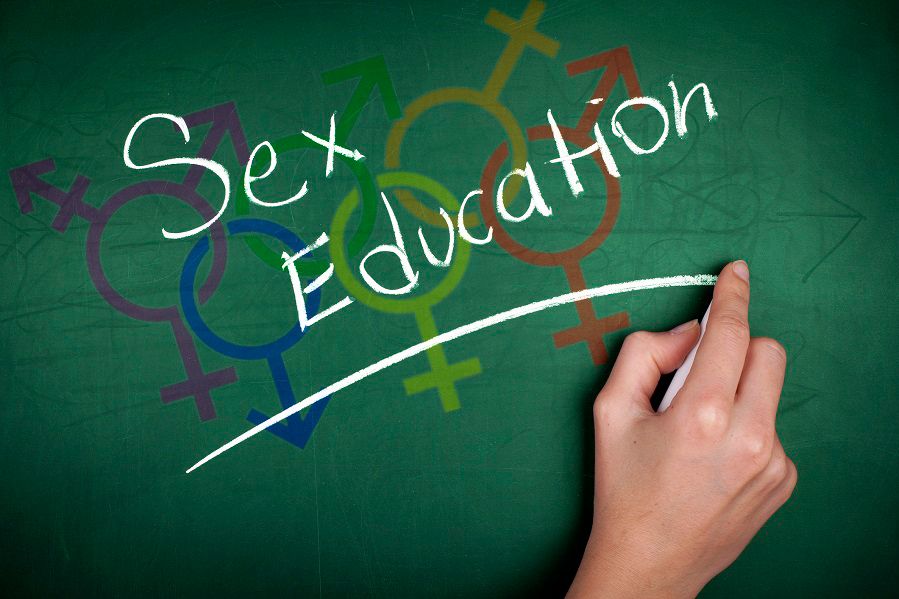 ---
A California school district recently announced that its robust new sex education course would be mandatory for all high school students. But when parents who objected to the material tried to pull their children from the course, they were told that a 2015 California law prohibits them from doing so. The law stipulates that all students must undergo classes that instill "healthy attitudes" on "gender and sexual orientation" and other topics related to sex.
"What happened to parental rights?" they asked.
Orange County school district officials explained that disagreeing with course material isn't reason enough to keep their children away from class. "Parents do not have a constitutional right to excuse their children from portions of the school curriculum that they find objectionable," explained an attorney representing the district.
Groups are now organizing to fight the decision. Not only does the school district have a warped view of what "healthy attitudes" toward sex are, the parents say, but these ideas are now being forced on children against their will.
What's So Controversial?
The designated teaching materials for the course include a "sexual health tool kit" that's intended to address teen sexual activity and promote safe sex. But certain sections have made parents extremely uneasy. For example, the guide defines "anal intercourse," and "phone sex" as "common sexual behaviors" a notion that many religious and conservative-leaning families object to.
The guide also provides advice on how to use sex toys and anal lubricant. One of the more heavily-criticized passages reads: "What if you don't have time or money to buy sex toys? Cucumbers, carrots, and bananas (with the peel) make great dildos. Just remember to use a condom!"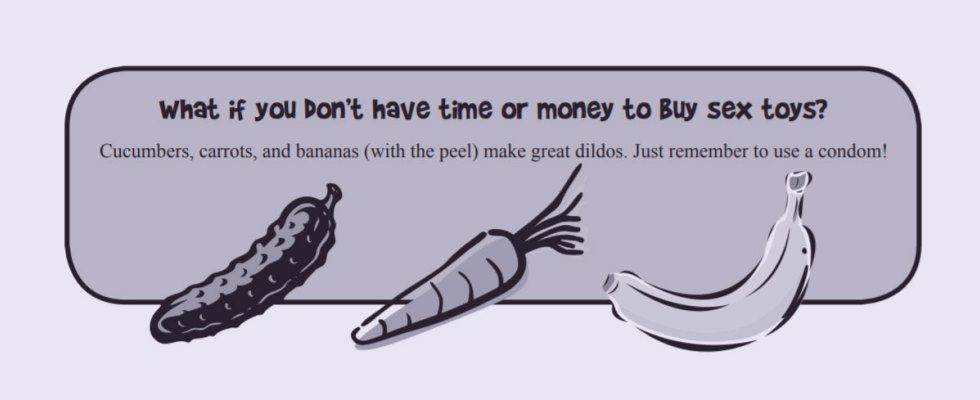 Parent groups say this kind of instruction goes way beyond the scope of traditional sex ed and promotes the "sexualization of children" an outcome that's neither admirable nor desirable. They insist that to avoid flooding young minds with perverse ideas, sex education should occur in the home, not in the classroom.
Kids Have to Learn Somewhere
However, sex-ed proponents insist that such courses are necessary to help teens understand important realities about sex stuff they're unlikely to learn at home.
Furthermore, while the ultimate goal is to improve teen sexual health, advocates say this can't be done successfully if significant minority groups such as LGBT teens aren't offered accurate information as well. The California course material includes lessons intended to promote safe-sex activity among both straight and LGBT individuals.
Further, per the 2015 law, California teachers must recognize all sexual orientations, take a positive view toward transgender identity, and provide thorough explanation of the harmful effects brought on by "negative gender stereotypes."
"LGBT Indoctrination"
As one might expect, these stipulations have led some parents to complain about the "LGBT agenda" being used to "indoctrinate" their children. One particularly angry parent with a large Facebook following took to the social media platform to express her outrage and push back against the initiative: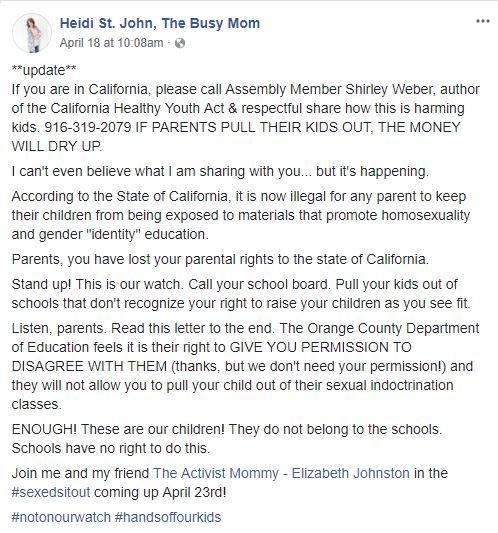 In general, religious and conservative groups argue that kids are being taught a skewed view of the world which emphasizes social justice and downplays biological facts. When these ideas are taken too far, it can have negative effects on society. They point to cases of young children seeking given hormone therapy to switch genders, or parents attempting to raise kids entirely "gender neutral" as notable examples.
**Drawing a Line
**
Parents insist the government is exploiting its power to spread progressive views on sex and identity, filling the minds of young people with troublesome information. They're demanding the right to pull their children out of these so-called "radical" sex-ed classes.
The question here reaches beyond whether or not kids should be taught sexual education in school. Rather, the main focus appears to be finding a line between useful educational material that helps inform naive students about sexual health, and unnecessary or excessive information that might promote sexual deviancy.
And moreover, who gets to draw that line? Should parents be given more control, or is it okay to leave this matter up to the schools?