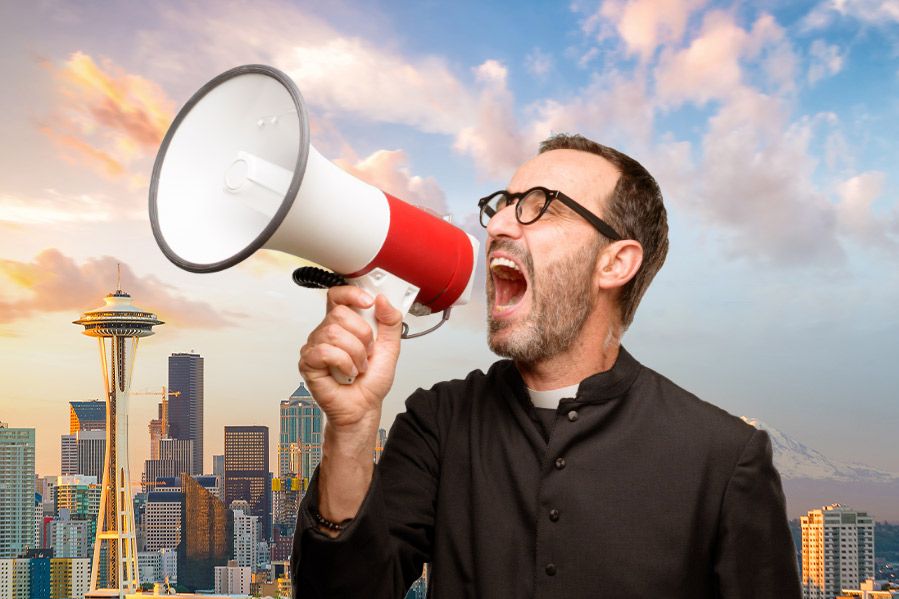 The city of Seattle closed the park where evangelical singer Sean Feucht's rally/concert 'Let Us Worship' was slated to take place, just hours before the event was set to begin over this past weekend.
With a big sign saying "Park Temporarily Closed" and security guards at entrances, the Parks Department took no chances on throngs of maskless Christians gathering together to worship. Although Feucht's event wasn't mentioned by name, the writing on the wall was clear. The park will be closed Labor Day "due to anticipated crowding that could impact the public health of residents," a sign out front read.
Now Feucht is crying foul, arguing that Christians are being discriminated against for the simple crime of wanting to praise their God. 
Complaints of a Double Standard
Was Seattle engaging in anti-Christian discrimination, or was the park closure justified?
Feucht claims the city was engaging in anti-Christian behavior, arguing that Seattle lets Black Lives Matter activists protest wherever they wish.
"They don't say [there's a public health risk] about the Black Lives Matter movement. They don't say the same thing about antifa. A lot of those guys have been destroying things," he said.
Locked out of the park, Feucht took to the streets and led an event that was equal parts protest and worship.
"It was obviously a targeting and discrimination against believers in this city," Feucht told Fox & Friends the morning after the rally-turned-protest. "It's so wild, because yesterday on 4th Avenue in Seattle they had antifa rioters throwing mov cocktails at policemen, and yet the city focused their energy on our peaceful worship and prayer rally."
Feucht called it the "height of hypocrisy" for "godless politicians" to target Christians while the cities they lead are "succumbing to rioting and burning and pillaging."
Parks and Registration
Seattle officials haven't commented on the story except to point to the official response from Seattle Parks and Recreation. 
"Out of concerns for the safety of all those who visit Gas Works Park we have opted to close the entire park for the day. Seattle Parks and Recreation does not allow unpermitted public events to take place in Seattle parks and asks the public to continue to adhere to current public health guidelines so that we can keep our parks open."
The issue from the city's end appears to be simply that Feucht's event was unpermitted.
That's not even mentioning that Feucht's 'Let Us Worship' events are being held specifically in defiance of shelter-in-place orders in densely populated cities where COVID-19 could spread rapidly. We wrote last month about Feucht's event in Portland, Oregon, where masks were a very rare sight, and Feucht himself has made numerous Tweets indicating a skepticism towards masks. 
If past behavior was any indication, it's clear that the event as-intended would be a potential COVID hotbed.
Is the Government Quelling Christianity?
Feucht's concert series is called "Let Us Worship" - implying that there's some shadowy force preventing Christians from practicing their faith.
But is that true? In the midst of an international pandemic that's left nearly 200,000 Americans dead, there are countless examples of forward-thinking church leaders successfully pivoting their congregations to digital worship, keeping their flock's faith needs met while also keeping them safe.
There's a great undercurrent of irony to Feucht's "Let Us Worship" concert series. If Feucht and his followers would wear masks, socially distance, and do their part to help end the coronavirus outbreak, Feucht would be free to hold all the concerts in the world (assuming he gets the proper permits).
Instead, according to public health experts, events like "Let Us Worship" will only prolong our collective quarantine, preventing the return of normal life.