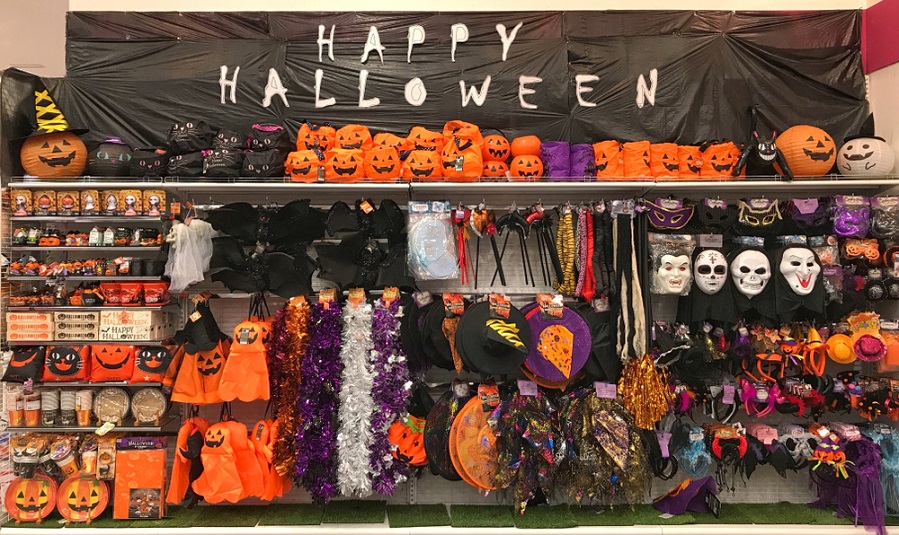 ---
A Texas pastor found himself in hot water after publicly urging his followers to ensure Halloween gets a surprising Christian twist this year. Pastor David Grisham Jr. used his Facebook page to spread the word about a fantastic plan he'd crafted to help convert nonbelievers and "lukewarm Christians" who participate in "pagan celebrations like Halloween."
The plan is simple, Grisham explained: his fellow believers should go "undercover" to Halloween and costume stores and pretend to shop for Halloween items. Once inside, they will hide Gospel verses in costume bags, decoration boxes, and any other popular items they see for the eventual buyers to find. The goal, supposedly, was to convince these unsuspecting Halloween enthusiasts to return to Christ.
It didn't take long for news outlets to find post, and Grisham was soon feeling the heat.
Busted Cover
After substantial backlash, Grisham decided to delete the post. But this is the internet, and things don't just magically disappear once you delete them. Here's the full list of "tips" he gave to his followers for how to carry out their important covert operations:
"1. Do not go inside wearing Christian clothing. Do this undercover so as not to draw attention to yourselves.

2. Do not put your church information on the tracts. This will get you nasty phone calls and emails if you do.

3. Do not hang out as a group inside while doing this. If you go in a group, split up while inside the store so as not to be as noticeable and you can cover more area and be quicker.

4. Spend no more than 30 minutes inside each store. Remember, you can go back and do it again several times before Halloween. This helps you keep a lower profile.

5. If you have a large enough group, you can assign one person to keep an eye on the store employees and if they get suspicious you can distract them with a question about their products or pricing. Have this person communicate with the other team members by text message. Being on your phone is not at all suspicious in today's culture.

6. If you get caught just leave peacefully and immediately. And do not reveal what you've been doing.

7. Enjoy yourself. This is really fun to do."
The Man Who Hates Holidays
If the name David Grisham sounds familiar, it's because this isn't the first holiday stunt he's pulled. Grisham leads Repent Amarillo, a radical evangelical group known for using controversial tactics to push their agenda. In fact, a couple years back Grisham went viral after he ambushed a group of kids waiting in line to see Santa at the mall, telling them that Santa isn't real and that they should find Jesus instead.
Apparently, Repent Amarillo has a long-running vendetta against Santa Claus the group first got put on the map back in 2010 after posting a video of Santa being "executed" by firing squad. The video has since been deleted.
ULC reached out to Pastor Grisham for comment on this story. His response is included below.
"Our ministry is based off of Acts 26:20 where the Apostle Paul is conversing with king Agrippa and states that his mission is to preach that people should repent, turn to God, and do works befitting repentance.

That is also our mission. Since the scriptures also command all Christians to preach this Gospel message to ALL the world and to EVERY creature then we understand this to mean there are literally no limits as to where and to whom we preach this message.

For instance, as to putting Gospel tracts in Halloween costumes and decorations in stores we feel compelled to do this because many Christians are participating in a pagan based holiday when the scriptures clearly state that we are to "come out from among them and do not touch what is unclean." Many Christians are not only touching the unclean things and practices of the secular world but are fully immersed in them. We are commanded by scripture to warn the righteous should they veer from the narrow path with Christ.

We also use this as an opportunity to reach the unsaved and call them to repentance. We do this without regards as to how the secular world receives the message because we are not obeying the feelings or political correctness of this wicked and perverse generation but we are obeying the commands of scripture. This naturally results in offense with many people.

Jesus Christ Himself went against the "religious correctness" of His day and it resulted in Him being crucified. Do you suppose the Romans were throwing first and second century Christians to the lions for declaring that "Jesus loves you and has a wonderful plan for your life?"

The modern American version of Christianity is riddled with cowardice in the face of the opinions of men. Most churches will not call out sin or make bold calls for repentance from sin. We will. We have already died to this world and so we have nothing to fear from it. We fear God but not men and so we will continue to preach the truth outside the box and we remain unapologetic for it."
Would Jesus Want Holidays Canceled?
The nature of this approach naturally begs the question: would Jesus really want people acting this way in his name? Halloween almost certainly has its roots in pagan tradition, but it's hard to imagine Jesus forbidding people from participating in fun traditions like dressing up and handing out candy to their neighbors. Likewise, Santa Claus is about as harmless a figure as they come. Would Jesus really feel threatened by a friendly old man who passes out gifts once a year on his birthday?
People like Grisham argue that these cultural traditions are helping push people away from religion, even though this claim lacks any substantial evidence. But logic tells us that these hardliners are only hurting their cause by campaigning so energetically against Halloween and Santa.
After all, what better way to ensure a child never steps foot in your church than ruining their favorite holiday?