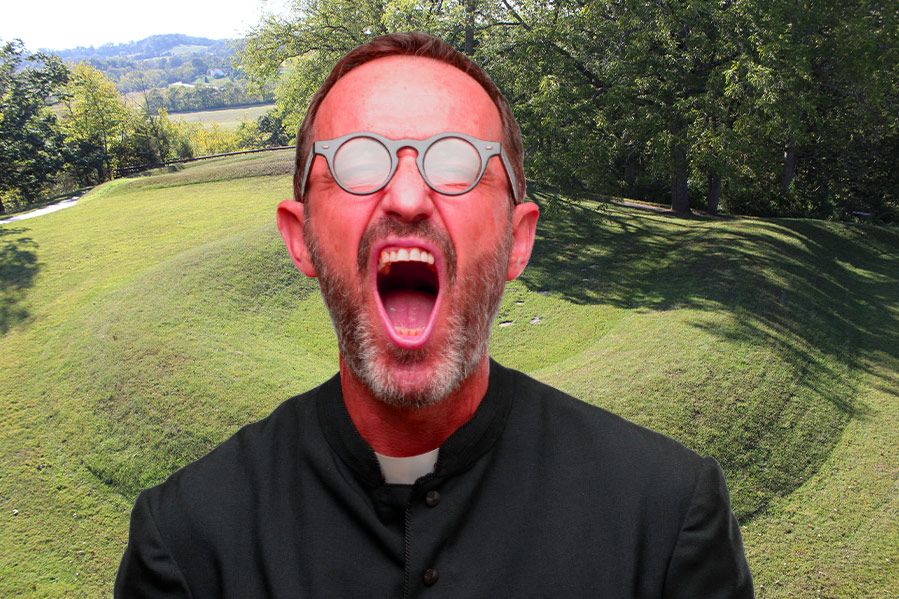 A group of Christian activists sparked controversy when they travelled to a sacred Native American site and held a ceremony to cast away "dark energy" they claimed was present. The incident led to a showdown between the Christians and Native Americans who attempted to interrupt the ceremony. 
The Christian group, led by Dave Daubenmire of Pass the Salt Ministries, arrived at the Great Serpent Mound in Southern Ohio on the winter solstice. It is the largest effigy mound in the world, a National Historic Landmark as designated by the Department of the Interior. The site is thought to be at least 1,000 years old, and is home to numerous ancient burial grounds. 
When Native American activists met the unwelcome visitors in the parking lot, things got heated. 
Dark Energy?
"Serpent Mound is an internationally known National Historic Landmark built by the ancient American Indian cultures of Ohio and is on the U.S. Tentative List for possible World Heritage inscription by UNESCO," according to Ohiohistory.org.
The effigy mound – shaped like a serpent – is flanked by burial mounds from both the Fort Ancient and Adena cultures. It is a site many in the Ohio Native American community hold sacred, although visitors from all faiths and cultures visit each year.
That willingness to share their culture with all might have bitten the Ohio Native American community in the butt, so to speak. On December 20th, Christian minister Dave Daubenmire led a group of mostly maskless Christian activists to the site, to pray away the dark "Satanic" energy he believes is coming from the Serpent Mound.
https://www.youtube.com/watch?v=UZlMn31k06s
As the group began their prayer to rid this site of "dark energy," they were confronted by Philip Yenyo, executive director of the American Indian Movement of Ohio, and other tribal members. 
"You have no right and no business doing this on this sacred site where our ancestors are buried. It's our birthright."
But the unwelcome visitors didn't give up without a fight – literally. The incident soon turned into a shoving and shouting match. "This land will be taken in the name of Jesus," one of the Christians yelled. 
Thankfully, the altercation didn't turn violent. 
Disrespecting a Sacred Site
The group of Christians ultimately did pray at the mound, with at least one member attempting to climb atop the mound itself. However, their prayers were met with chants from the Native Americans who objected to their presence. The Cincinnati Enquirer interviewed both Yenyo and Daubenmire last week.
Yenyo said what Daubenmire and the other Christians did was just blatantly disrespectful. "It would be like me going into a church and doing my ceremonies in [their] church," he said. "It's a sacred site for us, but other people with other faith beliefs think they have the right to go there and do their ceremonies. In our opinion, they don't."
But Daubenmire believes that he was apparently doing the world a public service. "There's a series of mounds like this all across the midwest. We believe that these are, for lack of a better term, we believe these are dark places… We went there to pray over this area. We believe the dark side holds ceremonies on these days."
With basically the whole altercation recorded by both sides, there is no shortage of video evidence to examine.
What do you think? Do Christians have the right to enter a native site and perform ceremonies? Or did the group overstep its bounds?