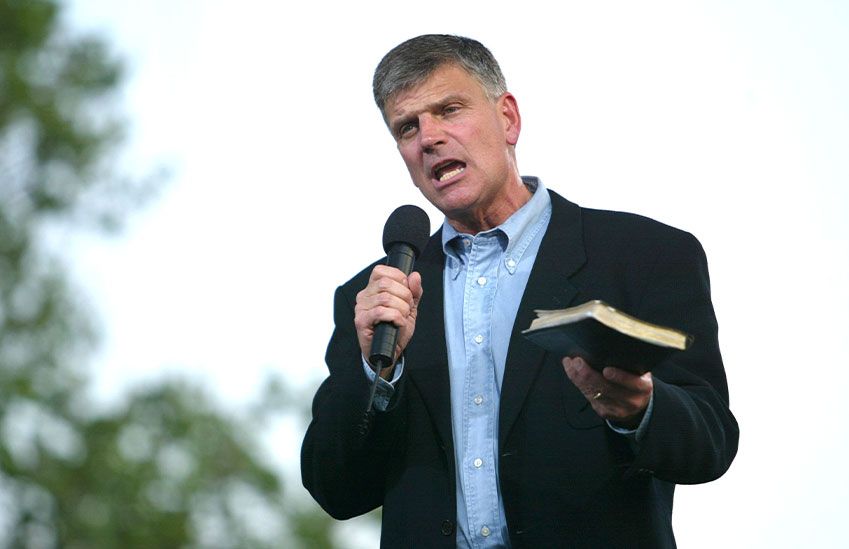 One of the most famous preachers in the world is either subject to religious persecution or getting a taste of his own medicine… depending on who you ask.
Evangelist Franklin Graham has decided to sue three venues after they canceled dates for his planned UK tour in May. Those cancellations came under pressure from pro-LGBT groups in the United Kingdom, on account of Graham's biblical views on homosexuality. Particularly, Graham's fervent opposition to same-sex marriage.
Graham is insisting that venues denying his business presents "alarming" implications for free speech and religious freedom.
"This disregard for principles of good faith and fair dealing, based on the mere suggestion that a person's sincerely held religious views or statements are 'hateful' or would result in public disorder, should be very alarming to anyone who is genuinely concerned about diversity, inclusion, and tolerance, let alone free speech and the free exercise of religious beliefs," declared a spokesperson for the Billy Graham Evangelistic Association (BGEA).
One venue said that Graham's anti-gay rhetoric was "incompatible with our values."
Is It Religious Persecution?
Graham had already admitted to being surprised over the cancelations.
"I'm not coming to speak against anybody and I don't name any groups of people," explained the son of the late evangelist Billy Graham, who saw bus ads for his evangelistic festival pulled following a similar LGBT outcry in 2018. "I'm coming to tell people how they can have a relationship with God through faith in Jesus Christ." 
Graham has argued that in BGEA's nearly 70 years of public evangelistic outreach ministry, never has public safety been endangered or public disorder been incited. He insists free speech is at stake. "There are lots of churches in this country that meet in public who are at risk. They could be kicked out, they could be forced to go somewhere else, just because of their faith."
Or a Taste of His Own Medicine?
If there's an irony in there that all seems a bit rich to you, you aren't alone. After all, Graham and other evangelicals have successfully fought to deny LGBT couples the right to purchase items as basic as a wedding cake, or the right to adopt children, using the same argument of religious freedom. And he even took a victory lap after the Supreme Court sided with the Christian bakers who turned away a gay couple who wanted a wedding cake.
Now, it seems, the shoe is on the other foot.
If gay people in this country can have private businesses deny them service on account of their beliefs or lifestyles, then what makes Graham any more special? 
Is Graham's tour cancellation a healthy dose of just desserts? As Hemant Mehta of The Friendly Atheist put it: "[Graham] isn't owed a platform."
On the other hand, should we really cancel everyone we disagree with? Is there an argument to be made that Graham's tour cancellation is a form of censorship?
 What do you think? Taste of his own medicine, or free speech violation?