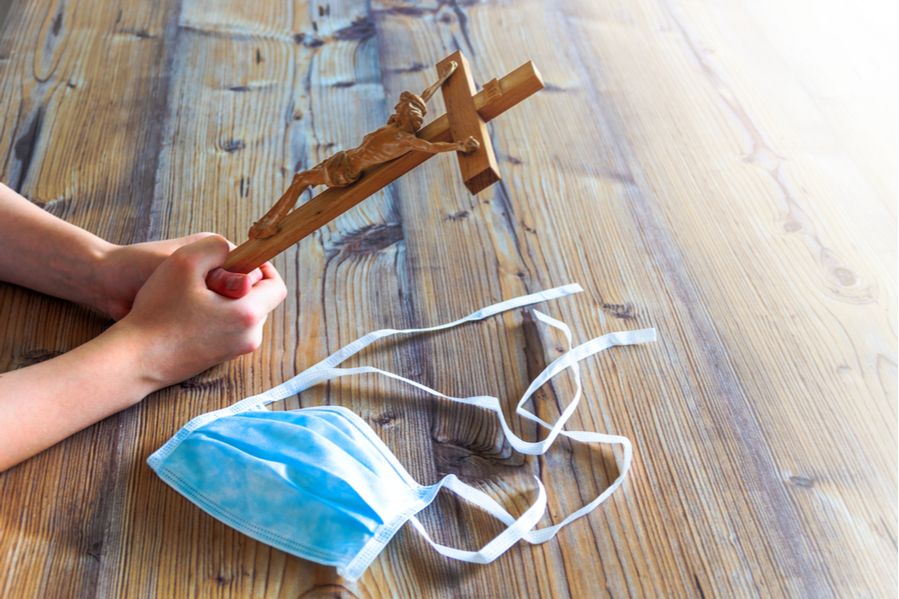 As parts of the United States begin to reopen following COVID-19 stay-at-home orders being relaxed in some states, medical experts still recommend practicing social distancing, as well as wearing a mask while in public to help prevent transmission. 
But that hasn't stopped one Ohio lawmaker and boisterous coronavirus skeptic from refusing to wear a mask. State Rep. Nino Vitale offered a creative line of reasoning for his defiance: faces are the "likeness of God," he argued, and therefore it's immoral to cover them. 
With the state of Ohio beginning to ease the stay-at-home order, it remains to be seen if other Ohioans follow his lead and give religious justification for taking off their masks. Needless to say, given Vitale's prominent platform, the comments left some experts highly concerned.
Contradicting CDC Health Experts
Medical experts have been vocal in their disagreement with those choosing to not wear masks while in public. The CDC recommends the wearing of some type of face covering to help limit the spread of COVID-19, and experts say masks can be instrumental in helping prevent the spreading of droplets containing the virus which can hang in the air, and may even be able to last for several days depending on the surface they land on.
Doctors have likened wearing masks to coughing or sneezing into your elbow during normal flu season. While they will not offer total protection from infection, they do help to make it more difficult for wearers to contract the virus, as long as they are also following social distancing guidelines.
Rep. Vitale, on the other hand, doesn't believe that masks actually help and has even made claims that wearing a mask can do more harm than good. He has also spent much of the pandemic downplaying the severity of COVID-19 while also pushing conspiracy theories – including publicly stating that he believed that Bill Gates was responsible for creating the virus.
Does God Really Disapprove of Masks?
When Ohio Governor Mike DeWine announced he was requiring everyone in the state to wear masks when leaving their home (a rule he walked back several days later) Rep. Vitale was one of the most vociferous critics. Taking to Facebook to publicize his opposition, Vitale posted, "[t]his is the greatest nation on earth founded on Judeo-Christian Principles. One of those principles is that we are all created in the image and likeness of God. That image is seen the most by our face. I will not wear a mask."
Is there evidence for this claim? Does the Bible really say people should keep their faces uncovered?
That's where things get interesting, because Western Christianity has a long history of requiring face or head coverings. Women, for example, were long expected to wear veils in church – a practice that dates back over a thousand years. In fact, there are records from as far back as 585 showing that women in France were required to wear a head covering during Mass. And women were required to wear head coverings in the Catholic Church up until the 1983 Code of Canon Law was enacted. 
But these same rules did not apply to men, of course. To understand the reasoning behind the policy, some scholars cite Saint Thomas Aquinas who said that "the man existing under God should not have a covering over his to show he is immediately subject to God; but the woman should wear a covering to show that besides God she is naturally subject to another."
It would seem this evidence pokes several holes in Rep. Vitale's arguments. First, clearly the Bible does give some instruction on face and head coverings (it just happens to be applied in a misogynistic fashion). Second, although that biblical policy may not technically apply to men, it's generally applied to worshipping in the church – not going to the grocery store during a pandemic. 
Public Health vs. Religious Exemption
In the past few weeks, we've highlighted a number of religious leaders and faith communities who have used their beliefs as justification for defying the recommendations of health experts. However, Rep. Vitale's view that wearing a mask is equivalent to going against God stands out as a particularly eye-raising – and potentially dangerous – argument to make. 
There is certainly precedent in the U.S. for religious exemptions to dress codes. Sikhs are allowed to wear turbans and keep uncut hair and beards while serving on police forces or in the military, for example. But such dress codes have nothing to do with public health, so it would be interesting to see if Vitale's claims would hold up in court during a pandemic.
What do you think? Is this lawmaker distorting his religious beliefs to fit his personal views? Or is there a genuine theological argument to be made against wearing masks – even if doing so would save lives?