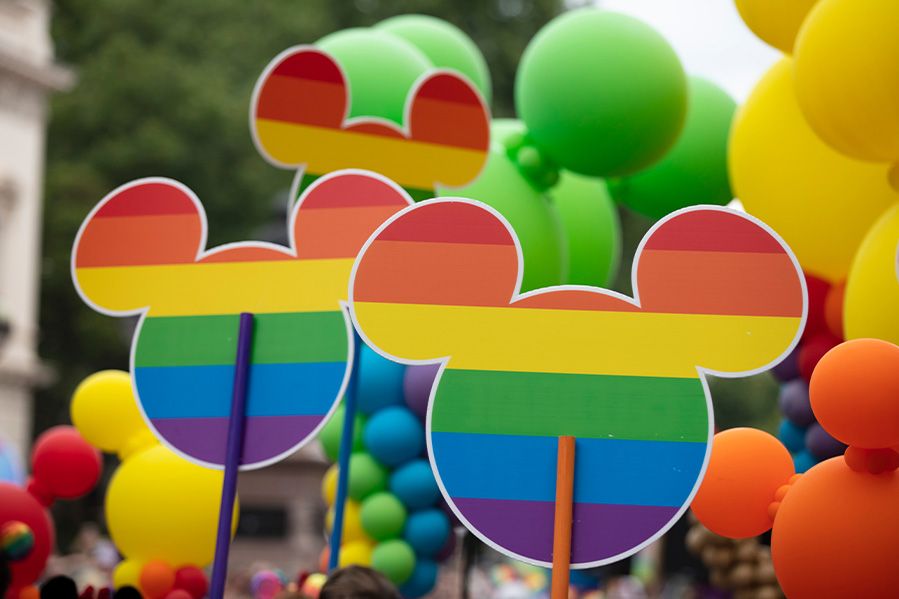 The Walt Disney Company recently launched a new line of LGBT-themed merchandise in anticipation of LGBT Pride Month this coming June. "The countdown to Pride Month is on with a colorful array of Pride products available now!" the company announced on Twitter.
The new 'Rainbow Disney' merch features some of Disney's most iconic characters and brands emblazoned in rainbow colors. The iconic black mouse ears, for example, now bear the rainbow pride flag. The Star Wars and Marvel logos are available on enamel pins and t-shirts with a rainbow gradient. It's Disney's most forceful statement yet that they firmly support their LGBT fans.
Naturally, some people are very upset - but not for the reasons you might think.
Rainbow Capitalism
While reaction to the announcement was largely positive and many applauded Disney for supporting the LGBT community, not everyone was pleased – including some within the LGBT community.
Critics accuse Disney of participating in so-called "rainbow capitalism," arguing that Disney's colorful merchandise is mostly a cynical cash grab. They speculate the release happened simply because it's fashionable and profitable, and that Disney doesn't actually care about LGBT individuals, only what's in their wallets.

Critics argue that Disney's record is selective – they will happily take the good PR and cash in on Pride Month by selling merch, for example – but when it comes to putting LGBT characters or stories in their films, suddenly they're hesitant to act.
"You want to muscle in on Pride?" one Twitter user asked. "You got LGBTQ+ stories or characters that reflect your support? Show your work."
A Slow March
Gay characters in Disney films are few and far between, critics charge. It was only last year that Disney put in an openly gay character in one of their major theatrical releases, Onward. 
Disney (who owns the Star Wars franchise) made a big deal about Star Wars' first gay kiss in the lead-up to the release of the latest Star Wars film, The Rise of Skywalker. Fans went wild with speculation. Were Poe and Finn finally going to share a long-awaited tender moment? 
Well, no. It was a blink-and-you'll-miss-it peck between two side characters in a large crowd.
Even those small steps were not taken lightly, as Disney seeks to walk a line between boosting LGBT representation and not upsetting evangelicals and other religious groups who aren't shy about making their feelings known on the subject.
A recent Christian Post op-ed insists that the rainbow merchandise is "one way Disney seeks to introduce children to LGBT ideology."
The author continues, writing: "people tempted by LGBT attraction and ideology are liberated not by protesting against Disney (though we should clearly stand against unbiblical morality) but by the transformation Jesus brings to a life."
Clearly, Disney is taking a measure of its audience and trying to keep everyone happy. Will they lean further into LGBT representation, even it means fewer religious groups visiting Disney World? 
That's yet to be determined, but there's no mistaking what direction things are currently moving. 
What is your reaction?