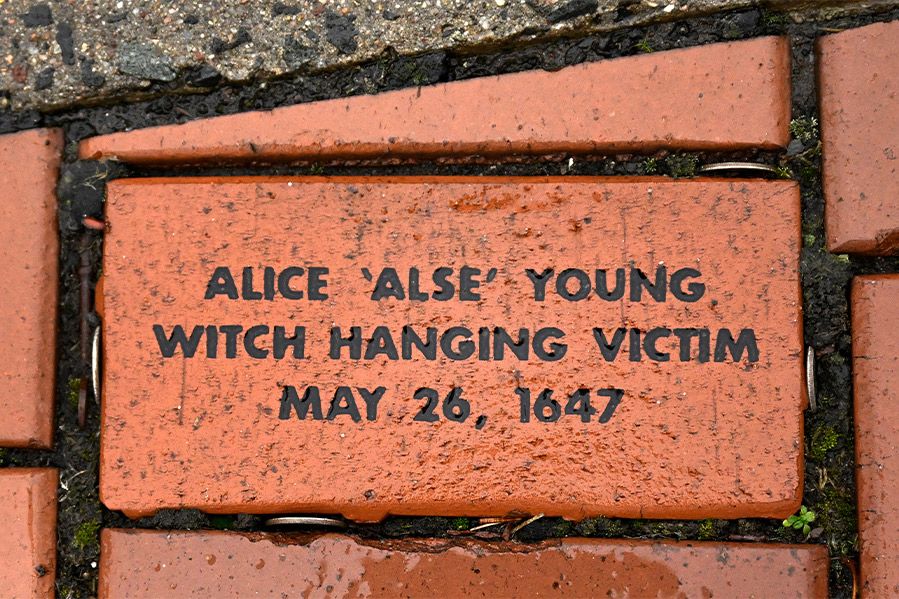 Ever heard of the Connecticut Witch Trials? They're decidedly less famous than Salem's, but no less real. 
"Alse Young was hanged," is all that is recorded in history regarding the first recorded execution for witchcraft in the American colonies.
Little is known about Alse Young. She was born in 1615 and was believed to be the wife of a man named John Young, a landowner in Windsor, Connecticut. She was hanged on May 26, 1647. She was 32 years old.
No records exist of the charges against her, but historians believe that she may have been accused of using witchcraft to cause an influenza outbreak in the Windsor community – an outbreak which caused the deaths of wealthy nobility.
In 2017, the Windsor City Council formally exonerated Alse Young by unanimous vote.
Now, descendants, genealogists, and historians of the state of Connecticut are pushing the state to exonerate the rest of the state's accused witches.
State officials are considering a formal apology and an official exoneration of the men and women executed for witchcraft nearly 400 years ago. 
The Connecticut Witch Trials
After hearing from descendants of accused witches, some Connecticut legislators hope to right the wrongs of the past.
Proposed Senate Joint Resolution No. 5 would exonerate the women and men convicted of witchcraft in colonial Connecticut. The resolution reads, in part:
"[the victims] were falsely accused of practicing witchcraft in the seventeenth century and that such persons were tried, convicted and sometimes sentenced to death for such offense, and declares that, although these accusations, prosecutions, trials and executions cannot be undone or changed, no disgrace or cause for distress should attach to the heirs of those persons."
Should Connecticut approve the resolution, they wouldn't be the first to formally exonerate witches hundreds of years later.
Last year, Elizabeth Johnson Jr., a woman convicted of witchcraft during the Salem Witch Trials of the 1690s, was formally exonerated courtesy of the efforts of an eighth-grade civics class in Andover, Massachusetts.
She was one of if not the last person convicted of witchcraft during the Salem Witch Trials to be exonerated.
At the time, State Sen. Diana DiZoglio claimed that the legislation to clear Johnson Jr.'s name was important work. "We will never be able to change what happened to these victims," she explained, "but at the very least, we can set the record straight."
Righting Historical Wrongs
Now Connecticut is trying to atone for their lesser-known witch trials. Witch hunts are almost as old as Connecticut itself: one of the colony's earliest laws reads, "any man or women (to) bee a Witch, that is, hath or consulteth with a familiar spirit, they shall bee put to death."
Connecticut state Sen. Saud Anwar, who introduced the resolution, says he was encouraged not only by descendants of wrongfully convicted witches, but by the descendants of some of those who led the charge on the witch hunts.
"His wish was that if there was a way to give some kind of a closure to the families," Anwar said of one of his constituents. "That would be one way for him to be able to say that he has done his share, even though his ancestors may have not done the right thing."
Descendents of the victims are also speaking out in support.
Among them is Joshua Hutchinson, an Arizona native who traced his ancestry back to accused witches in Salem. "It's important to right the wrongs of the past so we learn from them and move on and not repeat those mistakes," he says. Hutchinson also hosts a podcast on the subject, titled "Thou Shalt Not Suffer: The Witch Trial Podcast."
But will they succeed? Past efforts to exonerate the 40-some accused individuals, 11 of which were executed, have failed, including a 2008 proclamation and numerous appeals to the governor.
Critics have called the efforts a waste of time. What's the point in exonerating people who have been dead for over 400 years? They ask.
But supporters argue that for the victims' descendants – and even descendants of those doing the accusing – formal exonerations would bring major peace of mind.
What do you think?