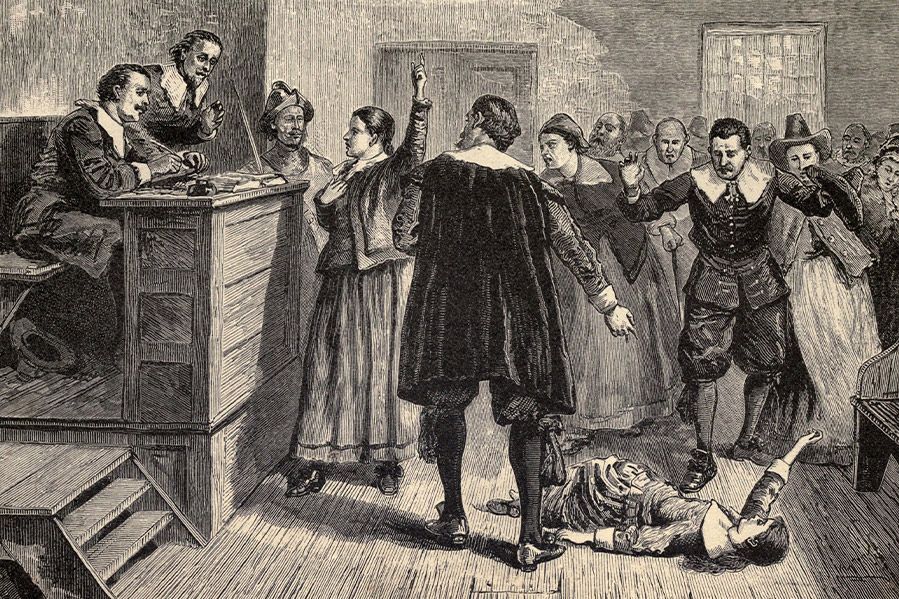 A Massachusetts woman may finally be exonerated of a crime she didn't commit – some 300 years later.
Elizabeth Johnson Jr. was one of many convicted of witchcraft in 1693 and sentenced to death. Fortunately, she avoided hanging from the gallows due to intervention from Massachusetts Governor William Phips, but she was never formally exonerated of her crimes.
A committee decades later cleared the names of several of the accused, and in the centuries since dozens more have been exonerated, but for a variety of bureaucratic reasons Elizabeth Johnson Jr. name was never formally cleared.
Now, an eighth-grade civics class is leading the charge on clearing her name and fully exonerating her 328 years later.
The Salem Witch Trials
Civics teacher Carrie LaPierre's civics class at North Andover Middle School is to credit for the potential pardon. They spent a great deal of time both researching Johnson as well as the steps it would take to fully exonerate her in a court of law. They've got an ally on their side: State Sen. Diana DiZoglio, who formally introduced legislation that would officially wipe Johnson's record clean.
It's important work, says DiZoglio. "We will never be able to change what happened to these victims," she stated, "but at the very least, we can set the record straight."
Elizabeth Johnson Jr. is one of if not the last accused witches of the Salem Witch Trials who's still not been fully exonerated.
The Salem Witch Trials began in March 1692, when two girls accused three women of being witches, kicking off a Puritan hysteria that dominated the small Massachusetts village of Salem for about a year. Accused of everything from cavorting with the devil to bewitching children, 150+ were accused of some form of witchcraft, and those misfortunate enough to stand trial found themselves in a kangaroo court where their guilt was all but assured on coerced confessions. Those who stood their ground fared no better; One man, Giles Corey, refused to confess even while being pressed to death by giant stones.
In all, twenty people, most of them middle-aged women, were put to death, and up to 13 more died in prison awaiting trial.
Justice for All… Eventually
Throughout the following decades, many of the convicted and accused were exonerated. In 1711, Massachusetts Governor Joseph Dudley signed a document that fully exonerated many of the women and gave them reparations, but Elizabeth Johnson Jr. was not included because she didn't formally petition the courts.
In the following centuries, pretty much every victim's name has been cleared, except for one. Perhaps because she didn't have any direct descendants to legally pursue her exoneration, Elizabeth Johnson Jr.'s been left out of every round of exonerations in the 300 years since the Salem Witch Trials. Now, with legislation in motion, it seems likely that the final victim of this dark chapter in American history can finally be exonerated.
The teacher leading the charge on clearing Johnson's name is proud of her students. She says some questioned the wisdom of trying to get justice for a single woman who's been dead for centuries in the midst of a global pandemic. But she says for her students, "It's important that in some small way we could do this one thing." It was a way to make positive change in their own community in a time when so many people feel so helpless.
What do you think?