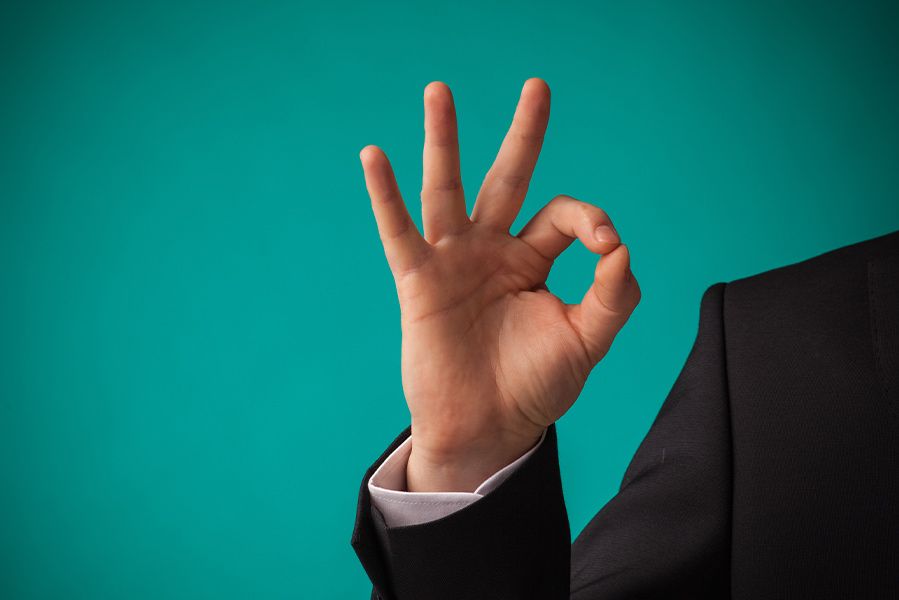 ---
The classic index finger-to-thumb sign for 'all is well' is no longer OK, at least as far as the Anti-Defamation League is concerned.
This week, the civil rights organization added it and 35 other symbols to its "Hate on Display" database, insisting these have been usurped by those lurking in the darkest corners of the Internet. They claim these once-acceptable symbols are being repackaged and deployed as mainstream memes and symbols of hate by the white supremacy and alt-right movement.
"More people than not will use the OK symbol as just 'OK'," explains Oren Segal, director of the ADL's Center on Extremism. "But in those cases where there's more underlining meaning, I think it's important for people to understand that it could be used, and is being used, for hate as well. Context is always key."
Of course, nothing is as simple as it seems.
Is "OK" Still OK?
The website Know Your Meme detailed a series of pranks by 4chan users designed to flood social media with posts purposely linking the OK hand gesture to the white power movement, appropriating images of celebrities and White House staff as proof. The prank was in response to the media's perceived willingness to believe any allegations of racism against Trump supporters.
That seemed to work, as members of the media reported on two right-wing journalists who made the hand gesture during a 2017 White House visit. One of the journalists in the photo, Cassandra Fairbanks, mocked the allegations in a tweet: "White power!!!!!!! Except I'm Puerto Rican. Can it be PR power?!"
Segal insists the number of individuals espousing hate while using the gesture has now moved beyond a simple misinformation campaign. The suspected white supremacist accused of killing 51 worshippers at two mosques in New Zealand flashed the hand gesture during his first court appearance. "Over the past couple years, we've seen that the hoax was essentially successful in being applied by actual white supremacists. In many ways, they took what was a trolling effort and added it to their list of symbols."
The Database of Hate
Established nearly two decades ago to help the public spot the potential warnings signs of anti-Semitism and other extremism, the "Hate on Display" database has swelled to a dizzying 214 entries. Those include Pepe the Frog, "Dylann Roof's Bowlcut," and "The Moon Man," a meme derived from vintage McDonald's commercials and since hijacked by alt-right members who've attached racist songs, language, and imagery around it.
Many of these might seem really obscure, and a few border on the absurd. The numbers 12, 13, and 14 are all listed as hate symbols, for example. But then we shouldn't forget that many established Christian hate symbols, such as the Celtic Cross, have innocuous origins. That symbol, a square cross surrounded by a circle, predates Christianity and didn't have a racist connotation until after World War II. And even though the symbol is used as part of the logo of the racist website Stormfront, it is still primarily used in a non-racist context. For example, it is commonly used as a symbol of Irish pride.
And hate symbols stealing religious imagery certainly aren't exclusive to Christianity. The iconic black flag of ISIS, for instance, co-opts imagery from the legendary battle flag of Muhammad.
The Power of Symbols
Symbols are incredibly powerful. In a single image or hand gesture, one can show praise, support, or condemnation. But interpretation is everything.
One person's hand gesture indicating all is well is another person's white power symbol. And even the most innocuous symbols can be co-opted for nefarious purposes. Believe it or not, but Pepe the Frog was once simply an agenda-free cartoon frog before becoming a racist meme.
And just look at the Christian cross. For most, a symbol of God's love. But for white supremacists who have adopted the cross as their symbol, the cross is an emblem of racist hatred. And for those who were abused by Catholic priests as children, the cross may have a different connotation altogether.
What do you think? Should we restrict the use of certain imagery because a small number of hateful people decided to tie racist intentions to them? Or would that only serve to legitimize the appropriation of those very symbols?
What do we do when the worst among us try and re-define our symbols?