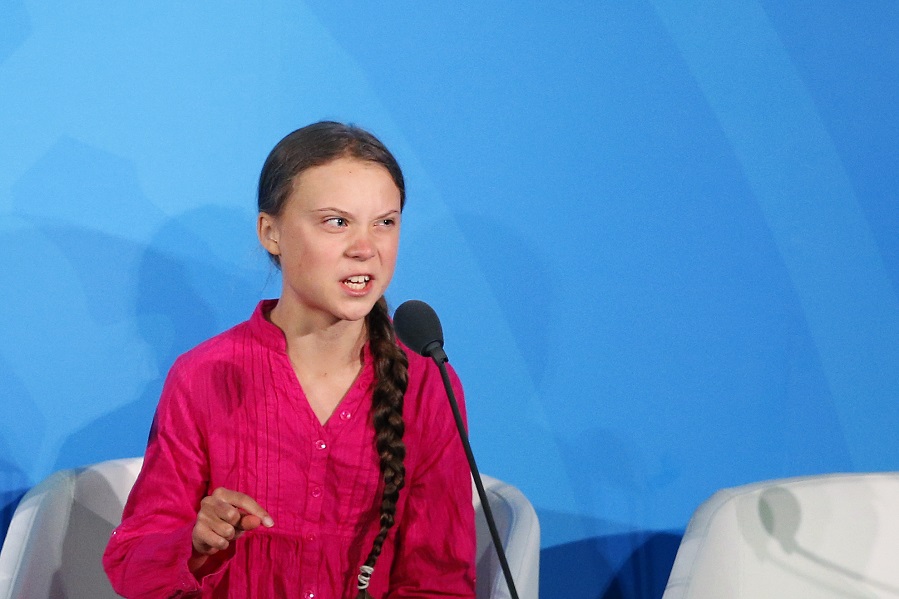 ---
All hail the second coming of Christ: Greta Thunberg. That's according to a surprising proclamation by the Church of Sweden, which said the teen climate activist is a successor to Jesus in a statement on its official Twitter account.
"Announcement! Jesus of Nazareth has now appointed one of his successors, Greta Thunberg," the church tweeted.
Thunberg is a rising star in the climate justice movement. The 16-year-old Swedish student became a household name nearly overnight after speaking at the UN Climate Summit and getting into a dust-up with President Trump.
In her speech, Thunberg lambasted a room full of world leaders for coming to youth for hope, hat in hand, having stolen their childhood dreams with empty words. "We are in the beginning of a mass extinction and all you can talk about is money and fairy tales of eternal economic growth," she seethed in an address that went viral. "How dare you?"
In the eyes of climate action supporters, she is a hero an inspiring voice of the next generation that will have to bear the brunt of humanity's impact on the climate. From this perspective, Thunberg's admirers ask, is it really so outlandish to compare her to Jesus?
After all, the dynamic teen has taken on a central leadership role in the battle to prevent a looming humanitarian crisis that potentially threatens the very fabric of our existence. In the process, she has reached an untold number of people and convinced many to follow her cause. If Jesus could appoint a successor, they argue, that person would probably look a lot like Greta Thunberg.
However, some critics aren't buying it.  
Not So Fast
While Thunberg's popularity cannot be denied, not all Swedes were amused by the Church of Sweden drawing a parallel directly to Jesus. Backlash quickly built online, with many criticizing the comparison as entirely inappropriate.
"Time and time again I ask myself: when was the Swedish church kidnapped by left-wing extremists?" asked one Twitter user.
"Should you now abandon the celebration of Jesus' birthday and start celebrating Greta Thunberg's birthday instead?" mused another. "After all, we members must know who is the Savior we should worship and pay homage to."
Making Amends
The church first responded to the backlash by posting a second tweet suggesting "success" could be interpreted in many ways. But the account was abandoned shortly after, with a final sign off by pastor Jonas Persson defending the original comparison:
"If we have hurt someone we apologize, it has never been our meaning. Our meaning has been to talk about Jesus Christ in our own way. Now we leave the arena. Thank you for your commitment, joy and debate. God bless you!"
Jesus, Is That You?
Historically, comparisons between Jesus and regular people haven't gone over so well. When John Lennon famously mused that the Beatles were bigger than Jesus, an off-the-cuff remark that might have gone overlooked, American fans were furious and burned albums in protest across the Bible Belt.
Of course, the backdrop here is decidedly more political. The Church of Sweden was the official state religion up until the year 2000, which only added fuel to the fire for conservative religious critics. They ask: is it really responsible for a progressive church to declare a teenager as Jesus' successor? Just because she got international media coverage for dressing down world leaders, does that really make her a savior of humanity?  
Then again, Jesus often rebelled against the system as a way of getting people to open their eyes. Whatever your feelings about Greta Thunberg's style, she's basically doing the same, although for her planet mother, and not her divine father.
In that sense, perhaps the Church of Sweden was onto something. What do you think? Was it a reasonable comparison, or should the church have chosen its words more carefully?