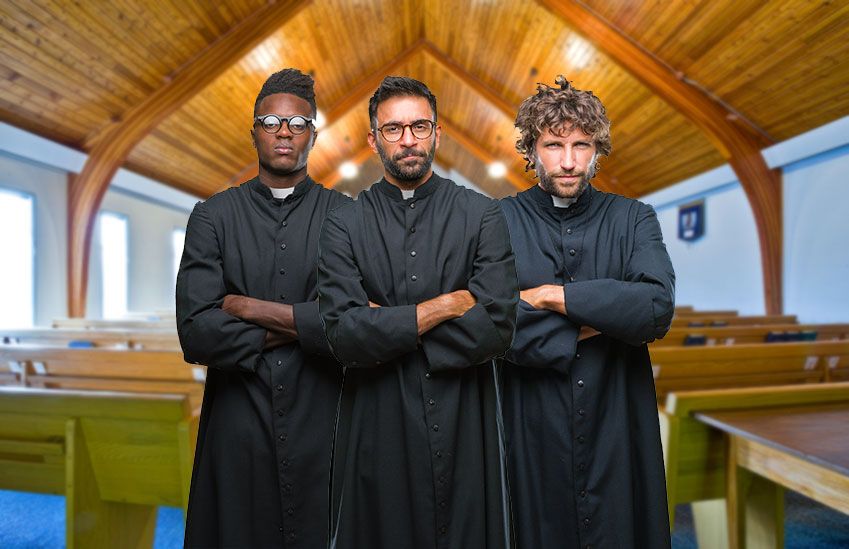 Sorry, unmarried people and gay people. Sex isn't for you, at least according to the Church of England.
The C of E just reaffirmed its dusty belief that sex in any context other than a heterosexual marriage "falls short of God's purpose for human beings."
The recent pastoral guidance issued by bishops is sure to please particularly conservative followers displeased with the 2005 Civil Partnership Act, which afforded English same-sex couples the same legal status and rights in relation to property, inheritance and tax entitlement, and the legalization of same-sex marriage in 2013.
The church's justification for re-upping their views? They've always held them, no reason to change now. In the new pastoral guidance, they say that "it has always been the position of the Church of England that marriage is a creation ordinance, a gift of God in creation and a means of his grace…. For Christians, marriage – that is, the lifelong union between a man and a woman, contracted with the making of vows – remains the proper context for sexual activity." 
The church's statement comes at an interesting time, as churches around the world grapple with the issue of how far to go on the LGBT acceptance front. The debate is even causing some to split apart entirely.
Critics React
To be fair, the Church of England has commissioned a large study of human sexuality entitled Living in Love and Faith, which is due to be completed sometime this year. According to the Church's website, "The Living in Love and Faith project is propelled by the Church's desire to learn how relationships, marriage and sexuality fit within the bigger picture of a humanity that is liberated by Jesus Christ and infused by the Spirit to reflect the image of God in which we are created." 
And the church does seek to "affirm the value" of same-sex civil partnerships... So long as those civil partnerships are "committed, sexually-abstinent friendships." It does not permit same-sex marriage, and will only allow clergy to be in same-sex civil partnerships so long as they remain sexually abstinent.
"I'm sadly unsurprised by the content of this statement but I'm deeply saddened by its tone," said Jayne Ozanne, who serves as both a member of the C of E's ruling body and an LGBT-rights campaigner. "It will appear far from 'pastoral' to those it discusses and shows little evidence of the 'radical new Christian inclusion' that we have been promised. I look forward to the day when the C of E sets its house in order, extends a proper welcome to all and makes confused 'pastoral statements' like this redundant."
Although the church has promised to "minister sensitively and pastorally to those Christians who conscientiously decide to order their lives differently," Linda Woodhead, a professor of politics, philosophy, and religion at Lancaster University, isn't buying it.
"The C of E is unable to get over its fixation on homosexuality, which is driving the national church into a position more like a fundamentalist sect and does not speak to the vast majority of younger people today."
Should the Church Change?
With the recent affirmation that the church believes sex is only for straight, married couples, it is clear that modern society and the Church of England are pulling in very opposite directions. And even some of the church's own members take issue with the standards. An open letter from an Archdeacon in the church called the church 'a laughingstock' for their 'obsession with sex.'
With membership dropping precipitously, these bishops need to ask themselves what is the point of standing for tradition and protecting the past if the future generations keep abandoning their pews. The Church of England is certainly an interesting case-study on whether or not churches should change with the times. Their membership has halved since 2002, in no small part due to their refusal to fully accept LGBT people. And yet, they're sticking to their proverbial guns.
Should churches modernize their views on sexuality as society changes? Or should they double-down on outdated views, no matter the cost in membership?