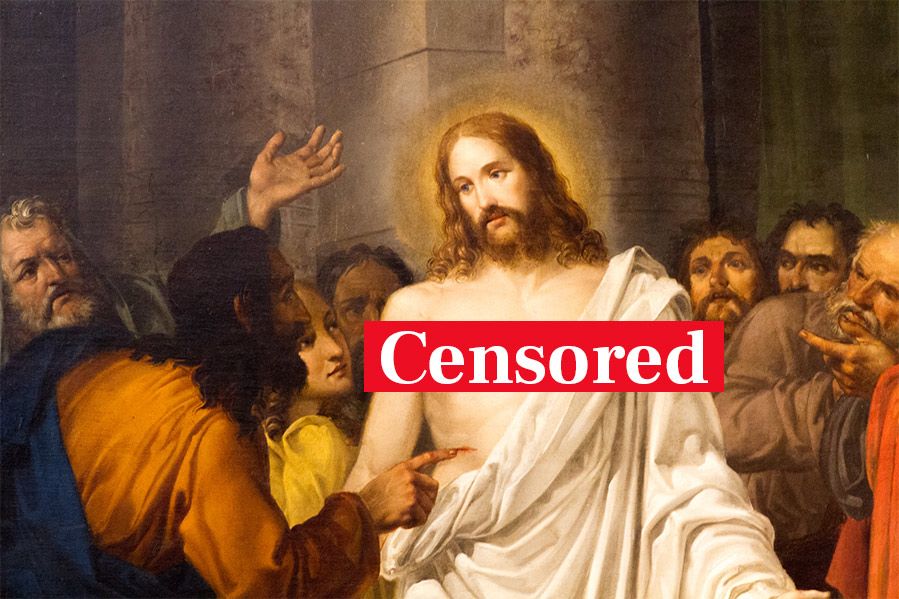 Jesus is looking a little bit more, erm, voluptuous than usual.
The National Church of Iceland sparked a furious controversy with a recent Sunday school advertisement that shows Jesus cheerfully dancing in front of a rainbow with a full beard, makeup, and breasts.
The ad, which drew immediate condemnation from faith groups, was created as part of a broader effort on the Church of Iceland's behalf to be more inclusive.
A representative from the Church said that "We're trying to embrace society as it is. We have all sorts of people and we need to train ourselves to talk about Jesus as being 'all sorts' in this context… It's really important that each and every person see themselves in Jesus and that we don't stagnate too much." 
The ad, initially posted on Facebook, set off a firestorm of outraged comments, and Christian blogs and websites reported on what they perceive as offensive imagery, with some calling it blasphemous.
The ad was quickly pulled from the Church of Iceland's Facebook page, but will remain on buses and other advertising spaces in Reykjavik for at least two weeks.
Jesus Gets Diverse
While depicting Jesus as a trans or genderqueer person might anger some, there's nothing wrong with challenging the traditional image of Christ, say supporters of the ad. 
"Each person interprets something in this picture," one Icelandic minister told reporters. "Some people interpret it as a trans-Jesus, others as a woman. Some see Mary with a beard, and others see a genderqueer person. Views within the church are just as diverse as elsewhere."
This is hardly the first time an organization's come under fire for depicting Jesus Christ in a 'nontraditional' way. Just last year, Netflix was on the receiving end of outrage for a Christmas film that depicted Jesus as a flamboyant gay man. A petition demanding Netflix take down the film received nearly 2.5 million signatures, and continues to receive signatures to this day.
If you were a moviegoer back in 1988, you might remember that acclaimed director Martin Scorsese faced international criticism for his film The Last Temptation of Christ, which showed Jesus as a flawed individual internally struggling with his reluctance to die on the cross and as a man tempted by sins of the flesh.
For showing Jesus engaged in sexual activity, hundreds of Christians protested outside the headquarters of Universal Studios and local theaters across the country were picketed by Christians for weeks. 
It seems that in our postmodern society, everything is ripe for reinterpretation – and that means, yes, even the holiest of religious figures.
Lily White Savior
Here's a question posed by supporters of a reinterpreted Jesus: if folks are going to get up in arms any time Christ is imagined in a way that isn't 100% accurate to the biblical text, then how do they reconcile depicting Jesus as white?
While there's no agreed-upon consensus of what Jesus looked like, most experts agree that he likely would resemble other Judeans of his time. That means brown or olive skin, dark hair, and brown eyes. A far cry of the fair-skinned, blue-eyed depiction of Jesus that hangs on the mantelpiece in grandparents' houses across the country.
We've already got Jesus' race wrong. Is it really that big of a leap to depict Jesus as a woman? As gay? As transgender?
What do you think? Should faith groups expand their conception of Jesus to be more inclusive? Or is Jesus with breasts simply a step too far?