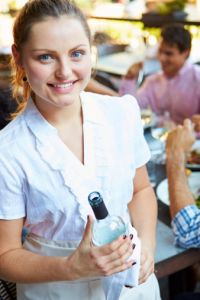 ---
Kaetoya Watkins was thrilled when she was got offered a waitress job at Georgia Blue, a Mississippi restaurant chain. It seemed like a promising opportunity, and she immediately decided to accept. However, it didn't take long for things to go south. Only after she was hired did Ms. Watkins learn of a company dress code policy which requires all employees to wear blue jeans while at work. The only problem?
Ms. Watkins, a devout Apostolic Pentecostal Christian, believes that women should never wear pants only skirts and dresses.
She made a formal request to restaurant management asking them to make an exception on the dress code due to her religious beliefs. She proposed wearing a long blue denim skirt in lieu of the specified jeans.
However, the request went unanswered. Suddenly in a bind, Ms. Watkins chose to remain true to her deeply-held religious beliefs first. She showed up for her first shift wearing the denim skirt.
When her manager noticed the outfit, she was promptly sent home for failure to adhere to the dress code. The restaurant later refused Ms. Watkin's dress code request, and her job offer was rescinded.
Bringing Suit in Support of Skirts
Ms. Watkins has since filed a lawsuit against the restaurant chain with the help of the Equal Employment Opportunity Commission (EEOC). The lawsuit alleges that "under federal law, employers have a duty to provide an accommodation to allow an employee to practice his or her religion when the employer can do so without undue hardship on the operation of the company."
"This case shows the EEOC is committed to combatting religious discrimination in the workplace," said district director Delner Franklin-Thomas.
Ultimately, the government lawyers are seeking to "prohibit Georgia Blue from discriminating against employees who need religious accommodations" and force them to pay lost wages and other damages to Ms. Watkins.
Not Going Down Without a Fight
The lawsuit accuses restaurant management of violating Title VII of the Civil Rights Act of 1964, which mandates that employers must provide reasonable religious accommodations to employees.
Georgia Blue management denies any wrongdoing, and the company insists that it "does not discriminate on any basis," according to a statement from their legal team. They plan to fight the case in court.
Why Not Just Allow the Skirt?
Ms. Watkins' was obviously qualified for the position, and who knows she may have made a valuable employee. However, since her conservative faith precludes her from wearing certain types of attire, she was never given a chance. Her sincere belief against wearing pants, while unorthodox, are nonetheless a legitimate religious conviction.
Why didn't the restaurant just respect her faith and make an exception to the dress code?
Well, for one, acquiescing to the request could have set a precedent and put the company in an uncomfortable position. Once one person was permitted to change their attire, who's to say other requests wouldn't follow?
Where Does Religious Freedom End?
Ms. Watkins' case is only the latest in a string of lawsuits involving religious freedom and discrimination in the United States. Most notably, the case of a Colorado baker that refused to make a cake for a gay wedding has gone all the way to the Supreme Court.
At its essence, the restaurant conflict boils down to this: does mandating that employees adhere to a certain dress code constitute religious discrimination?
Only time will tell.
Meanwhile, critics argue that the definition of "religious freedom" is fast expanding to the point of becoming a catch-all legal defense that gives ammunition to people with all manner of religious beliefs from the moderate to the extreme.
What do you think?