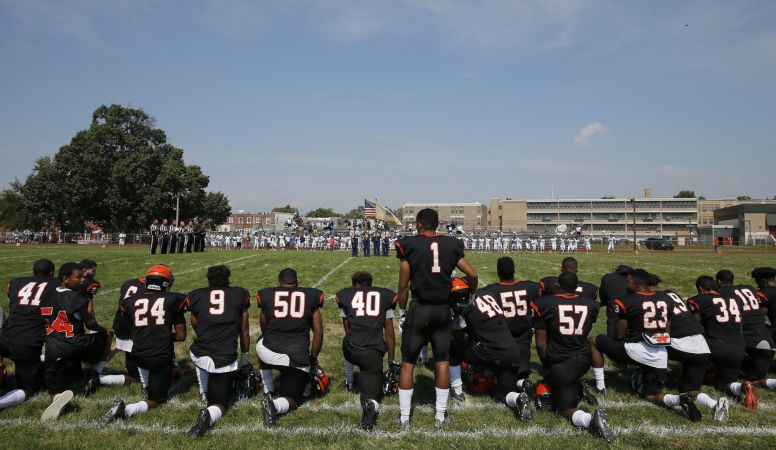 Amidst the highly controversial national anthem protests taking place across the National Football League, a number of schools have decided to institute "zero tolerance" policies toward kneeling or sitting on the sidelines. Last week, Colorado Christian University (CCU) made an official announcement on its social media pages. Authorities at the private school in Lakewood, CO, notified all student athletes that standing for the anthem will now be mandatory: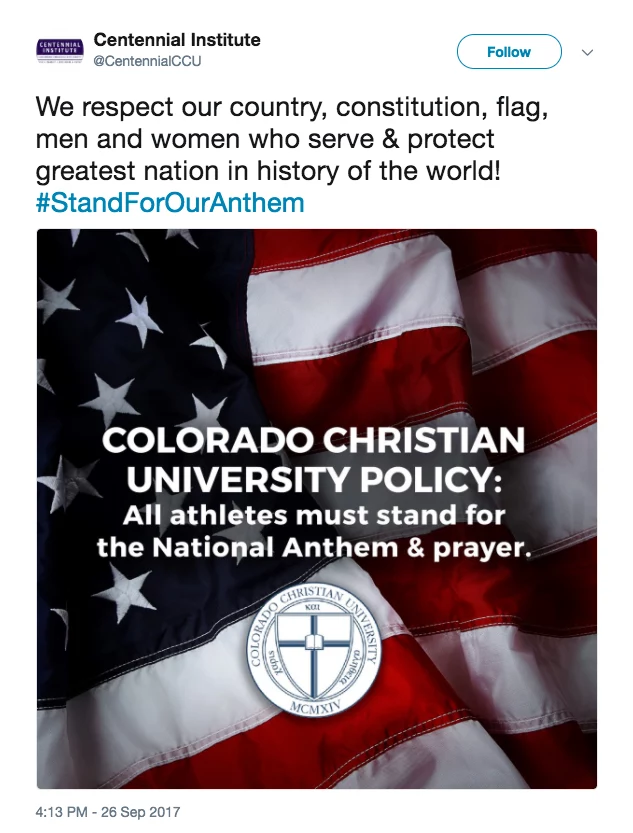 Echoing a sentiment voiced my many critics of the NFL protests, CCU's president Donald Sweeting believes that kneeling or sitting during the anthem conveys disrespect towards the flag and that such behavior must be prevented. "We ask students to stand out of respect for God, for our nation, and for those who are serving it or have served it," Sweeting said in a statement.
In response to criticism regarding the suppression of free speech, he explained that, "We just simply don't think that the anthem or the prayer before the game, for our athletes, is the appropriate venue for that (kneeling) to happen".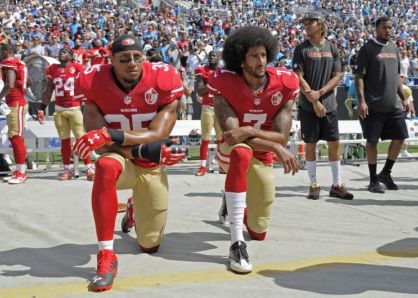 How It All Got Started
Last year, Colin Kaepernick (former quarterback of the San Francisco 49ers) received national attention when he refused to stand during the national anthem in protest of racial inequality and discriminatory policing. Many fans were critical of the protest, and Kaepernick was unable to find a job this year due to his actions. However, with Kaepernick out of the league, the media had largely turned its attention away from the issue.
That is, until President Trump took up the cause at rally in Alabama calling those who kneel "sons of bitches" who "should be fired" by the NFL.
Overnight, the number of NFL players protesting during the national anthem went from just a handful to over 200. The issue is once again making headlines across the country and triggering heated debate on both sides.
**More Schools Crack Down
**
In addition to Colorado Christian University, numerous high schools around the country are requiring players to stand for the anthem prior to games or face the consequences. At a private Christian high school in Texas, two players were kicked off the football team after choosing to kneel.
Other schools are warning student-athletes that there may be repercussions for "failure to comply" with official school anthem policy. Below is a letter sent by a Louisiana high school principal: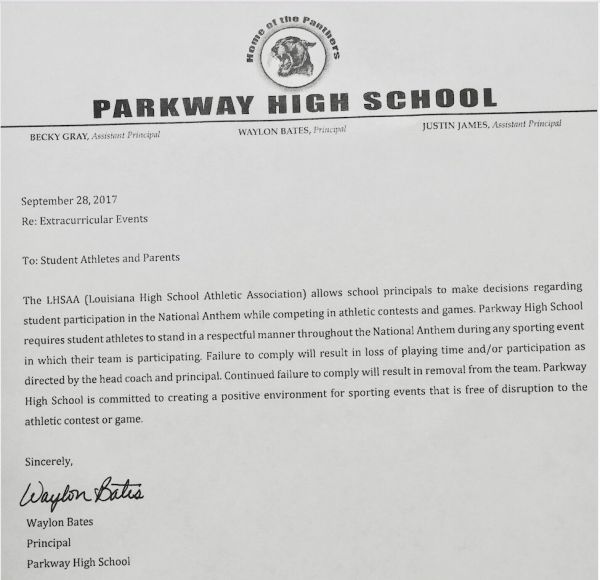 Forced Patriotism?
When polled, the majority of Americans think standing for the anthem should be mandatory. However, it's a narrow majority and many others are uncomfortable with the idea of enforcing such a policy.
Opponents make an interesting point: by forcing people to be patriotic, you entirely defeat the purpose. Patriotism is supposed to be organic, they argue. Using force or threats to make people conform only serves to create a phony image of patriotism that undercuts important tenets of personal freedom. Further, it does nothing to address the underlying social issues which helped spark the protests in the first place.
The Christian Thing to Do?
Given that CCU is a Christian school, it seems appropriate to pose the question: what would Jesus think of the protests? After all, Jesus dedicated his life to helping the poor, suffering, and marginalized. Those kneeling during the anthem are attempting to highlight important social issues affecting minority communities.
Is helping such groups not in line with Christ's teachings? Or is showing unconditional respect to the flag simply more important?
Let us know what you think.