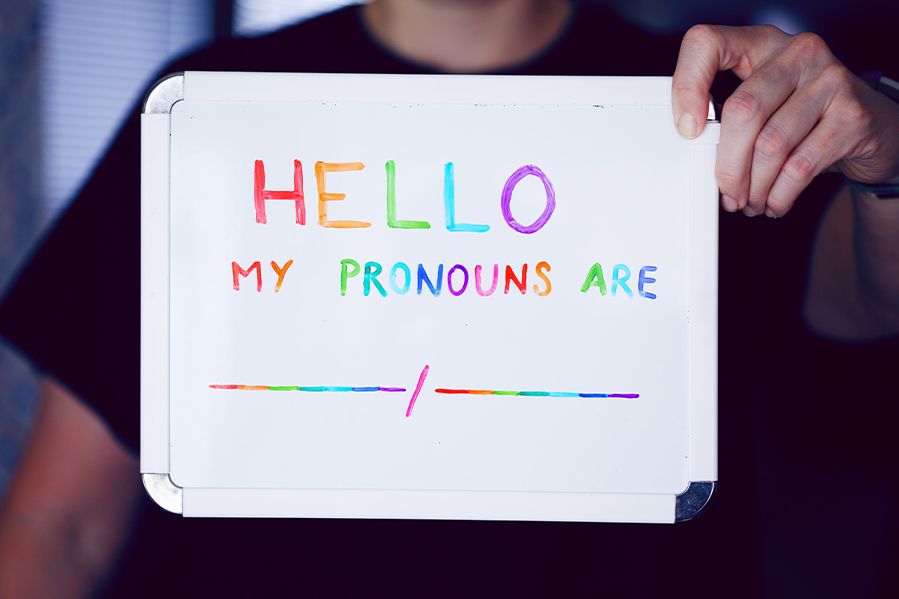 Is putting pronouns in your professional email signature a fireable offense? One Christian school says yes.
Houghton University in upstate New York recently fired two residence hall directors over their pronoun usage in their email signatures.
Houghton is an affiliate of the Wesleyan Church, an evangelical Methodist denomination. The fired employees say they had perfectly reasonable justification to use pronouns in their email signatures, and refused to remove their pronouns when the school asked them to do so.
Now, with alumni revolting and students fuming over the firing, the school is saying there's more than meets the eye on this story.
They/Them Get Fired
If you ask Raegan Zelaya and Shua Wilmot why they put their pronouns in their email signatures in the first place, you'll get two answers.
The first is that they simply thought it was the right thing to do. As residence hall directors who have frequent communication with students, they wanted to lead by example by including a small but notable message of inclusivity in their emails.
The second is that they viewed it as simply practical. Including pronouns in one's email is increasingly common in the professional world. Plus, both former employees have uncommon names, and say they have regularly been misgendered in emails. A simple "he/him" or "she/her" at the end would ensure future email correspondence wouldn't have the same errors.
The school didn't see it that way.
"As a result of your refusal to remove pronouns in your email signature in violation of institutional policy… you are being relieved of your duties effective immediately," read the termination letter sent to Raegan Zelaya, which she shared online. 
School Officials Respond
Yet, a school spokesperson says that the pronouns are only part of the story.
Houghton "has never terminated an employment relationship based solely on the use of pronouns in staff email signatures," explained spokesperson Michael Blankenship. He points to recent requirements that email signatures be free of anything "extraneous," "including Scripture quotes."
As justification for the firing, the school also pointed out comments made by Zelaya in the school paper, the Houghton Star, where she was quoted as chastising the school for closing a multicultural center on campus.
"It feels like it just further demonstrates that the university is only interested in the kinds of diversity that are convenient for marketing purposes," she is quoted as saying. "It is outrageous to have diversity as a pillar in our strategic plan when we are actively cutting the programs and spaces that help empower diverse students to succeed."
So perhaps the pronouns issue wasn't the only factor in their firing, but it seems it played it part.
Zelaya and Wilmot say that they can read between the lines on this one. The school's "no pronouns in email signatures" policy is clearly targeting transgender individuals, the ex-employees argue. 
Is It Trans-Exclusive?
"I think it boils down to: They want to be trans-exclusive and they want to communicate that to potential students and the parents of potential students," says Wilmot. "There's the professional piece to it, and the practical piece, and there's also an inclusive piece, and I think that's the piece this institution doesn't want."
The school "unapologetically privileges an orthodox Christian worldview" said the president of the school in a statement.
In their belief statement on their website, the school describes itself as "solidly Biblical," stating that they believe marriage is only between one man and one woman. The Wesleyan Church, which Houghton is an affiliate of, believes that "gender confusion and dysphoria are ultimately the biological, psychological, social and spiritual consequences of the human race's fallen condition."
In response, some students and alumni are protesting, and hundreds have signed a letter expressing concern over the firings.
What do you think? Is it reasonable for a private religious school to ban pronouns in emails? Or is the policy, as Zelaya and Wilmot argue, a means to suppress the expression of trans students and faculty?