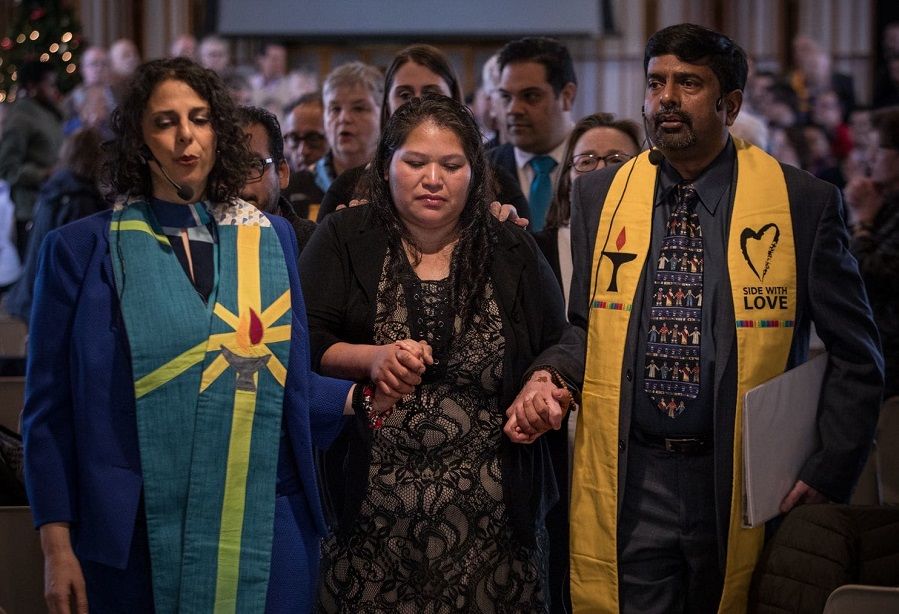 ---
Her fate was sealed, her plane ticket back to her native El Salvador already purchased. But Rosa Gutierrez Lopez couldn't shake the overwhelming feeling of dread that had been ever-present upon receiving her deportation order. Lopez struggled to hide her anxiety from her three children, terrified by the thought of returning to a country where at least one oh her relatives had been killed and where dangerous gangs now control the streets. Worst of all: leaving the U.S. meant her six-year-old son with Down syndrome wouldn't get the special-needs resources he so desperately requires.
It was these compounded fears which drove Lopez, a 40-year-old Virginia resident, to a last-minute decision: she not go back. Instead, Lopez ignored the order and took shelter in a Washington D.C.-area church to avoid deportation.
"I am going to fight," declared the newest tenant of the Cedar Lane Unitarian Universalist Church campus in Bethesda. The church will become her home while lawyers make the case she should be allowed to remain in the country. "I feel powerless. But I trust in God for a solution," Lopez explained.
Ramping Up Enforcement
The Trump administration's promise to increase deportation efforts has sent waves of fear through foreign-born communities. (In a strange twist, Lopez' lawyer is also representing anundocumented womanwho worked for Trump National Golf Club in New Jersey, the subject of a recentNew York Times article.)
But with this renewed focus on illegal immigration and the real threat of consequences has come a concerted effort by a network of over 50 houses of worship nationwide to harbor immigrants facing arrest and deportation. This sanctuary movement relies on a rule barring federal officials from arresting people in "sensitive locations," such as churches.
**Informed By Faith
**
What leads religious leaders to harbor immigrants? By and large, it's a moral conviction that those in need ought to be sheltered and given a helping hand. "Our faith informs us that this is the right thing to do," declared Omar Angel Perez, lead organizer for the DMV Sanctuary Congregation Network that matched Gutierrez Lopez with the Cedar Lane church.
Cedar Lane senior minister Rev. Abhi Janamanchi said his congregation and volunteers have banded together to supply Lopez with the basics and to patrol campus exits. "This is the way we live into our values and convictions. We are engaging in faithful resistance to unjust laws and inhumane practices."
This case is hardly an outlier, either churches across the U.S. have stepped up to shelter immigrants. AVirginia woman moved into a Richmond church this summer after she was ordered back to Honduras and into the waiting hands of an abusive partner. Two other immigrants are staying at churches in Charlottesville.
In the Netherlands, one church's efforts to protect a migrant family have garnered international attention:
Flouting the Law, or Exercising Faith?
The ongoing controversy with sanctuary churches has led some critics to denounce these faith communities for openly defying the law. It's great to have compassion, they argue, but breaking America's laws and settling here illegally is not behavior that should be rewarded.
However, church leaders see things differently. Would Jesus endorse turning away huddled masses at the border, separating families, and ordering deportations for people who've worked hard to make a home here? In their estimation, the answer is decidedly "no" which is why they've chosen to take action.