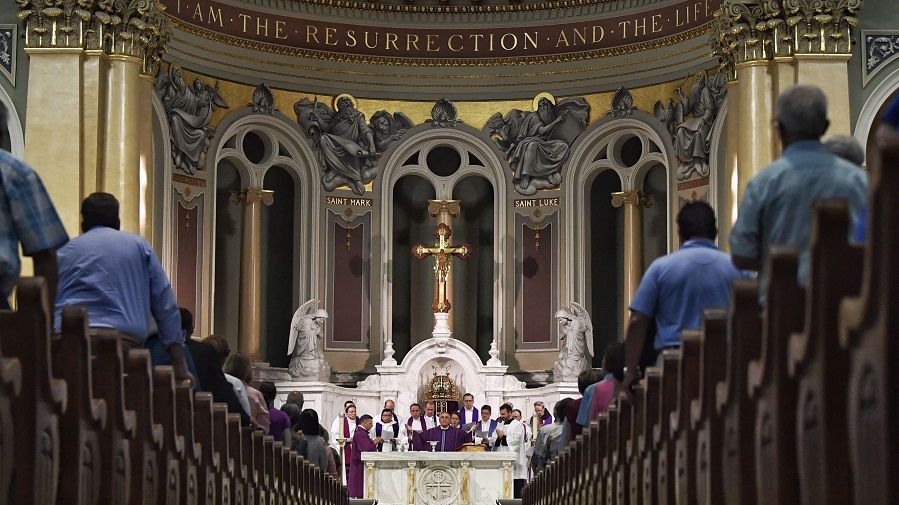 ---
Catholic bishops from across the U.S. are meeting in Chicago beginning today for a week-long retreat that will focus on the clergy sexual abuse scandal that continues to plague the Church. Sounds promising, right?
Well, there's a catch. According to reports, the bishops' agenda will primarily be comprised of just one activity: prayer. Although the retreat could potentially be used to formulate concrete strategies for reversing ongoing cycles of abuse, apparently the Vatican has rejected that idea; the Associated Press reported yesterday that Vatican officials have been consistently blocking U.S. Catholic leaders from enacting any new policies relating to clergy abuse. Apparently, the Vatican is worried that new U.S. proposals could wind up being legally problematic for the Church.
This concern seems especially dubious in the wake of yet another shocking report about a clergy abuse cover-up in Illinois. Yet, the bishops are obligated to obey the directive against policy changes.
Thoughts and Prayers
Without the Vatican's blessing, it seems that U.S. Catholic bishops attending the conference will be limited to prayer sessions. How successful will prayer be in combating future clergy abuse? It's hard to say, although a brief glance at the Church's past "responses" to the scandal (heavy on prayer, lacking in tangible solutions) certainly doesn't inspire much confidence.
Understandably, few are less optimistic than members of the Survivors Network of those Abused by Priests (SNAP). In the words of SNAP's executive director, Zach Hiner, "a week spent in silent prayer is not the response the public is looking for."
"If church officials truly want to do what is best, then they should be spending this week discussing how they can best comply with independent investigations by law enforcement, or how they can compel law enforcement officials in their state to act if no such investigation has begun yet," Hiner said. "At this point, regardless of what bishops decide to do in the first week of January, we are placing our hopes for reform in the hands of secular, not church officials."
Behind Closed Doors
But that's not the only thing critics of the conference have taken issue with. Prayer concerns aside, the whole gathering will also be happening behind closed doors. With privacy a high priority, priests from other denominations, members of the public, and media members are all barred from participating reinforcing the notion that the Church is more concerned with covering up abuse than transparently working to solve the problem.
However, some supporters say this could actually be a good thing. Among them is Notre Dame researcher Timothy O'Malley, who thinks taking public pressure out of the equation may result in a more honest discussion:
"When the bishops meet in public to discuss these procedures, there is a danger that it's less an act of contrition and more an occasion for scoring political points. Part of the corruption is based in a certain clerical culture where bishops pursued self-interest, whether their own or their diocese's, at the expense of listening to lay victims. This retreat is a first step toward a renewal of the (church leadership) as a whole in the United States."
Effecting Change
That said, it's going to take a whole lot more from the church than contrition and honesty if these crimes are to stop. Without some concrete steps to root out abusive priests and change the culture of silence within the Church, how can one possibly expect any progress to be made?
To that end, there is a small glimmer of hope on the horizon; Pope Francis is set to meet with Catholic leaders from around the world next month, and the express intent is to tackle the clergy abuse plague head-on. At this point, most everyone including the Catholic community is hoping the meeting will produce something more tangible than "let's pray on it."