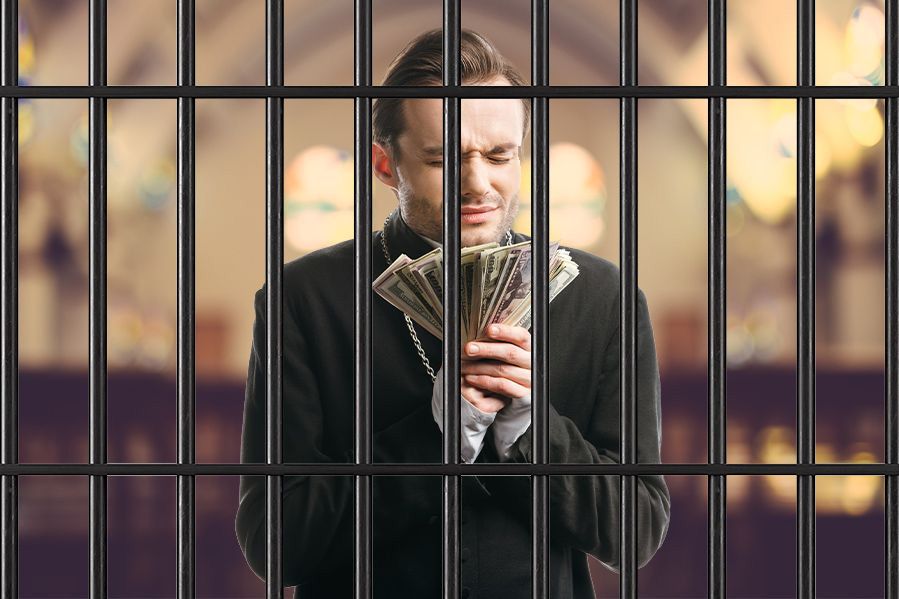 Brooklyn pastor Lamor Whitehead, also known as the "bling bishop" for his extravagant style and expensive taste in jewelry, has been charged with fraud.
You may remember Pastor Whitehead from earlier this year, when we wrote about a live-streamed sermon that turned into a live-streamed armed robbery of the pastor and his wife. They claimed an eye-popping amount of jewelry and other luxury items had been stolen. 
Now, the controversial pastor has been arrested on financial fraud charges, with Manhattan prosecutors alleging that he defrauded parishioners. Whitehead is being charged with wire fraud, attempted wire fraud, attempted extortion, and making a false statement to a federal agent.
Church-Issued Jewelry
Until the robbery in late July, Pastor Whitehead was perhaps best known in the world of faith for his flashy and audacious style of dress. Adorned in expensive suits and hundreds of thousands in jewelry around his neck and on his fingers, it's safe to say that Pastor Whitehead is not a big believer in faith leaders living humbly. 
However, he would argue that he's giving his congregation something to aspire to. Before starting his church, Whitehead spent time in prison for fraud and identity theft, and his expensive clothes, it could be argued, are the ultimate sign that anything is possible through God.
Many of Whitehead's followers see things that way. As one said of Whitehead, "rappers, singers, the way they attract people, that's what he's doing. People want to know how you got all that. Once you get here, you see he is teaching God."
Whitehead was briefly vaulted to the national spotlight earlier this year when he was robbed at gunpoint during the live-streamed sermon.
And this wasn't exactly like someone slipping a few bucks from the collection plate into their pocket; the thieves reportedly made off with roughly $1 million dollars worth of jewelry from Pastor Whitehead and his wife. 
Even at the time, there was rampant speculation that Whitehead was somehow in on it – speculation which will undoubtedly continue considering the recent arrest. However, it's worth noting that the police have made no indication he was involved, two men were later arrested, and none of his current charges involve the shocking robbery.
Bling Bishop Loses His Luster
Prosecutors are accusing Whitehead of a variety of crimes, most notably of defrauding one of his congregants. According to federal prosecutors, Whitehead convinced one of his parishioners to invest roughly $90,000 dollars of her retirement savings into his businesses, with the pastor's guarantee that he would also help her find a home in exchange.
He allegedly spent the money on personal luxuries for himself. When she asked for the money back, he told her it was gone.
In another incident, Pastor Whitehead allegedly tried to get a local businessman to give him half a million dollars in exchange for a stake in some of Whitehead's real estate dealings, as well as political favors from the New York City government.
For his part, Pastor Whitehead says he's innocent, and that God is on his side.
"The bishop is not guilty. And I'm going to fight it. I have the right legal team, and more importantly, I have God," he explained in a recent Instagram Live post.
That will likely be determined in a New York courthouse next year.