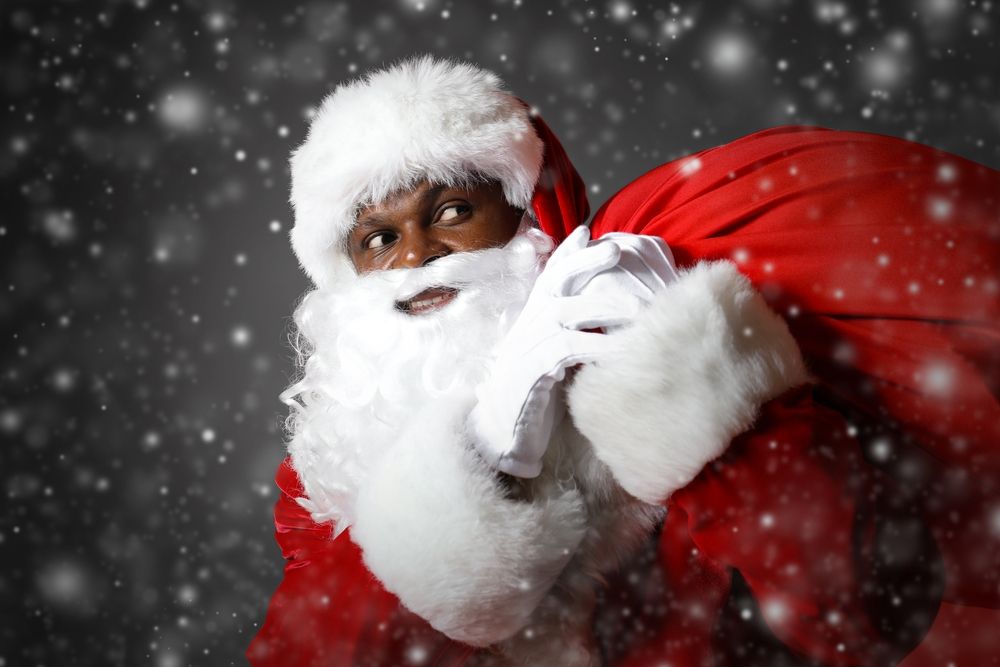 Should our holiday celebrations stay true to their roots, or change with the times? That's one of the questions swirling around this holiday season.
Many of our winter holidays have become cultural events just as much as religious ones. Perhaps none more so than Christmas, which some people argue has been coopted to the point that the "Christ" aspect of the holiday is now entirely overshadowed.
But as they become cultural (and commercial) events, the face of winter holidays is also changing. Santa Claus – a figure traditionally portrayed as white – is more and more frequently appearing as black. Or gay.
Hanukkah, a sacred holiday in the Jewish faith, is showing the effects of commercialization in the form of "Hanukkah" branded items on big box store shelves.
Are these developments positive or negative? That depends who you ask.
Let's take a closer look at these examples and see how people are reacting to an evolving holiday season.
Is It Okay for Santa to Look Different?
Santa Claus originates from the historical figure of Saint Nicholas, a monk that historians believe lived in Turkey around the year 300 AD.
In popular culture, Santa Claus is typically portrayed as a heterosexual white man who lives at the North Pole with his wife, Mrs. Claus. Most Santas you meet at the mall would probably fit this profile.
But the world is a diverse place, and some people argue that in the spirit of inclusivity, holiday figures – such as Santa Claus – should reflect the populations celebrating them. The result?
Increasingly, Santa is being cast as a black figure:
We also posted on Facebook about a popular ad that depicted Santa as gay:
While many folks celebrate this type of diverse casting, it has also drawn derogatory accusations of "wokeness" from certain corners. Critics argue that casting Santa as black is historically inaccurate and exemplifies the type of politically correct pandering that companies and organizations use to appear progressive.
Similar objections can be heard to depicting Santa as a gay man. Unsurprising, considering he represents a Christian holiday – a religion whose teachings aren't always accepting of homosexuality.
However, defenders of diversity and inclusion point out that the Santa Claus we celebrate today is in many ways a fictionalized figure. They ask: what are the odds that a Turkish man from the year 300 looked like a jolly white man with rosy cheeks? And for that matter, who's to say he wasn't gay?
But Christmas isn't the only sacred holiday under scrutiny this year.
Hanukkah, Target Style
Hanukkah is not an event usually associated with commercialization. Perhaps because it occurs during the Christmas season, the Jewish festival of lights is often overshadowed by its larger red and green cousin; store shelves are chock-full of candy canes, elves, and reindeer – not menorahs and Stars of David.
But this year, things look a bit different. Photos from shoppers – Target shoppers in particular – have flooded social media over the past few weeks showing a vast array of Hanukkah products sitting out on display.
Jewish people are torn about this development. Some are lamenting the fact that a religious holiday is being used to sell kitschy merchandise.
Certain critics complained that Target failed to do its research, and is labeling certain things "Hanukkah" products that have little to do with the holiday.
Others took issue with a Hanukkah-themed advent calendar:
Then there were some interesting design choices made. A Twitter user pointed out that one Target menorah design in particular had a, uhhh, curious shape:
Welcoming Representation
But not everyone has taken such a critical view. In fact, some Jewish people see this type of representation, albeit crude or cringy at times, as a welcome visibility boost for Hanukkah – and Jewish culture at large.
Amid a disturbing rise in antisemitism this year, these supporters view promoting the holiday – even if it's in a commercial or kitschy way – as a net positive. It can help to remind non-Jewish people that the holiday season includes more than just Christmas, they point out. Plus, perhaps those folks will learn a thing or two about Hanukkah and Judaism!
What is your reaction? When it comes to the holidays, are these efforts to increase representation "woke," or simply inclusive?