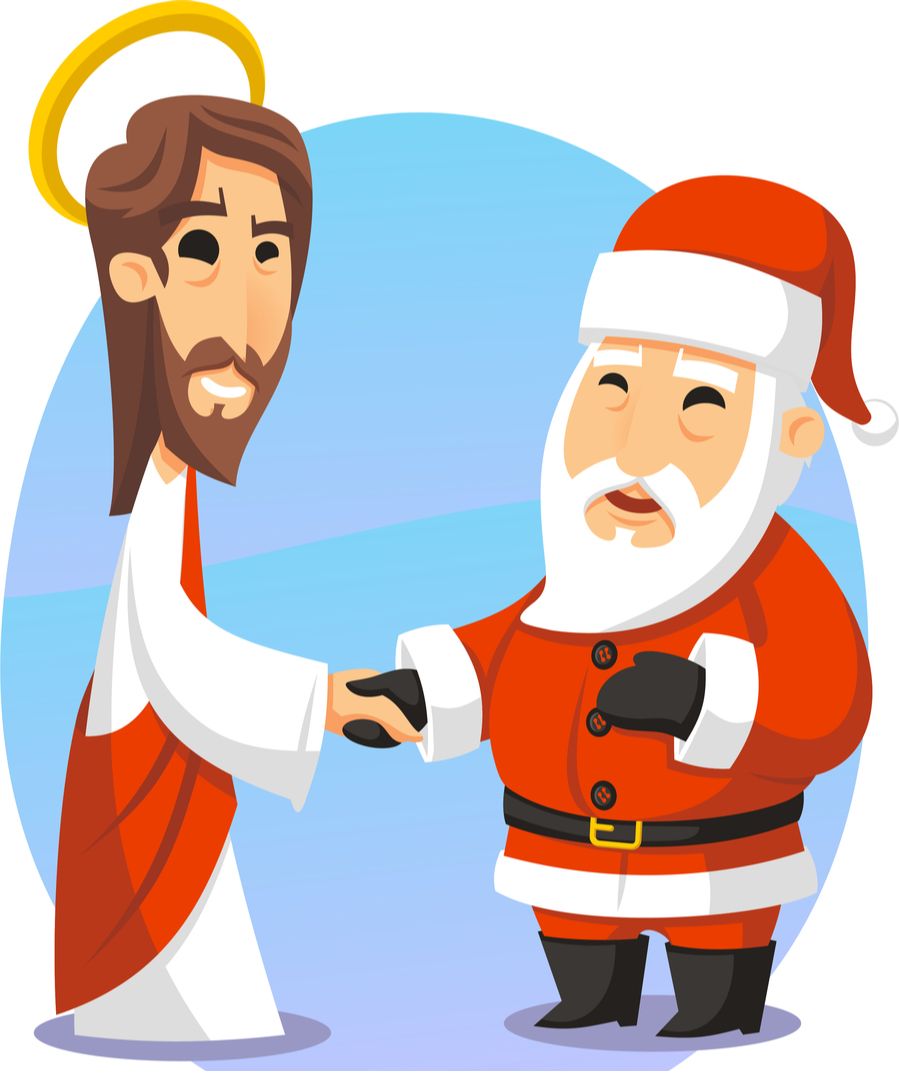 There was a time when Christmas was centered around one thing and one thing only: the celebration of the birth of Christ. It's literally in the name: Christ Mass.
Those days are long gone. 
Christmas is still a religious holiday, obviously – but it's also a secular holiday, and many people treat it as something in between. With Christmastime encompassing everything from baking gingerbread men, to socially-encouraged gluttony, to rampant commercialism, it's safe to say that Jesus Christ is no longer the sole focus. 
In fact, in many ways he's been supplanted by a different figure – one with much more direct appeal to children: Santa Claus.
This presents a serious challenge for Christian families who wish to pass down religious traditions to their children and keep the focus of the holiday on Christ. How do you balance celebrating Jesus with children's adoration for Santa?
Whom to Celebrate, and How to Celebrate
There's no doubt that parents who want Christmas to be about the birth of Jesus face an uphill battle. Because despite it being his birthday, Jesus sure takes a noticeable backseat to a host of other things children see in December: festive decorations, bright light displays, and Christmas trees. 
In fact, outside of a nativity scene here or there, the holiday season is largely a secular affair in popular culture. And the dominating figure is not Jesus, but the big man in the red suit himself: Santa Claus.
For children, Santa is a universally beloved figure (he's a jolly old man who shows up with a massive sack of gifts each year, how could he not be?). 
That creates an enduring tension in Christian households. Parents worry that their children will be more focused on material goods, as opposed to the holiday's religious importance. 
While most Christians are able to generally balance the fun of Santa with the importance of Jesus, some are ready to cancel Santa altogether.
That's what Pastor David Grisham did in 2016 when he went to a mall and recorded himself telling children waiting in line to meet Santa that Santa isn't real. "Kids, I want to tell you today that there is no such thing as Santa Claus," he begins. "Santa Claus does not exist. The Christmas season is about Jesus!"
If it wasn't clear, Grisham's apparently not a big fan of Santa hogging the seasonal spotlight. In a now-deleted video from 2010, he recorded himself and others mock-executing a figure of Santa by firing squad.
Obviously that's a pretty extreme reaction. Is there a way to find compromise here?
Can't You Just Celebrate Both?
Children get excited to hang stockings, make a wish list, mail a letter to the North Pole and leave out a plate of cookies for Santa. Heck, parents get excited for these rituals too. They read books about the night before Christmas together, get dressed in special Christmas pajamas, and sing "Rudolph the Red-nosed Reindeer" until they are hoarse. For some families, the holiday would not be complete without these traditions. 
They ask: what is the harm in enjoying and spreading a little magic during Christmas time? The historical figure of Saint Nicholas is well-documented, and the legend of his counterpart Santa Claus is rooted in the spirit of love and giving, after all. 
Why not take the birth of the Savior and enjoy it with a side of Kris Kringle? 
And even if Christmas has become commercialized, that doesn't necessarily mean the religious aspects lose importance, proponents argue. In fact, perhaps this shift has helped to further crystalize why those spiritual lessons still matter. 
The tradition of giving to those in need around the holidays is a great example. What could be more Christ-like than helping up the least of us during the darkest time of the year? Even if it's Santa's face, not Jesus's, on a Christmas card – does that diminish the intent behind the act? 
The pro-Santa camp would probably argue that it doesn't. 
Where do you stand?