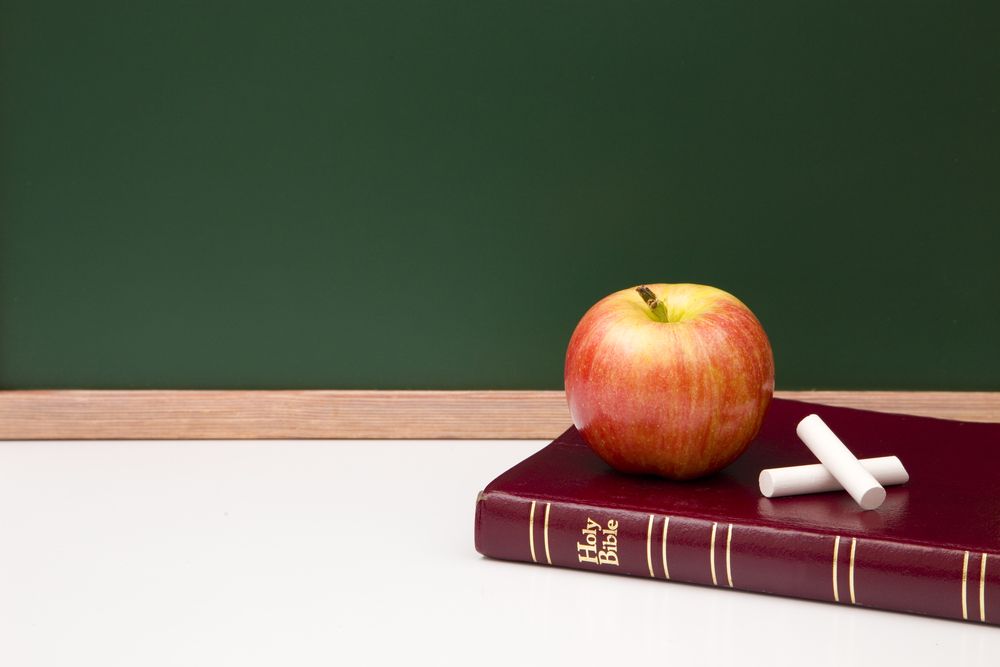 Does Jesus belong in public school classrooms?
Thanks to a non-binding legal opinion from Oklahoma's departing Attorney General John O'Connor, churches in the Sooner State might be operating public charter schools in the near future.
The 15-page memo relies on three recent U.S. Supreme Court decisions that ruled in favor of religious schools. Those rulings were cheered by faith groups, while critics warned the decisions will erode the separation of church and state. 
The next step for faith-based organizations in Oklahoma is to apply for taxpayer funds to use towards charter schools. However, opponents worry about what this will mean for secular education. 
Oklahoma Leaders Voice Support
Among the backers of the move toward taxpayer-funded religious schools is Oklahoma Governor Kevin Stitt, who supported the legal opinion saying it "rightfully defends parents, education freedom, and religious liberty in Oklahoma. Ultimately, government takes a backseat to parents who get to determine the best learning environment for their child."
The newly-elected Superintendent of Oklahoma, Ryan Walters also called the opinion "the right decision for Oklahomans."
It should also be noted that O'Connor, the co-author of the opinion, has previously drawn criticism from secular groups for making comments such as, "there's no such thing as an ideal godless America," and that Americans must stand "very vigorously... in favor of a God-based country."
Indeed, there was a time in America when religion in public school classrooms wasn't out of the ordinary. However, after a decades-long push toward secularization, the line between church and state in public education looked especially robust.
Bringing faith back into the classroom would represent a sharp shift to this trend.
So, how did we get here? 
The History of Charter Schools
Charter schools originated in the 1970s as an idea for teachers to set up "charters" with their local school boards in order to find new approaches to education of their students. Just like public schools, tuition is free and the school is funded by taxpayers, but charter schools are granted more freedom in their methodology and curriculum. 
In return, charter schools are supposed to be held to higher accountability standards for their students' performance. However, evidence from the US Department of Education suggests that isn't always the case.
Numerous studies have been conducted on the effectiveness of charter schools in educating students. The results have been mixed. 
Some studies have found that charter schools can produce better student test scores, but that isn't always the case. Plus, critics say charter schools can divert funding away from public schools, causing a drain on the traditional education system. 
However, one of the largest concerns with charter schools involves transparency. Because they are run by private organizations, some of which operate a for-profit model, critics argue that charter schools are more likely to exploit students and taxpayers alike. 
Gaining a Legal Foothold
While the Oklahoma opinion doesn't change the charter school landscape overnight, it is a serious step forward, says Nicole Stelle Garnett, a University of Notre Dame law professor who is also an influential supporter of the religious charter school movement. 
She points out that states could write or amend laws so that religious charter schools can exist or a lawyer could sue on behalf of a school that wishes to incorporate a religious curriculum.
According to Garnett, "the policy implications are huge because this is the first state that is going to allow religious charter schools.
It seems clear that legal decisions and court fights are on the horizon, as churches begin putting the time and effort into setting up these publicly-funded religious charter schools.
With them will come a renewed constitutional debate over the separation of church and state.
What About Separating Church and State?
Not everyone is celebrating the developments in Oklahoma. Among those speaking out against religious charter schools is Derek Black, an education and civil rights professor at the University of South Carolina School of Law.
In a recent interview, Black argued that "It is a whole other ballgame for the state to instruct children on religious doctrine and teach it as truth… That's what we're talking about here: State dollars in public schools, delivering instruction to children preaching religion as a way of life that must be adhered to. That's staggering."
Many commenters on social media echoed similar sentiments, some more scathing than others. 
"Apparently we're headed for a theocracy," lamented one user.
"Tax the churches, then. Take public funds? Then pay public taxes," added another.
One commenter argued, "Taxpayers should demand their freedom from religion by withholding their share of tax money that goes to the cultist schools."
What do you think? Should religious charter schools be allowed to use taxpayer funds? Or does that violate the separation of church and state?