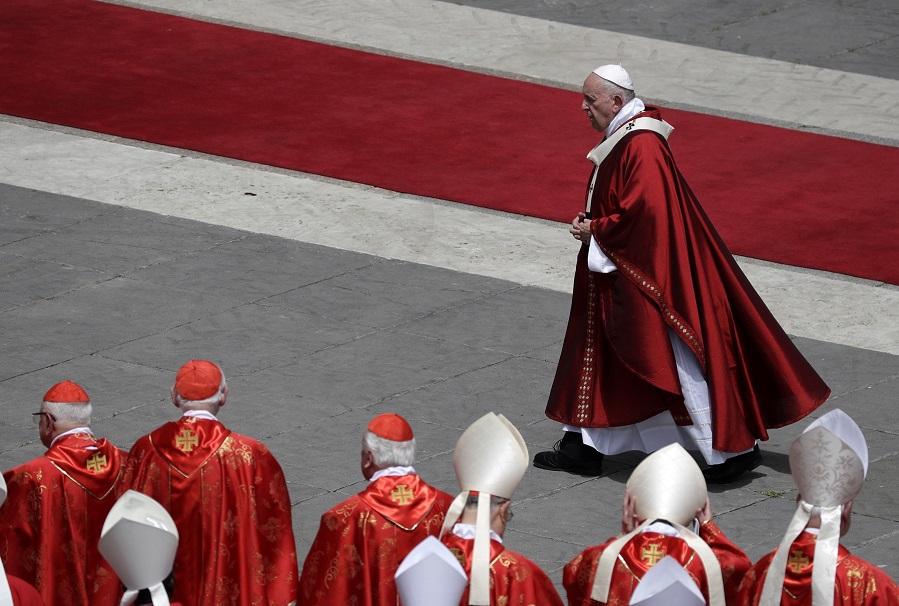 ---
While cities around the world are celebrating LGBT Pride Month, the Vatican is choosing a distinctly different path. On the heels of a highly controversial message from a Catholic Bishop urging people to boycott Pride events, Church leadership released a new official document entitled "Male and Female He Created Them."
The text reinforces the Church's longstanding belief that homosexual relationships should not be condoned because same-sex couples cannot produce children. But it also took a further step into the culture wars by arguing that people cannot choose or change their gender as they please, because this trait is determined by one's biological sex (and God, of course).
The Vatican insists that gender fluidity is a symptom of the "confused concept of freedom" and "momentary desires" that characterize post-modern culture. The document also outright rejects terms such as "intersex" and "transgender."
What It Means for Catholic Education
But the document is not solely intended to clarify Catholic views on gender identity it will also serve as a blueprint to guide Catholic teachers, parents, students, and clergy through what the church has dubbed a "sex educational crisis."
The proposed educational reform calls for a "path of dialogue" on these issues, but also seeks to downplay modern gender theory to focus instead on the sexual "complementarity" of men and women to make babies.
It appears the Vatican is concerned about Catholic teens potentially being exposed to progressive views on gender, sexual orientation, and other "unbiblical" ideas discussed in modern sex-ed classes. And if there was any doubt as to this motive, the text further clarifies that the Church is in favor of a "positive and prudent sexual education" which stresses to students the "full original truth of masculinity and femininity."
LGBT Reaction
LGBT Catholics immediately denounced the document, claiming it would only increase bigotry and violence against their community. Advocacy groups agree, voicing concern that an all-out rejection of LGBT identities could confuse individuals questioning their gender identity or sexual orientation. Jay Brown of the Human Rights Campaign says the Vatican's latest stance "sends a dangerous message that anybody who experiences gender diversity is somehow less worthy."
Potential Fissure
And although many Catholics are standing behind the Vatican, some members of the faith are choosing to break lines. "The real-life experiences of LGBT people seem entirely absent from this document," said the Rev. James Martin, a Jesuit priest who specializes in Catholic outreach to the LGBT community.
New Ways Ministry head Francis DeBernardo believes the Vatican's understanding of gender identity is scientifically passé and misinformed. "Gender is also biologically determined by genetics, hormones and brain chemistry things not visible at birth. People do not choose their gender, as the Vatican claims, they discover it through their lived experiences." He believes the Catholic Church should encourage young people to pursue this path to self-discovery, to learn for themselves "the wonderful way that God has created them."
Debate Rages On
As it wades into the modern gender debate, does the Catholic Church have a scientific leg to stand on? Critics point out that a 2000-year-old institution with a history of questioning scientific fact be it the earth revolving around the sun in Galileo's times, or evolution vs. creationism in the 21st century is perhaps not the best choice to lead a discussion over what determines masculinity and femininity.
However, supporters insist that biology doesn't lie and that the Church is correct in its hardline approach to gender identity. Further, they applaud the Vatican for standing up to new age sex-ed programs that some believe have bent too far toward social justice and left science behind. Where do you stand?