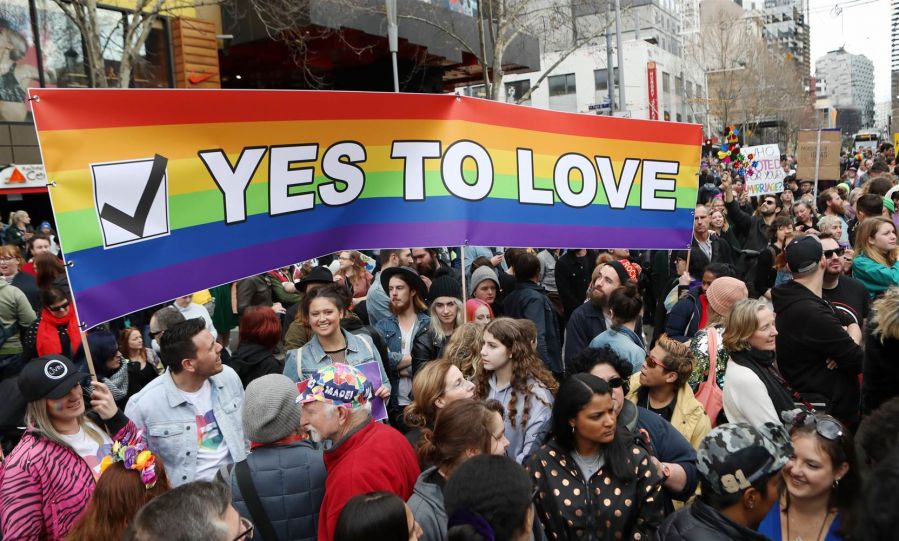 ---
Let's say you are opposed to same-sex marriage, and are trying to prevent it from becoming law. You want to bring people over to your point of view, but polite tactics aren't working. How far is it OK to go? That's precisely the question Australia is facing in the leadup to a nationwide vote on same-sex marriage.
While most of the opposition has been relatively tame, a number of nasty ads and fliers opposing LGBT rights have begun popping up. Unsurprisingly, the provocative messages quickly went viral on social media. Take this one, for example:
Spotted in Melbourne - Heffernan Lane. How is this for a unity moment? @TurnbullMalcolm @cityofmelbourne @AdamBandt @VicGovAu @abcnews pic.twitter.com/syL7vqRJLK

Dan Leach-McGill (@DanLMcG) August 19, 2017
Hateful Rhetoric
The posters have angered many Australians, eliciting a strong response from LGBT rights advocates and lawmakers alike.
Among the voices of condemnation was the country's prime minister, Malcolm Turnbull. Responding to the posters, he said: "I deplore disrespectful, abusive language whether it is directed at young gay people or people of other religions or other races. If you have friends who are really distressed by this sort of language, stand up for them, put your arms around them."
However, Turnbull refused to have the messages taken down, arguing that they were an expression of free speech.
"People will often say in any democratic debate, they'll often say things that are hurtful and unfair and sometimes cruel, but that is part of a debate. The only way to stop people saying things that you find hurtful is to shut down free speech." That is not an acceptable option, he said.
Clear Message
There was a common theme that spanned across all the anti-gay marriage messages: homosexuality is evil. To bolster its cause, the campaign has cited a number of questionable statistics. Among them are claims that "92% of children raised by gay parents are abused, 51% have depression, and 72% are obese."
In addition to the inflammatory posters, opponents distributed pamphlets claiming that homosexuality is "a tragedy of a family" and a "curse of death in terminating the family line." The pamphlets were printed in multiple languages in an apparent effort to reach as many people as possible.

Christian Roots?
Although no group or individual has come forth as the author of the campaign, there have been rumors circulating. The rhetoric used bears striking similarity to that of certain anti-gay Christian groups leading some to belief that the movement is religiously motivated. However, news outlets have been unable to confirm this fact. For now, the true architects of the campaign remain a mystery.
Religious Decline in Australia
One thing is certain: Australians are less religious now than ever before. Although the country has a strong Christian history, a 2011 survey showed that only 61% of Australians identified as having some form of religious affiliation. By 2016 a mere five years later, that number had dropped to 52%. This surprising trend shows no sign of reversing.
Perhaps that's the bigger story. If indeed a Christian group is behind the crude anti-gay posters, it could be a sign that once-popular religious institutions are now struggling. They might view gay marriage as a symbol of religious decline, and are thus pushing back extra hard against the idea.
Or it's possible that opposition to marriage equality in Australia stems from the age-old sentiment that gay marriage will irreparably harm the family values which support a moral society.
No matter the reasoning, it appears to be a fruitless effort polls show that the majority of the country now favors allowing same-sex couples to marry. Nevertheless, opponents seem determined to fight this one out to the end. **Are the posters an example of free speech gone too far, or is "Stop the Fags" fair game? What is your reaction?
**