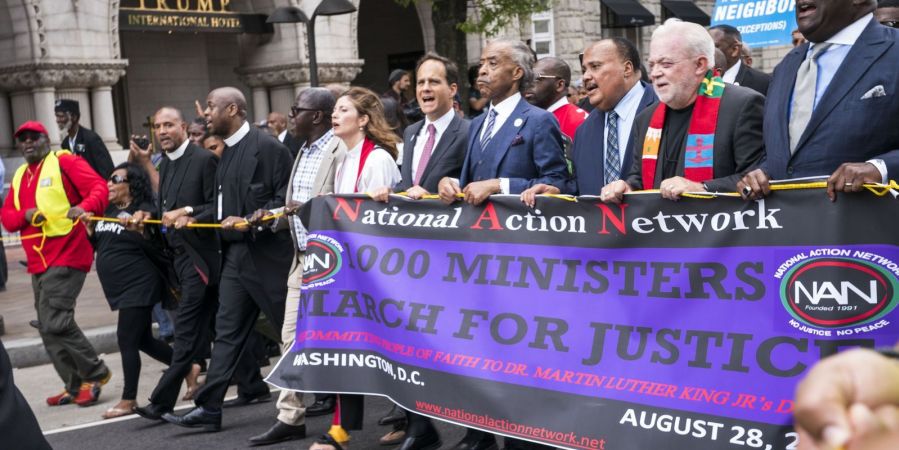 ---
Under the direction of Rev. Al Sharpton, more than 1,000 religious leaders rallied in Washington D.C. on Monday. Organizers called it the "One Thousand Ministers March for Justice", and it was followed by a rally near the Martin Luther King Jr. Memorial. The march was not spontaneous, nor was the date insignificant it coincided with the 54th anniversary of MLK's famous "I Have a Dream" speech.
Sharpton called on religious leaders of all faiths and backgrounds to come out and show their support for the cause. "We wanted 1,000 rabbis, Sikhs, imams, Christian ministers of all denominations because we wanted to say this nation is in moral trouble," Rev. Sharpton said. And show up they did:
Trouble in Charlottesville
Even though it was planned months in advance, for many the march took on special significance due to the tragic events in Charlottesville several weeks before.
"Charlottesville gave it a new energy, and a lot of ministers called in saying that this is the time to make a moral statement," Sharpton noted.
"Our hope is that when you looked at those Nazis carrying torches talking about 'You will not replace us,' we can contrast that with rabbis linking arms with Baptist ministers and Muslims marching in the spirit of Dr. King," Rev. Sharpton told a crowd before the march. "They went to Robert E. Lee's monument. We're going to King's monument and marching to the Justice Department."
Jewish Support
For many Jews, the events in Charlottesville were particularly chilling. However, it also seemed to create a renewed determination. Rabbi Jonah Pesner, director of the Religious Action Center of Reform Judaism, offered his thoughts:
"We Jews will march for 5,000 more years if that's what it takes to make sure that all people experience compassion and justice and equality. We know that it's our jobs as Jews to always show up and beat back the forces of white supremacy, racism and hate of all forms."
Faith and Politics Collide
Throughout American history, faith and politics have often intersected. There were countless religious groups involved in the Civil Rights movement, for example. It shouldn't be surprising, really religion deals primarily with moral issues, many of which invade the political sphere with some frequency. It's inevitable for some overlap to occur.
Clearly, religious leaders believe that moral boundaries have been crossed, so they sprang into action. Do you agree? Would you have joined the march, if given the chance?