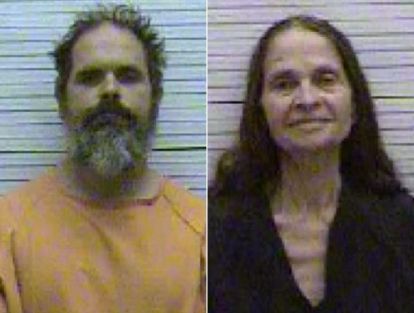 Leaders of a paramilitary religious group based in New Mexico have been arrested on a set of sinister criminal charges. The group, known as the "Aggressive Christianity Missions Training Corps", allegedly sanctioned sexual abuse of minors living in the sect's private compound. Two of the group's leaders, Peter and Deborah Green, have been accused of (among other deplorable acts) repeatedly raping a 7-year-old girl they had adopted from Uganda.
The group denies involvement in the shocking crimes, calling the allegations "sickening" and completely false. "We don't know who all the accusers are, but the accusations are just re-runs of old lies that have been investigated and shown to be malicious attacks against a legitimate ministry, time and again," their statement read.
Disturbing Allegations
Despite their protestations of innocence, things don't look good for the embattled group. On top of the disturbing evidence discovered by investigators, several former-members have also come forward to confirm details of the story. They explain that the organization operates more like a Christian cult than a religious community, demanding complete control over its members' lives and using force to ensure compliance.
As if these circumstances weren't damning enough, only days after police raided the sect's headquarters in Fence Lake, New Mexico, four adult members were caught attempting to flee state lines with 11 young children. Does that seem like normal behavior for people with nothing to hide?
Who Are These Christian Soldiers?
Originally founded in California back in 1981, the Aggressive Christianity Missions Training Corps (a mouthful, we know) describes itself as a group "revolutionary for Jesus." The group places a premium on gun rights and self-defense it even provides a free spiritual "ammo pack" to any followers that request one. Photos posted online show the members dressed in paramilitary style clothing whilst on missions in Africa.
According their website, the Aggressive Christianity Missions Training Corps was created after its founders had a vision from God:
"Every vision has a beginning. In 1979 James and Deborah Green entered the prayer closet and God was there. Speaking to them prophetically, He made it clear that He was raising up an army His Spirit army. True, there had been other armies claiming the Lord's name, but this was something new."
Radical Ideologies
This is certainly not the first radical religious group to claim a mandate from God, nor will it be the last. We wonder, what is alluring about such organizations? Why do people choose to join? Perhaps it's the desire to fulfill a higher purpose. Isn't that what humans have been seeking since the beginning of time a calling greater than themselves?
It just so happens that in this case, the "higher calling" involved donning military gear and camping out in a New Mexico compound. And, apparently, sexually abusing children.
How's that for carrying out God's wishes?