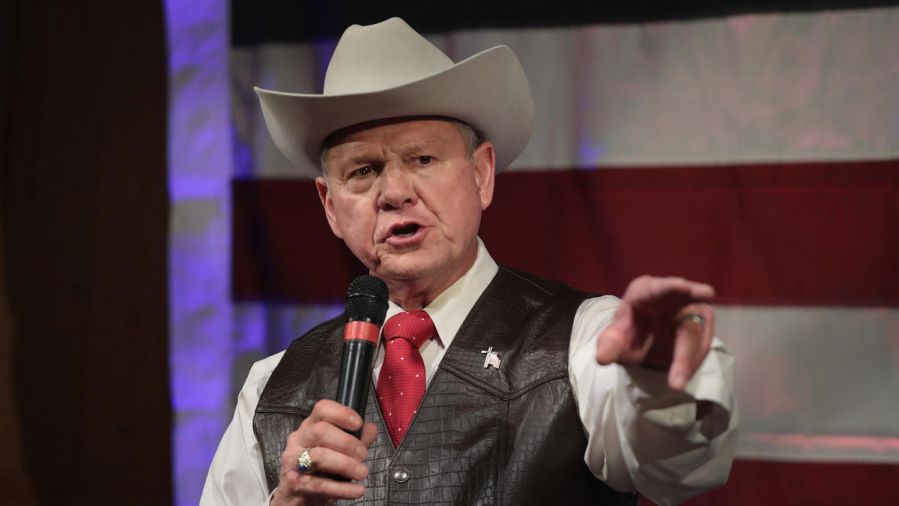 ---

In America, religion and government are supposed to be independent of one another. But don't tell that to Judge Roy Moore, the frontrunner in Alabama's upcoming Senate race. Moore, an outspoken Christian, has a long track record of acting upon his faith while in government office and resisting calls to put his beliefs aside.
Roy Moore is perhaps best known as the "Ten Commandments Judge" a nickname he earned back in the 1990s when he famously hung a copy of the commandments on the door to his judicial chambers. Moore went on to defy a federal order to remove a large statue of the Ten Commandments from Alabama state property.
Over the years, he's been publicly forced out of several government positions for refusing to compromise on his strong Christian beliefs.
Is America a Christian County?
Absolutely, according to Moore. He argues that the Constitution was written to "foster Christianity" and that the founders intended America to be a Christian nation. In his mind, the Christian God is "the only source of our law, liberty and government."
"To deny God to deny Christianity or Christian principles is to deny what the First Amendment was established for. You see, the First Amendment was established on Christian principles," Moore explains.

Sharia Law in the U.S.
In addition to his Christian convictions, Moore is also highly skeptical of Islam. In a recent interview with the online publication Vox, Moore made headlines by insisting that certain areas of the U.S. were currently under Sharia law. The puzzling exchange is worth reading in full.
Roy Moore: There are communities under Sharia law right now in our country. Up in Illinois. Christian communities; I don't know if the__y may be Muslim communities.
But Sharia law is a little different from American law. It is founded on religious concepts.
Reporter: Which American communities are under Sharia law? When did they fall under Sharia law?
Roy Moore: Well, there's Sharia law, as I understand it, in Illinois, Indiana up there. I don't know.
Reporter: That seems like an amazing claim for a Senate candidate to make.
Roy Moore: Well, let me just put it this way if they are, they are; if they're not, they're not. That doesn't matter.
He offered no further details on the issue.
Opposition to Gay Marriage
Judge Moore's faith has also led him to take strong stances on social issues such as gay marriage. Even after the Supreme Court decision legalizing same-sex marriage, he remained resolute. As Alabama's Chief Justice, he instructed the state's probate courts to deny marriage licenses to gay couples. As a result, he was forced to step down from his judicial post.
But his opposition to appears to go beyond concerns about marriage as recently as 2005, Moore insisted that "homosexual conduct" should be made illegal nationwide, defiantly comparing it to bestiality during a televised interview.
On the Road to Washington
Since Roy Moore is the Republican candidate running in a red state, the odds are high that he'll be elected the next Senator of Alabama.
It's yet to be seen if Moore will put a copy of the Ten Commandments on the door to his Senate office, but judging by his track record and deep Christian convictions, it would likely come as a bigger surprise if he decided not to.