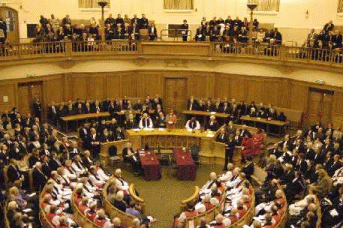 On Wednesday February 11th, the Church of England's General Synod accepted a motion to debate the priority of converting new members. Conversions were once paramount to the Church's policy, yet more recently hardliners have accused the Church of straying from its traditions.
Traditionalist Synod member Paul Eddy, a key supporter of the motion, seeks to reverse the Church's recent liberal tendencies. With an approval of the motion, members of the clergy will receive additional training for the conversion of non-Christians, along with new incentives to do so.
the motives of Paul Eddy, the traditionalist synod member who tabled the motion, are not limited simply to winning potential converts among the Muslim, Hindu or other communities who might be susceptible to the Christian message.

His motion goes right to the heart of the central division between liberal and traditionalist Anglicans.

(BBC)
We understand and recognize the importance of disputes within a church, though a policy aimed at conversion can be a slippery slope. We are all children of the same universe, and we must accept that different individuals will hold different beliefs; this is a truth that we must all come to recognize.
– BBC News