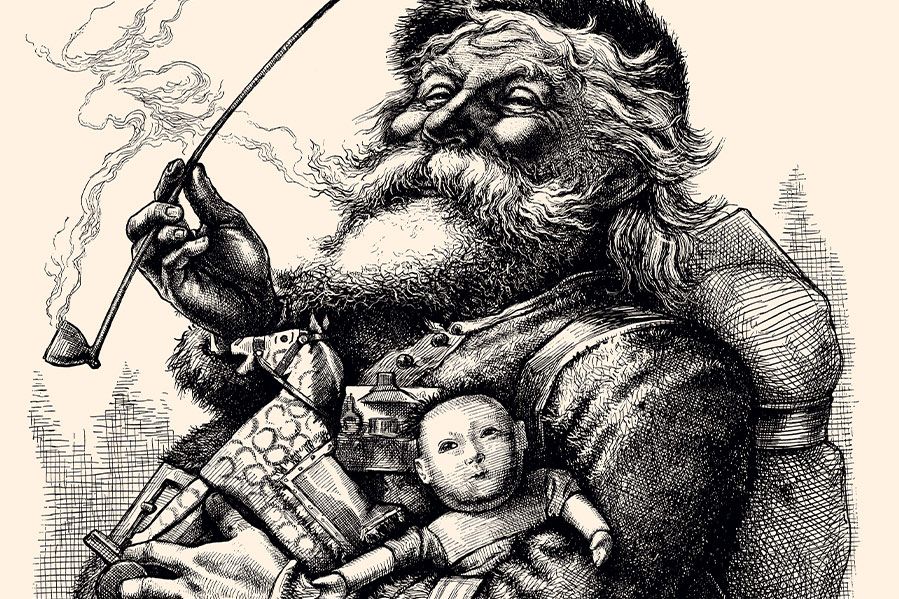 The following sermon was submitted by ULC minister Mike Salmon. All ULC Ministers are invited to contribute their own sermons for consideration/publication. To submit a sermon, please email it to sermons@ulc.org.
---
With just a week until Christmas and all my Christmas shopping finally done, I thought it would be appropriate to look into just why exactly we have so many mysterious rituals surrounding this time of the year. Because for a holiday supposedly celebrating the birth of Christ… it's pretty weird that we're decorating evergreens and telling our children that a fat man who lives on a floating sheet of ice is watching them all the time… right? Anyways, here's all you need to know about the evolution of our Christmas traditions.
Christmas: Just Another Day in the Year
My journey started just by looking up when exactly Jesus of Nazareth was born. As some of you may know, the Bible is silent as to the exact birthdate of Christ. The first accounts of Jesus's birth originally speculated that he was born in early January, but Luke 2:8 tells us that the night of Jesus's birth, "some shepherds [were] staying out in the fields keeping watch over their flock." This would suggest that Jesus was probably born in the spring or summer, as most shepherds I know are not fond of freezing to death. But still I wondered: why was December 25th the chosen date?
I found that historically the Romans (and other ancient pagans) celebrated the festival of Sol Invictus on December 25th. The festival of Sol Invictus was a celebration of the sun over the dark; the winter solstice--just days prior--was the advent of the days getting longer. In the early days of Christianity, Jesus was often likened to the sun, so the rather innocuous explanation that "Jesus was just being equated to the sun" is possible.
But for those of us who read Brian Stewart's "The True Origin Story of Hanukkah," another explanation provides itself. (The cynics amongst us may appreciate this.) According to the more cynical explanation, early Christians chose December 25th in order to deliberately coopt the ancient pagan feast day. It has also been suggested that when Christianity was running rampant in ancient Rome, Roman authorities tried to solidify their hold over the religion by making the birth of Christ the same day as a traditional holiday.
Where Does Santa Come From?
I know what you're thinking: "Okay, so that at least partially explains the date, but why am I still coerced year after year into purchasing gifts for my entire family? And why, just why, am I encouraged to tell my children that these gifts come from a ruddy, old, overweight man, his band of mythical elf helpers, and a team of flying reindeer?"
The origins of Santa Claus have its roots in the life of Saint Nicholas. Saint Nicholas lived in what is now Turkey in the third and fourth centuries and reportedly gave many gifts to the local children. For this reason, he came to be known as the patron saint of schoolchildren. 
But the more fantastic elements that birthed our modern conception of Santa Claus arise out of the Dutch tradition celebrating St. Nicholas. In the Dutch tradition, Saint Nicholas (Sinterklaas) is depicted as having white hair and a long, thick beard. He dresses in his familiar crimson robes and walks around with a book in which he records whether children have been naughty or nice.
In this tradition, Sinterklaas is also assisted by a Moorish helper: Zwarte Piet. Zwarte Piet carries around a bag filled with candy for the children and helps Sinterklaas deliver and wrap all the presents. In the past, Zwarte Piet was accused of donning blackface, kidnapping children and taking them to Spain. Shockingly, this description of Santa's first "elf" seems to be on the way out. More recently, Zwarte Piet's "darkened" face has been attributed to chimney soot as he helps Santa. I also didn't find any mention of him kidnapping children any time recently…  
My Perspective Now
My investigation into the traditions of Christmas now at a close, I came back to what had motivated my search in the first place. "What to tell my children (seven and five respectively) about the craziness of Christmas?" I had to laugh a little at the cultural ghosts that still hold so much sway over our modern world—and prevent us from really coming together with our fellow man. Maybe I just tell them that Christmas is about sharing the joys of life with those around you.