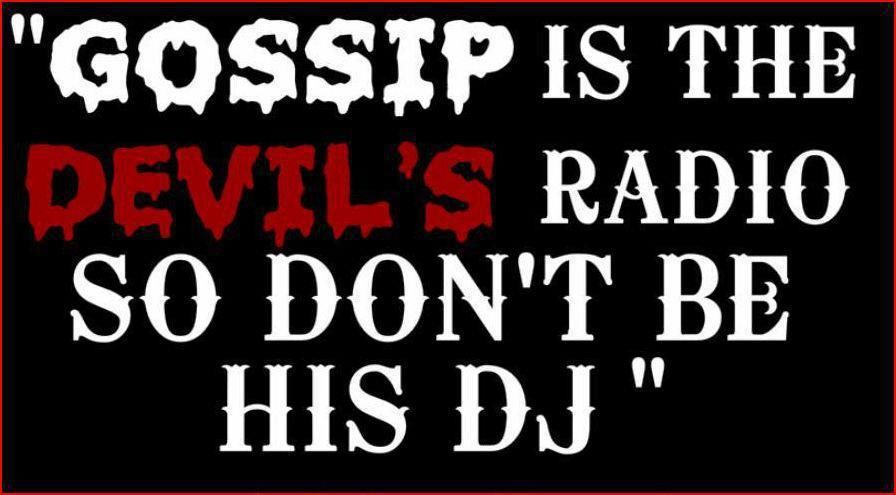 This guest sermon was written by an ordained minister of the Universal Life Church. All ULC Ministers are invited to contribute their own sermons for consideration/publication. To do this, please email sermons@themonastery.org.**
**
---
"You shall not bear false witness against your neighbor" (Exodus 20:16).
Gossip is a terrible sin, and it's all around us. If you disagree, here's a challenge: walk into any house of God on a Sunday morning. See how long you can go without overhearing some form of gossip. I bet you'll last about 20 minutes, maximum. If any place ought to be free of this cursed behavior, it's the church. But that's far from the case! The Bible is very clear that spreading lies about others is wrong, yet this doesn't stop churchgoers from whispering all manner of defamatory tidbits between the pews. In fact, the worst gossipers I know happen to be my fellow God-fearing Christians.
Human Instinct
Look, I get it. Gossip can be irresistible. Maybe it is human instinct to be curious about dark secrets. After all, talking about the rumored faults and follies of others is a pastime as old as any other. There's even a German word to describe this tendency: "schadenfreude". Translated, it means "pleasure derived by someone from another person's misfortune."
It might be fascinating to learn about your neighbor's marriage problems, or how much money that guy from your high school lost on his bad investment. But gossip is like a drug once you get your feet wet, it's hard to turn back. You want more, and more, and more. Pretty soon you're sharing some crazy rumor you heard about the nice couple down the street. You're pretty sure the rumor isn't true, but decide to tell your friends about it anyway. Well, big surprise the rumor eventually gets back to the couple, which results in a nasty fight Anyway, you see where I'm going. It might seem harmless at first, but gossip is an inherently evil activity. It can tear families apart and turn friends into enemies. Believe me, I know from experience.
No Moral Guidance
Theoretically, that's why we need the church in the first place, right? It helps guide us mortal beings on the right path and prevents us from caving to our dark tendencies. Well, instead of providing the strict guidance we badly need, church leaders are doing nothing to discourage this behavior. Especially in small towns like mine, people are gossip-crazy. Sunday mornings are the biggest social event of the week, which makes church an optimal place to share the latest "juicy info". Modern church services are no more than glorified gossip sessions punctuated by the occasional sermon or hymn.
Scripture Disapproves
Here's what the Bible says about gossip:
"He who goes about as a slanderer reveals secrets. Therefore do not associate with a gossip." Proverbs 20:19
"Keep your tongue from evil And your lips from speaking deceit." Psalm 34:13
"A gossip betrays a confidence, but a trustworthy man keeps a secret." Proverbs 11:13
"Let no unwholesome word proceed from your mouth, but only such a word as is good for edification according to the need of the moment, so that it will give grace to those who hear." Ephesians 4:29
"If anyone thinks himself to be religious, and yet does not bridle his tongue but deceives his own heart, this man's religion is worthless." James 1:26
Where Did We Go Wrong?
Clearly, the Bible disapproves of all forms of gossip. It's possible that someone who has never read scripture could be excused for such behavior. But what excuse does a true Christian have? Being intimately familiar with scripture, surely they should know better. On that note, it's important remember that gossip is a two-way street. The person sharing the gossip deserves blame, but so does the listener. Stopping gossip is as much a task of refusing to listen as it is resisting the urge to tell.
Eleanor Roosevelt once said, "Great minds discuss ideas; average minds discuss events; small minds discuss people."
I couldn't agree more.