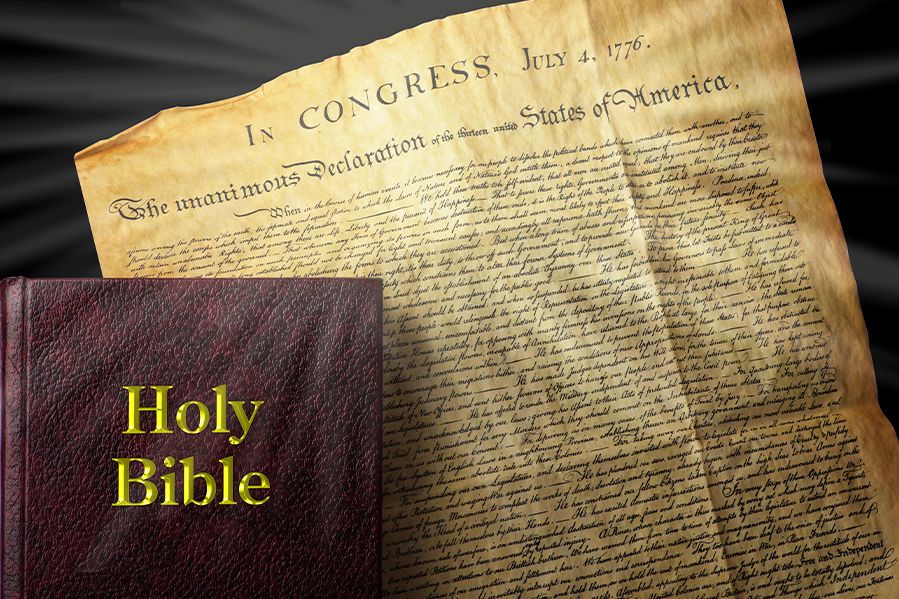 The following guest sermon was submitted by ULC minister Brenda Dansby. All ULC Ministers are invited to contribute their own sermons for consideration/publication. To submit a sermon, please email it to sermons@ulc.org.
---
In case you've been living under a rock, the Supreme Court is fast steering the United States into theocracy territory.
It started when they decided to walk back 50 years of legal precedent by overturning Roe v. Wade – and in the process delivering a major victory to religious groups that oppose abortion.
As if that wasn't enough, just days later the conservatives on the court ruled that prayer from teachers and coaches is A-okay in public schools – so long as you're Christian, of course. Yet again, the Christian faith received preferential treatment at the Supreme Court.
Is it just me, or are we moving from a secular society toward a theocracy at an alarming pace?
State-Sponsored Christianity
As you're aware, the First Amendment guarantees every American freedom of religion. It also prohibits the federal government and all U.S. states and territories from establishing a state religion. As Thomas Jefferson put it, "separation between church and state." It's a bedrock principle upon which this country was founded.
And that pesky Establishment Clause in the Constitution has been a thorn in the side of faith groups who would like to see their religion (typically Christianity) more broadly represented in the public sphere. Well, they may finally have found a Supreme Court that agrees with them. 
Earlier this week, the court ruled on the side of a public high school football coach who prayed at the 50-yard line after games. His own school district repeatedly asked him to stop, fearing it would appear that the school explicitly endorsed his Christian faith. Not to mention his actions coerced players to join him in prayer out of fear that their position on the team would be compromised if they didn't.
Cases like this are exactly why the Establishment Clause exists. Even if the prayers were well-intentioned, they are completely inappropriate given the circumstances. It was as clear an endorsement of one faith over another that you could ever find.
Amazingly, the court actually found that the school violated the coach's rights to freedom of religion when they asked him to stop his very public prayers.
Somehow, a football coach surrounded by students, praying to Jesus on the field (while on the clock) is not an obvious endorsement of Christianity?
One wonders if he were rolling out the prayer mat and facing Mecca if he would receive the same judgment.
Abortion Rights Trampled
Removing women's bodily autonomy in the name of God has been a primary goal of evangelicals ever since Roe was first decided. Guided by their religious belief that life begins at conception, Christians have been trying to reverse the landmark ruling that guaranteed a woman's right to an abortion for decades.
In overturning Roe, the Supreme Court again voted to impose a particularly narrow Christian worldview on all of us, whether we like it or not.
Nevermind that Jewish scripture guarantees the right to an abortion for women. Nevermind that the science states that life doesn't begin at conception. Nevermind that banning abortion doesn't actually stop it, it only makes it more dangerous.
Evangelical Christians have interpreted their particular religious text to say that life begins at conception, so we must all fall in line.
And if you think this rights rollback stops at abortion, you might have another thing coming. Justice Thomas himself said the court should give another look at other recent court rulings, such as those that legalized marriage equality, gay sex, and contraception. 
Coincidence, I'm sure, that those are all things that evangelicals most fervently oppose.
There is only one endgame I can see here: a full-blown Christian theocracy. A return to a time when women were pregnant, barefoot, and in the kitchen. A return to a time when the LGBTQ community hid in the closet, out of fear of violent reprisal. A return to a time when teachers indoctrinated the next generation with prayer in the classroom. 
A return to Christian privilege.