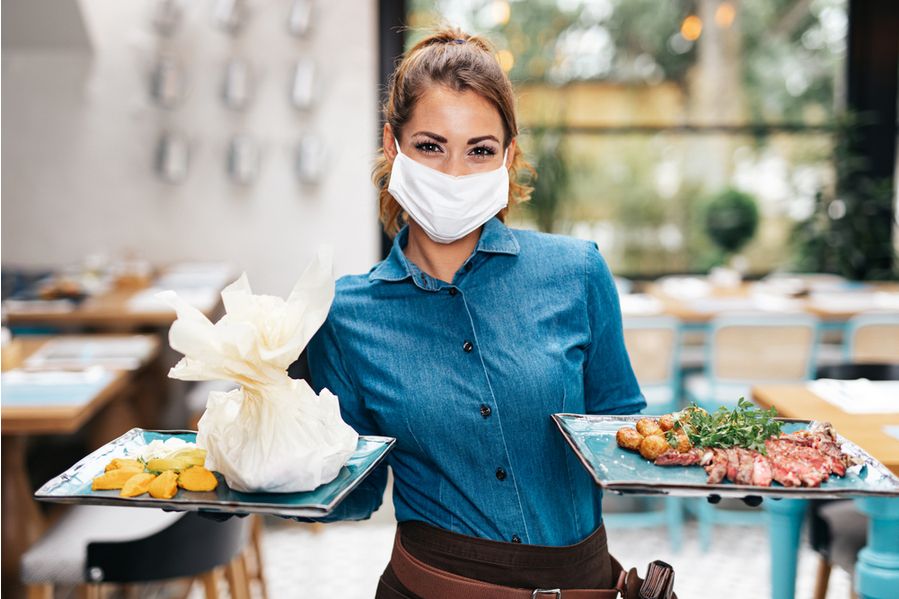 The following guest sermon was submitted by ULC Minister Jeremy Michaels. All members of the ULC community are invited to contribute their own sermons for consideration/publication. To submit a sermon, please email it to sermons@themonastery.org.
---
In the midst of the raging COVID-19 pandemic, which has taken over 300,000 American lives, it seems some people will stop at nothing to avoid wearing a mask, regardless of the risk to themselves and others, particularly others who provide services.
Despite the safety requirements set in place by state leaders, many anti-maskers just can't seem to find it in their hearts to follow the rules and respect service workers -- those on the front lines just trying to earn a living through this whole mess.
In a rage-inducing incident recently, Illinois Christians attempted to gain access to a Denny's restaurant by claiming religious exemption to the state-issued mask-mandate. The poor server clearly had had enough. After informing the men multiple times that they would not be seated without masks, the employee quit on the spot. The whole thing was caught on camera.
The Breaking Point
A link to the video is included below (WARNING: Explicit language)
"Roger, I'm not working for this st anymore. **These guys won't put their masks on, I'm sick of feeling like this," the worker is quoted as saying, before taking off their apron and gathering their materials to leave. The two patrons attempted to justify their decision to put their fellow restaurant-goers and restaurant workers in danger by claiming a religious exemption. 
"Sir, the Civil Rights Act says we can claim a religious exemption for not wearing a mask, we're not sick," they insisted. The video features the men listing specific subsections of the Civil Rights Act of 1964 as well. It has been part of a disturbing trend in the United States, with new self-shot videos popping up every day of someone who refuses to wear a mask claiming religious exemption, often with less-than-flattering results.
These attempts to side-step the simple task of wearing a mask are often more effort than simply wearing the mask in the first place, and lead many to wonder why the point is of these exercises. But does the argument for religious exemption hold any weight when it comes to masking?
Religion is Not a Shield for Negligence
Most of the time, the request for a religious exemption involves a person of faith requesting an exemption from performing an action, activity, or event which would bring offence against their faith. While the requirements for religious exemptions can extend to medical cases, this is generally exclusively with regard to the patient themselves, and how that exemption affects them.
Jehovah's Witnesses, for example, are well known for not accepting blood donations, regardless of what it means for their medical outcomes. In this case, however, the argument for religious exemption doesn't apply. 
Masks are not designed to protect the wearer from inhaling viral particles. They're used to protect the people around you from getting sick if you have the virus and don't know it. If the men in the Denny's case were requesting an exemption from being required to eat certain foods, they would perhaps have a solid argument.
However, because their request for exemption would not only affect others besides themselves, and goes against the current safety mandates, the case for the exemption is incredibly weak at best, and non-existent at worst. 
And who suffers because of it? The service workers who are subject to this nonsense. What will it take to stop people acting like this?