Created and reviewed for accuracy by researchers at the Universal Life Church Ministries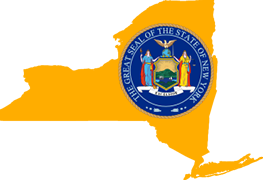 Congratulations! If you've found yourself at this page it is likely that you are either planning to be married or have been asked to perform a wedding ceremony in New York. Ordained ministers of the Universal Life Church have successfully performed thousands of legal marriages in New York. The information provided below will walk you through the steps one must follow to become a minister and perform a valid wedding ceremony in the state of New York.
Quick Facts
ULC Ordination Accepted: Yes

Minister Registration Required:

Yes*

Minister's Residency:

Irrelevant

Minister's Minimum Age:

18

Marriage License Waiting Period:

1 Day

Marriage License Valid For:

60 Days

Marriage License Return Within:

By Expiration
Regional Information
For more specific information about performing a wedding in certain parts of New York, choose a location below. If your area isn't listed, don't worry - just continue scrolling to review the helpful general information on this page.
1

How to Become an Ordained Minister in New York

If you haven't already, you should get ordained online with the Universal Life Church. Ordination is free and can be completed in just a matter of minutes. Thousands of legally valid marriages are performed by ULC ministers around the world every year. Begin the process by clicking the big blue button below!
2

Officiating a Wedding in New York

Next, you should contact the office of your local marriage authority (typically your county clerk). Let them know that you are a minister of the Universal Life Church in Seattle, and ask what they will require of you to officiate a legal marriage.

Select your City or Town Clerk to quickly generate the contact information for your local marriage authority.
3

New York Officiant Requirements

After you've contacted your marriage authority, you should visit our online store to purchase whatever documentation will be required. We typically advise ministers in New York to get an Ordination Package. Please attempt to leave at least 3 weeks between the date of the wedding ceremony and your order, to ensure that you receive all of your materials in advance.

Please note that ministers who plan to perform a wedding in New York City are required to register with the city. If you plan to perform a wedding in New York City, you need to purchase a New York City Wedding Officiant Package. If you are mailing your application, the authorities in New York require a minimum of 30 days to process your minister registration, so purchase and submit this paperwork as soon as possible. Walk in submissions are processed same day.

New York has also begun to offer a single-ceremony officiant option to individuals. Curious to learn about the key differences between getting ordained and becoming a one-time officiant? Check out our New York one-day officiant guide.
4

How to get Married in New York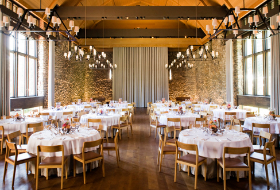 New York's Top Wedding Spot
HayLoft at Blue Hill at Stone Barn, a working farm and critically acclaimed restaurant in the Hudson Valley
Now that you've done all of the above, you are ready to perform the wedding! Be sure that the couple has picked up their New York marriage license from the appropriate office. Note that a marriage license in New York must be signed and returned to the issuing office within 60 days after the completion of the wedding ceremony.
At the Universal Life Church we receive several calls from wedding officiants in New York, after they've received their license to marry by getting ordained online, asking for guidance on how to perform a wedding ceremony. Once the legal matters have been taken care of, officiating a wedding (while a sometimes-daunting task) can be a great deal of fun. We would suggest that new New York wedding ministers concerned about the ceremony peruse one of our helpful wedding guides. The minister training section of our website should offer a helpful refresher for more experienced ministers.
5

How to Plan a Wedding in New York

Congratulations on being asked to perform a wedding in the state of New York! There are a few details to iron out, including whether the ceremony will be performed within NYC or in a more rural area. While spring and summer weddings are certainly the most popular, keep in mind temperatures and humidity can get quite high during the summer months, so you will want to dress accordingly and provide space for guests to cool off and escape the sun. Also take care to wear comfortable footwear if the event will be held on a farm or a venue that will require a bit of walking. Popular wedding venues in NYC include the New York Public Library and the Plaza Hotel, both of which have been featured in numerous films. In upstate New York and even on Long Island, there are several noteworthy castle wedding venues if you want to go all out but get outside of the city. Officiants in New York State often wonder how much they should charge for their services. Most will charge more if the ceremony is being held at a swanky New York City venue or a high-end venue upstate, but even weddings at more modest venues may cost more in New York than in other, less populous states. Keep in mind any costs you may incur from having to travel or find accommodations, and of course your experience level and level of involvement in the planning process. Most officiants will charge at least $200 in New York, but some professional officiants may charge upwards of $750 for the most popular locations and times.
---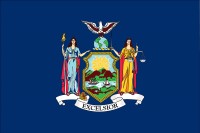 Marriage in New York State is governed by Section 11 of the New York State Domestic Relations Law. Below, you will find that we have reproduced the relevant excerpts of this code.
A clergyman or minister of any religion, or by the senior leader, or any of the other leaders, of The Society for Ethical Culture in the city of New York, having its principal office in the borough of Manhattan, or by the leader of The Brooklyn Society for Ethical Culture, having its principal office in the borough of Brooklyn of the city of New York, or of the Westchester Ethical Society, having its principal office in Westchester county, or of the Ethical Culture Society of Long Island, having its principal office in Nassau county, or of the Riverdale-Yonkers Ethical Society having its principal office in Bronx county, or by the leader of any other Ethical Culture Society affiliated with the American Ethical Union. The term "clergyman" or "minister" when used in this article, shall include those defined in section two of the religious corporations law. The word "magistrate," when so used, includes any person referred to in the second or third subdivision. View the New York Statutes on the official state site.

⇓ Show the rest