Created and reviewed for accuracy by researchers at the Universal Life Church Ministries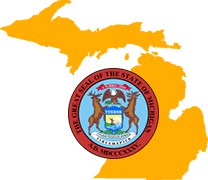 Congratulations! If you've found yourself at this page it is likely that you are either planning to be married or have been asked to perform a wedding ceremony in Michigan. Ordained ministers of the Universal Life Church have successfully performed thousands of legal marriages in Michigan. The information provided below will walk you through the steps one must follow to become a minister and perform a valid wedding ceremony in the state of Michigan.
Quick Facts
ULC Ordination Accepted: Yes

Minister Registration Required:

No

Minister's Residency:

Irrelevant

Minister's Minimum Age:

18

Marriage License Waiting Period:

3 Days

Marriage License Valid For:

33 Days

Marriage License Return Within:

By Expiration
Regional Information
For more specific information about performing a wedding in certain parts of Michigan, choose a location below. If your area isn't listed, don't worry - just continue scrolling to review the helpful general information on this page.
1

How to Become an Ordained Minister in Michigan

If you haven't already, you should get ordained online with the Universal Life Church. Ordination is free and can be completed in just a matter of minutes. Thousands of legally valid marriages are performed by ULC ministers around the world every year. Begin the process by clicking the big blue button below!
2

Officiating a Wedding in Michigan

Next, you should contact the office of your local marriage authority (typically your county clerk). Let them know that you are a minister of the Universal Life Church in Seattle, and ask what they will require of you to officiate a legal marriage.

Select your County Clerk to quickly generate the contact information for your local marriage authority.
3

Michigan Officiant Requirements

After you've contacted your marriage authority, you should visit our online store to purchase whatever documentation will be required. We typically advise ministers in Michigan to get an Ordination Package. Please attempt to leave at least 3 weeks between the date of the wedding ceremony and your order, to ensure that you receive all of your materials in advance.

Please note that weddings in Michigan do require the presence of two witnesses (apart from the officiant).
4

How to get Married in Michigan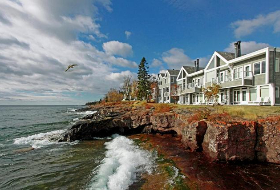 Michigan's Top Wedding Spot
Resorts like Bluefin Bay, on Lake Superior
Now that you've done all of the above, you are ready to perform the wedding! Be sure that the couple has picked up their Michigan marriage license from the appropriate office.
At the Universal Life Church we receive several calls from wedding officiants in Michigan, after they've received their license to marry by getting ordained online, asking for guidance on how to perform a wedding ceremony. Once the legal matters have been taken care of, officiating a wedding (while a sometimes-daunting task) can be a great deal of fun. We would suggest that new Michigan wedding ministers concerned about the ceremony peruse one of our helpful wedding guides. The minister training section of our website should offer a helpful refresher for more experienced ministers.
5

Things to Keep in Mind for a Michigan Wedding

When performing a wedding a wedding in Michigan, it's important to be aware of certain seasonal trends. As the weather in the summer and winter tends to be more extreme -- with hot summers and rather snowy winters -- most weddings will take place in fall and spring. If the wedding is being held during these periods, the couple should look at booking venues far in advance, particularly in the spring, as many venues will be booked up. Outdoor weddings are the most common in Michigan, which means you may meet some additional guests that were not invited - bugs! Oftentimes wedding parties will provide bug spray for their guests if a wedding will be taking place outdoors. If an indoor venue is more your style, you will find no shortage of available options. From gorgeous churches, to the humble and rustic barn wedding, Michigan will not leave you disappointed. Fees for wedding officiants in Michigan depend on a number of factors, such as how much professional experience the person has, whether they'll be required to travel to the ceremony destination, and how much preparation is required on their part.
---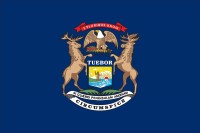 Michigan law states that a "minister of the gospel" may officiate at weddings. The language used may give the impression that the right is restricted to clergy of a specific religion, but it's actually just an older phrasing than most states use today - ministers of any religion are afforded equal rights in Michigan. Any clergyperson authorized by his or her religious organization to solemnize marriages may perform weddings in Michigan. This includes ministers who have become a minister by getting ordained online by the Universal Life Church Monastery. In Michigan, individuals authorized to perform marriages are granted that power via section 7 of article 551 of Michigan's state code. Below, you will find an excerpt of this code. Universal Life Church ministers regularly officiate legally valid marriages in the State of Michigan.
551.7 Persons authorized to solemnize marriage; records; return of licenses and certificates; disposition of fees charged by mayor or county clerk. Sec. 7. (1) Marriages may be solemnized by any of the following: (i) A minister of the gospel or cleric or religious practitioner, anywhere in this state, if the minister or cleric or religious practitioner is ordained or authorized to solemnize marriages according to the usages of the denomination. (j) A minister of the gospel or cleric or religious practitioner, anywhere in this state, if the minister or cleric or religious practitioner is not a resident of this state but is authorized to solemnize marriages under the laws of the state in which the minister or cleric or religious practitioner resides. (2) A person authorized by this act to solemnize a marriage shall keep proper records and return licenses and certificates as required by section 4 of 1887 PA 128, MCL 551.104. View the Michigan Statutes on the official state site.

⇓ Show the rest