There are two likely reasons that you are reading these words right now: The first is that you have been asked to perform a wedding ceremony for a friend or family member in Australia, the second is that you are personally planning to get married in Australia. No matter which scenario applies to you, we hope you'll take a moment to celebrate with us how special and exciting this journey is going to be for you! We're sure you have loads of questions about how to get ordained in Australia and how to solemnize a wedding there, and we'll do our best to provide you with all of those answers as you continue reading.
1

How to Become an Ordained Minister in Australia

The very first thing you should do is to get ordained online with the Universal Life Church in Australia. At the ULCM we believe that anyone who feels so-called should be able to become a minister, so we've built a model that will allow any Australian to apply for online ordination for free in a process that takes just a couple of minutes. Thousands have learned how to get ordained in Australia and beyond, and as a result these empowered individuals perform thousands of marriages and other ceremonies every year. You can start the process of becoming a minister by simply hitting the blue button beneath here.
2

How to Officiate a Marriage in Australia

After you've received your online ordination in Australia, provided you have a wedding on the books already, your next task is to call or visit the office in your area that will be issuing the marriage license. The regulations surrounding how to get married in Australia, especially by an online ordained minister, can be complicated. They vary widely from region to region around the world, and can change frequently. It is for this reason that you might have to do some research about which office is the appropriate one for you to contact to start the legal wedding process. Once you have identified the correct office, you should indicate to them that you are an ordained minister of the Universal Life Church in Australia, and that you are hoping to perform a wedding ceremony.

You should note that not all governments around the world have caught up with the 21st century model developed by the Universal Life Church Ministries, and the laws in your area may not currently be equipped to allow a ULCM minister to officiate a legally binding wedding ceremony. Do please rest assured that we are actively seeking full recognition around the world, and even if you aren't currently permitted to solemnize a legal wedding as a Universal Life Church Australia minister you can still perform plenty of other ministerial duties and services, and may even be able to perform purely symbolic wedding ceremonies.
3

License to Marry in Australia

Hopefully it wasn't too tough for you to locate and get in touch with your marriage authority. Depending on the outcome of that conversation, you may have a list of documentation that you have been asked to present to establish that you have become a legal minister in Australia. No matter what documents they have requested, you should be able to locate all of those items and anything else you may want in our online church supplies catalog. Many of the Universal Life Church's Australia ministers will place an order for an Ordination Package. Any of the items from our catalog that we ship from our U.S. facility overseas will be automatically sent using FedEx international shipping, and should arrive to you relatively quickly after you've placed your order online. You should place this order as soon as you are able, because as part of the process of performing a marriage in Australia (more on this later) there are some forms you will need to fill out with the couple well in advance (more than a month) of the ceremony; namely, the Intended Marriage Form.
4

How to Perform a Wedding in Australia

If you've completed all the steps up through this point successfully, give yourself a pat on the back! Now it's time to get down to the real important work: digging in and focusing on making the wedding ceremony as memorable and meaningful as you can. We would encourage you to do your best to make yourself as available as you can to the couple, so that their wishes can guide you as you make your preparations.

If you were just recently ordained online in Australia and are preparing to perform your very first wedding ceremony, we're sure that part of you is feeling some nerves - and maybe for good reason! It is a big day! But it can also be a joyful occasion for you, particularly if you do the time to study up on your role and how best to fill it. If you need any instruction on how to perform a wedding in Australia, we would encourage you to begin your education by reviewing our free online wedding guides. Or perhaps you are interested now in expanding your ministerial journey beyond performing weddings? The broader minister training section of our website will walk you through all of the other new avenues now open to you to explore.
---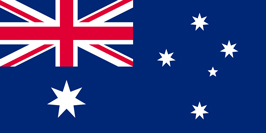 Marriage in Australia is governed rigorously by the Australian Government's Attorney General's office. The link provided below to their official website lays out in detail the process one must undergo to legally act as a wedding celebrant in the country. Again, the Universal Life Church is actively seeking recognition as a valid religious denomination in the country. Note: as of 2017, same-sex marriage is legal throughout Australia.
Only an authorised celebrant can legally perform your marriage.

Authorised celebrants perform civil and religious ceremonies. There are three kinds of authorised celebrants:

Commonwealth-registered marriage celebrants who perform civil and religious ceremonies (for independent religious organisations). The fees charged by these celebrants are not fixed. Prices may vary between celebrants. They are also required to follow the Code of practice for marriage celebrants.
Code of practice for marriage celebrants [DOC 123KB]
Code of practice for marriage celebrants [PDF 106KB]
Ministers of religion of a recognised denomination who perform religious ceremonies. These celebrants are regulated by state and territory registries of births, deaths and marriages and their respective religious organisation.
State officials who perform civil ceremonies.

View the Australia Statutes on the official state site

⇓ Show the rest