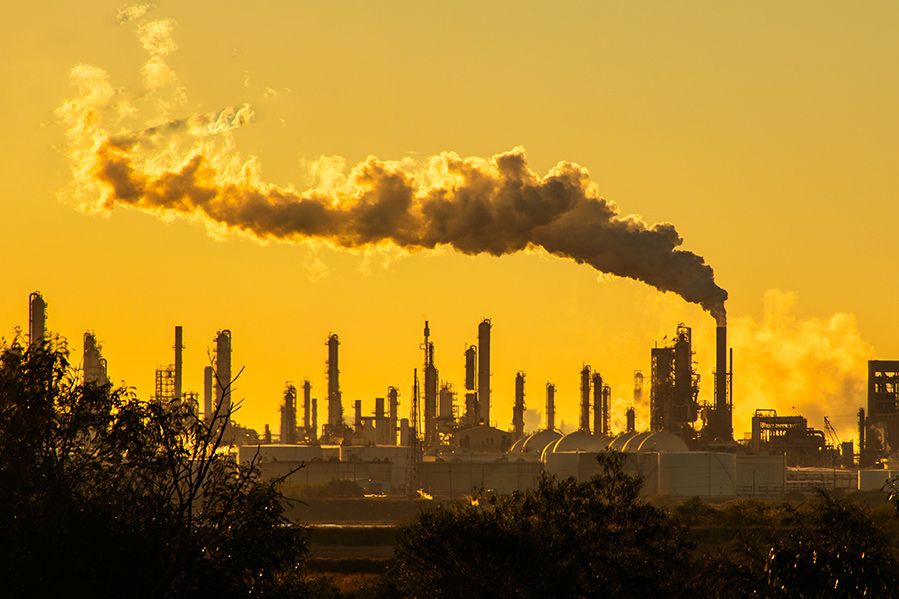 Rising ocean tides. Swarms of insects. Hellish, red, smoke-filled skies. These are either signs of the apocalypse, or symptoms of man-made climate change, depending on who you ask. 
Many religions teach that earth is sacred and that part of humanity's role here is to steward the protection of our planet.
Yet, a new study shows that the religiously affiliated are much less likely than other groups to believe that humanity is to blame for climate crises.  
The responses tell an interesting story.
Waiting For Judgment Day
The Pew Research study found that some 92% of those who identify as highly religious (those that pray and regularly attend church service) believe that "God gave humans a duty to protect and care for the Earth."
However, only 42% of that same group believe that climate change is a serious problem, and only 39% believe that humanity has some role in our rising global temperatures.
The researchers wondered: why is that? How can a group that believes God expects them to care for the environment believe that climate change isn't actually a problem for our planet?
Pew reported a number of views, including:
There are larger problems in the world
The climate is not actually changing
That God is in control of the climate
Environmental regulations could stifle businesses or result in a loss of jobs
Other respondents reported that their local pastors simply aren't talking about climate change from the pulpit.
Will God Save Us From Climate Change?
Some people of faith say scripture guides their belief that climate change isn't that big of a deal.
For example, Answers in Genesis (AiG), the organization run by prominent evangelical creationist Ken Ham, cites Psalm 148:8 as proof that God has ultimate dominion over the weather: 
Fire, and hail; snow, and vapour; stormy wind fulfilling his word
Therefore, the climate is in God's hands, they argue.
It's perhaps the most prominent argument: the world won't end because humans pumped too many fossil fuels into the atmosphere – it will end, as is written in the Bible, on judgment day.
Saving Earth, One Hymn at a Time
While many Christians argue that climate alarmism is literally just hot air, there are some who say their faith is actually what compels them to fight climate change.
One such activist, an Oregon man named Peter Fargo, says that his Christian faith and the science of climate change don't have to be at odds. 
"The beauty and the glory of a mountain landscape of the communities that are nestled between mountains and valleys here in Eastern Oregon are just part of God's creation," he argues. "And we have a part to play in that."
After the birth of his son in 2019, Fargo founded Climate Vigil, a faith-focused climate change action group. His hope: to get other Christians on board with fighting what he says is a climate crisis.
Unlike most climate change arguments, which focus strictly on scientific facts, Fargo's approach is an intermingling of faith and science. He collaborated with musicians to create climate-related hymns, for example, and he wrote a book entitled "A Million Prayers to Solve our Climate Crisis."
He points to Psalm 24:1 as evidence that he's on the right track:
The earth is the LORD's, and everything in it, the world, and all who live in it
What is Humanity's Role?
Does humanity have a spiritual obligation to this place we call home? It's all an interesting theological question.
As shown by the Pew study, many people of faith seem to believe that while we ought to look after the planet we live on, the threats of climate change are at best exaggerated.
Others point to the Bible as evidence that God's will is a far greater force than greenhouse gasses.
And yet, in that very same book, one man found completely different answers – evidence in scripture that he had a moral obligation to do his part in the fight against global warming.
What is your outlook?