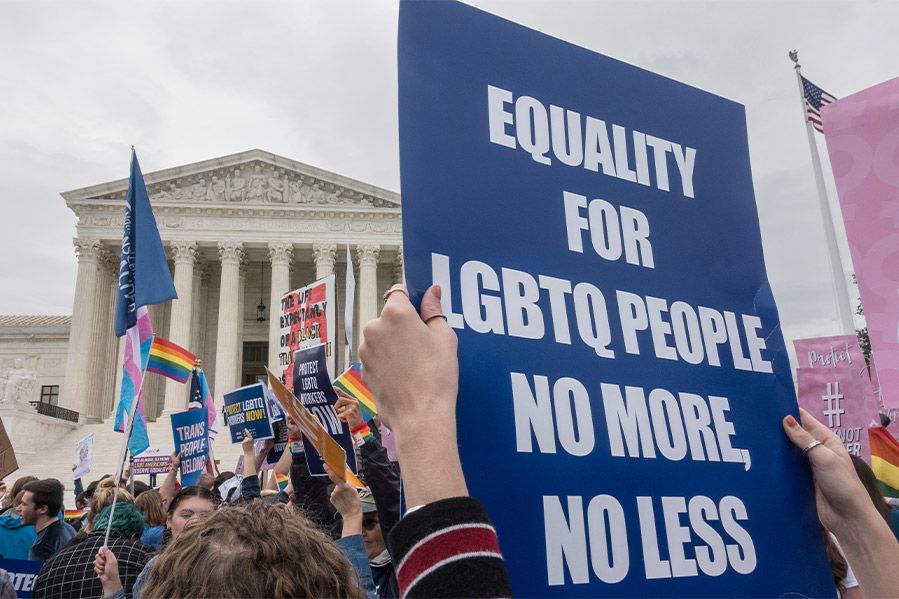 The issue of gay marriage in the United States seemed all but settled five years ago when the Obergefell v. Hodges ruling de facto legalized same-sex marriage across the country. But if two Supreme Court justices have their way, we could soon be reversing course. 
And with the court likely moving even further to the right very soon, it's not an impossibility.
The Supreme Court recently declined to hear a case involving Kim Davis, the former Kentucky county clerk who made national headlines when she refused to issue marriage licenses for same-sex couples in protest of the Obergefell ruling which enshrined gay marriage as a constitutional right under the 14th Amendment.
And while the court declined to hear the case, all eyes were on Justices Clarence Thomas and Samuel Alito, who had some harsh words for the 2015 ruling in a joint statement. Their language has some LGBT activists worried that a more conservative court will seek to rollback marriage equality, even as scores of gay couples have been married nationwide in the years since.
Marriage For Some, Discrimination For Others
"This petition provides a stark reminder of the consequences of Obergefell," Thomas wrote, speaking for himself and Alito. "By choosing to privilege a novel constitutional right over the religious liberty interests explicitly protected in the First Amendment, and by doing so undemocratically, the court has created a problem that only it can fix."
"Obergefell enables courts and governments to brand religious adherents who believe that marriage is between one man and one woman as bigots, making their religious liberty concerns that much easier to dismiss," he continued, indicating that Davis' only crime was having "traditional Christian values" and calling her a "victim" of the court's decision.
Critics were quick to point out that her crime was actually refusing to do her job as a public official to issue marriage licenses to LGBT couples, despite the law unequivocally stating same-sex marriage is legal.
Chief Justice John Roberts did not cosign the statement, nor did Trump appointees Brett Kavanaugh and Neil Gorsuch.
Still, the language alarmed LGBT activists and legal scholars who fear a legal challenge to Obergefell v. Hodges could end up before a majority conservative Supreme Court and be overturned.
Activists Sound the Alarm
Among those who found the statement disconcerting is Yale Law School professor William Eskridge, who said that "It is alarming that there are justices on the Supreme Court who want to overrule Obergefell, which is a precedent the court has reaffirmed, and which hundreds of thousands of couples have relied upon to seal their unions in matrimony."
And in a lengthy Twitter thread detailing the legal implications of the statement, ACLU lawyer Chase Strangio said that "the brazenness of the rightward direction of the Court is a threat to even the most basic expectation of legal protection," and says that it indicates the justices are eager to overturn Obergefell.
Is Equality At Risk?
Might Alito and Thomas get their wish? The Senate seems determined to confirm a replacement for the late Justice Ruth Bader Ginsburg – despite a number of COVID-19 diagnoses amongst top Senate Republicans, hearings are still being scheduled for later this month.
"I'll go in a moon suit [if I have to]" said Wisconsin Senator Ron Johnson, who recently tested positive for COVID-19.
If the Court does shift to a 6-3 conservative majority, legal experts say there's a real possibility that marriage equality could be at risk.
What do you think? It seems almost impossible to envision, now that hundreds of thousands of same-sex couples nationwide have tied the knot thanks to the Obergefell ruling. On the other hand, two sitting justices just showed their disapproval of their court's own ruling.
Is marriage equality seriously on the chopping block?