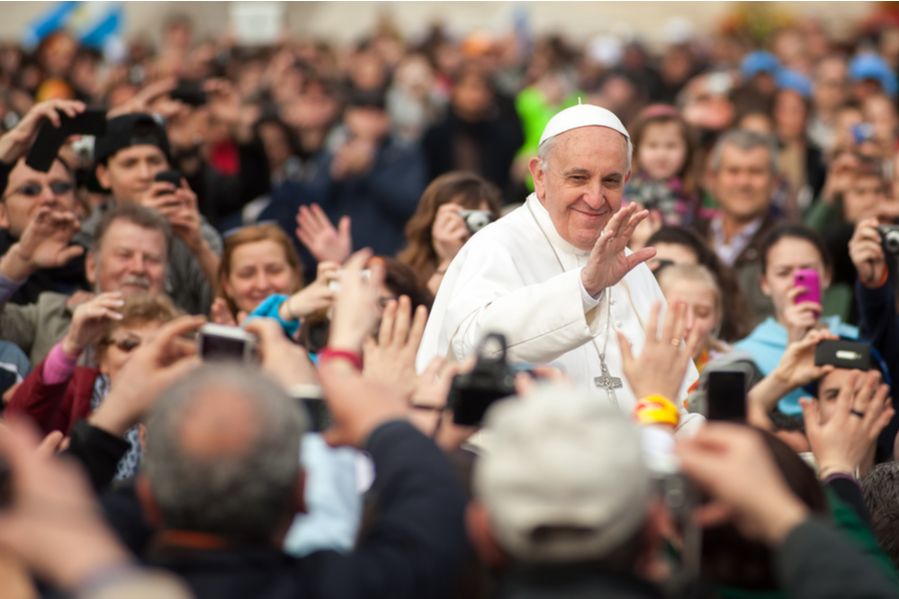 Where does Pope Francis stand when it comes to LGBTQ+ rights? If you find this question a bit difficult to answer, know that you're not alone.
In fact, it's like that the more closely you've followed his comments since his arrival at the Vatican, the more confused you've ended up.
That's because the pope has issued so many statements and comments over the years that either contradict, conflict, or generally muddy the waters that even experts couldn't tell you exactly where he stands on issues like trans rights, same-sex marriage, and the Catholic Church's relationship with the LGBTQ community. 
"Support Your Gay Kids"
The debate over what Pope Francis really thinks was reignited recently when he made some unscripted comments during his weekly audience. The pope offered an important message to parents of gay children: show your support and do not condemn them for who they are.
Pundits seized on the comments as fresh evidence that the Catholic Church is moving in a more progressive and LGBTQ-friendly direction. But is it? 
What Have You Said For Me Lately?
There's no doubt that Pope Francis has overall been more progressive in his views on LGBTQ issues than previous pontiffs, and Francis is frequently the subject of criticism from the more conservative factions of the Church for his supposed softening on traditional hard-line stances.
However, his actual track record is fairly confusing, so let's dive a bit deeper. Here's a chronological breakdown of the pope's most notable comments regarding LGBTQ rights:
July 2013 – Francis famously responds, "who am I to judge?" when asked about the presence of gay priests.
June 2014 – Francis says heterosexual marriages are necessary for children to be "raised properly."
January 2015 – The pope meets with a transgender man at the Vatican who was rejected by his local parish in Spain.
September 2015 – Pope Francis reportedly told an NYC priest "tell the gays to pray for me and I'll pray for them."
June 2016 – Francis states that "the church must say it is sorry" to gay people that it has offended.  
December 2016 – Francis approves a document banning gay men from seminaries and ordination.
May 2018 – The pope reportedly tells a gay survivor of clergy sexual abuse that "it does not matter that you are gay" and that "God made you like this and loves you like this and I don't care."
September 2020 – While meeting with Italian parents of LGBTQ children, Francis told them "The Church loves your children as they are."
September 2021 – Francis expresses support for same-sex couples to form civil unions for financial reasons, but says gay marriage is off the table.
September 2021 – Francis criticizes "gender ideology" that seeks to erase the male/female binary.
What Next, Father?
You can see why even experts are struggling to find a pattern here. What will the next statement be? In favor of expanding rights, or of respecting tradition and historic Catholic teachings?
Or perhaps some are asking: why should we care? 
Here's the thing, even if you aren't Catholic yourself, the stances that Pope Francis takes nonetheless help shape the world around you. Although membership in the Catholic Church has dipped in the West recently, the Church still brings in tens of millions of new members across South America, Africa, and Asia each year. 
When the words of single man can change how an entire class of people is treated – both in and outside of the Church – those words matter a lot!
What are your thoughts? Do the pope's unpredictable and vague stances leave room for love, or for abuse?