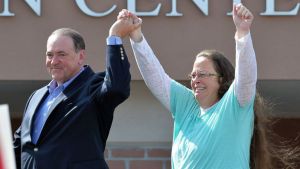 Editor's note: This article was updated to cover the meeting between Pope Francis and Kim Davis, as well as the contrary statements from Davis's attorneys and the Vatican about the nature of the meeting.
Click HERE to read more updates on Kim's audience with the Pope.
Many same sex couples nationwide are finally enjoying the perks that come with being married after the Supreme Court struck down state bans against it as being unconstitutional. However, there have been some bumps on the road. Perhaps no story has been followed as closely as that of Kim Davis, the Kentucky county clerk that barred anyone in her office from issuing marriage licenses to same sex couples despite her being directly ordered to do so as part of her job. Davis was jailed after being held in contempt of court, and was released soon after. She is currently the darling of the far-right, being visited by presidential hopefuls Mike Huckabee and Ted Cruz and toted as a symbol of religious persecution.
Davis's attorneys have made a statement that she had a meeting with Pope Francis during his historic visit to the states to address Congress. As the news unfolds, it appears as though Davis and her legal team were dishonest and the events are rather controversial, as is Davis's story as a whole.
Why Hasn't She Been Fired?
Kim Davis stopped issuing marriage licenses to gay couples, which is one of the duties of her job. Normally, refusing to perform your job duties would be grounds to be let go, but elected officials like Davis cannot be fired. She can be impeached, but the chances of that happening are quite slim, especially given the political environment in that state.
The only way it seems that Davis can avoid additional jail time without agreeing to issue a marriage license is to resign from her position. She no longer is willing to issue marriage licenses to same sex or heterosexual couples because she doesn't want to be accused of discrimination, although she only infringes on her fellow staff members. It seems that the only type of win for Davis would be a stalemate, in which she does not have to violate her religious beliefs by issuing marriage licenses, but does not have to return in jail. At this point in time, it seems that the only way for that to happen would be for her to resign from her position as county clerk.
Davis was released soon after her attorney filed an appeal to get her out of jail. This is not the first appeal he has filed on her behalf. Back when she was originally ordered to issue marriage licenses, her attorney filed for an appeal, however it was denied. If this appeal is passed, then she will not have to stay in jail, but that does not mean that there will be a resolution to the case. Davis seems that she isn't going to budge anytime soon, and it is almost a certainty that the courts aren't going to let her defy the law. This is something that could continue for a long period of time.
Religious Freedom and Job Duties
Expression of religion and job duties usually do not go hand in hand unless you work at a church. Most of us have jobs where we cannot, in our official capacities, start expressing our beliefs. A customer service manager at Target can't answer questions about products by saying that Mormonism is the one true faith. You can't have a Jewish waiter refuse to serve patrons pork and also refuse to let them sit in another waiter's section. A Muslim woman is currently making headlines saying that she was suspended from her job as an airline attendant for refusing to serve alcohol.
In all these instances, people still have their religious freedom. They are not being barred from attending their places of worship, reading holy texts, or thinking a certain way. The issue arises when they believe that religious freedom is a pass to do whatever, even if it is at the expense of the freedoms of others, as was the case with Davis.
"Having Kim Davis in federal custody removes all doubt of the criminalization of Christianity in our country," said well known Christian Mike Huckabee while not in jail. The presidential hopeful has been putting Davis forward as a champion of his idea of religious freedom. Kim Davis isn't a champion of religious freedom, she is one of its biggest foes. She was not jailed for practicing her faith, she was jailed for forcing it on everyone in her county.
The Authenticity of Her Convictions**
**
To claim your religious convictions are so strong that you are willing to break the law before violating them is quite bold, and could be rather admirable if there was reason to think there was any truth to it.
Was Davis refusing to issue marriage licenses to couples who were living together before they were married, or to those who drank a lot? How about barring convicted sex offenders from the necessary paperwork? Of course not. The Bible says that sin is sin so it's not the case that gay marriage is somehow any worse than these other issues. She had no problems dolling out licenses to any heterosexual adulterers that walked through her doors.
In fact, Kim "I'm living by my convictions" Davis has dragged the Biblical notions of marriage through the mud with her own veritable collection of past husbands. She divorced her 1st husband while pregnant with twins fathered by a man that would later become her 3rd husband but not before she convinced the 2nd husband to adopt them, and he is now raising them as her 4th husband. You almost need a flowchart to track her transgressions of the very same "God's Law" that informs her moral judgement of gay couples.
This sends a terrible message about her faith and our hearts go out to many that share her beliefs but refrain from forcing those beliefs on others. Her religion teaches that one should look within and be most concerned with one's own adherence to precepts of faith. Kim Davis has chosen to bastardize her beliefs by doing the exact opposite.
Audience with the Pope

Updated 10/7/2015
Davis's legal team broke the news that she was in audience to the Pope during his visit in late September. The visit seemed to confuse many people. Let's be clear, the Pope is not a fan of same-sex marriage, though it seemed uncharacteristic of him to lend such direct support to Davis. While the two agree that marriage should be between a man and a woman, Davis takes a negative tone in denying others their legal rights while Pope Francis is famous for taking a position of compassionate disagreement, saying "who am I to judge?"
The announcement was portrayed as though Pope Francis was well aware of who Davis was, and that he singled her out to bless her in her specific endeavor. For a while, it appeared like a nail in the coffin of the hopes of tolerant Catholics (who make up about 60% of total congregants in the church) and atheists that wanted a more socially conscious pontiff instead of more focus by the church on hellfire and brimstone.
In a rare move, the Vatican issued a statement on the meeting, seeming to realize that people were believing it to be a political statement on the part of the Pope that the pontiff did not actually make. A spokesperson stressed that the brief meeting between Davis and Pope Francis should not be considered a show of support for her position.
"Such brief greetings occur on all papal visits and are due to the Pope's characteristic kindness and availability. The only real audience granted by the Pope at the Nunciature was with one of his former students and his family," said Rev. Federico Lombardi.
The Pope did not enter into the details of the situation regarding Davis, which is exactly the opposite message that Davis herself fed to CNN, saying the Pope was "on track with what we're doing." What's more the New York Times reports that the Archbishop who arranged the Pope's meeting with Davis is "likely to be removed at the respectable opportunity" if blowback from the debacle continues.
Interestingly enough, the former student mentioned above that received the only private meeting with the Pope on his visit was Yayo Grassi and his partner, Iwan. The gay couple was greeted with hugs and blessings. Grassi told CNN, "obviously he is the pastor the Church, and he has to follow the Church's teachings, but as a human being he understands all kinds of situations, and he is open to all kinds of people, including those with different sexual characteristics."
Davis and her camp are now in the awkward position of either having to admit to lying and roping a religious figurehead into their personal drama, or call the Pope and the Vatican liars. Of course, they could just ignore the Vatican's clarification of the actual happenings of the meeting like Davis ignores the rule of law here in the states and her job duties while getting paid at work. It certainly would be of her character.