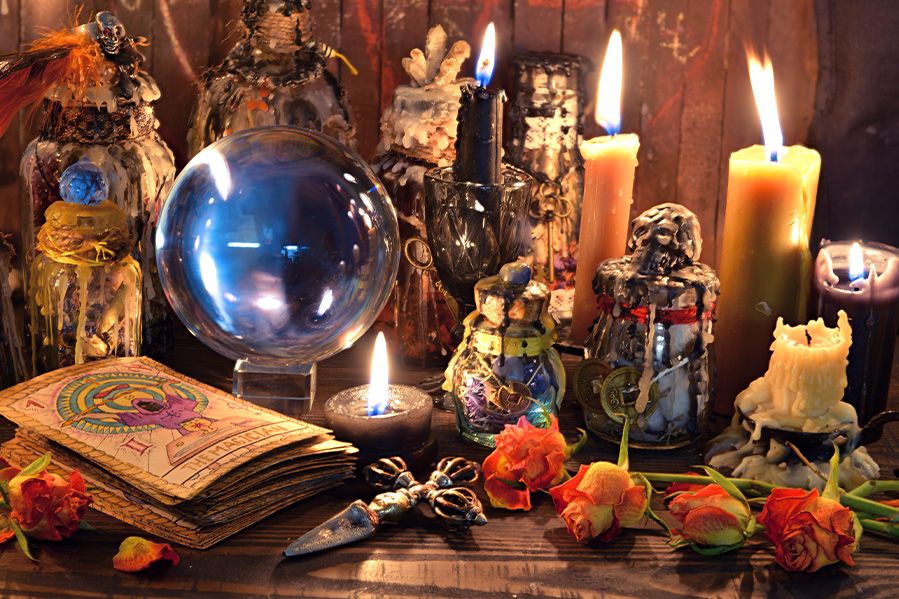 Practitioners or those interested in the realms of witchcraft and magic are likely familiar with the terms Voodoo and Hoodoo.
Many believe that Voodoo and Hoodoo are interchangeable words for the same thing – that they are the same practice by a different name, or that there are merely superficial differences between the two – not enough for a distinction. But that isn't true!
Although they share surface similarities, Voodoo and Hoodoo are very different. 
Voodoo is an actual religion, with an organizational structure, faith leaders, and even distinct branches (after all, every good faith needs a schism). Hoodoo by contrast is practiced by individuals referred to as root doctors or root healers, and there are no specific gods or goddesses in Hoodoo.
But what are the historical origins of both, and why do so many mix them up?
Origins
Voodoo originally arose in Haiti, but really took off in the American South amongst enslaved peoples.
Hoodoo, on the other hand, can trace its origins back to mainland Africa, but is similarly intertwined with the spiritual culture of slaves in the Southern United States from the 17th to 19th century.
Beliefs in Voodoo
Believers in Voodoo follow a god named Bondye. Bondye's name has French origins, a variations of the phrase "Bon Dieu" or "Good God."
Per Voodoo belief, Bondye created the universe and everything in it, but Bondye doesn't actually interfere directly in our lives; Rather, Voodoo priests and priestesses can conduct services to call upon spirits who work for Bondye, called Loa.
Loa are a sort of intermediary between human beings and Bondye, and each is in charge of different aspects of human life. You might compare them to saints in the Catholic tradition. Services conducted by priests or priestesses to interact with the Loa are often conducted in the Haitian/French dialect of Creole.
There are different kinds of Loa, but three of the most prominent families are the Rada, Petro, and Gede.
Rada Loa are kindly, Petro are hot-headed, and Gede deal with death and the dead. Gede spirits are often undead, but not in the sinister sense Western pop culture has ascribed them.
In Voodoo, zombies aren't flesh eating monsters, but victims. They are enslaved to a living master and must follow their every order. They are not violent, and certainly have no interest in eating the brains of the living.
Rather, many scholars and anthropologists believe that the idea of "zombies" as defined by Voodoo was a way to express the pain – the "deadness" – of being enslaved. In short, it arose as a way for enslaved people to process their pain.
Beliefs in Hoodoo
By contrast, Hoodoo is not an organized religion in the way that Voodoo is. It draws direct influence from spiritual practices of many African cultures, but was largely practiced by enslaved Africans in the Antebellum South. 
Slaves were rarely allowed to practice traditions from Africa, and many were forcibly Christianized. Many believe that over time, the melding of African folk traditions and Christianity resulted in this unique spiritual practice.
Because of this, Hoodoo practitioners are often believers in both Catholicism and the gods of Africa, and a Hoodoo ritual might call upon both the Catholic saints and deities from African folk traditions. Hoodoo magick often uses roots, herbs, candles, and even bodily fluids in its conjurations and rituals, which are often the casting of healing or protection spells.
Because Hoodoo is not a religion but an individualistic form of folk magic, traditions may vary quite a bit, and there is no formal text to follow. Instead, Hoodoo tradition was often passed down orally from generation to generation.
Both Voodoo and Hoodoo are still commonly practiced today. There are many believers in Voodoo around the world, and many practitioners of Hoodoo as well. But many, many more people still conflate the two.
Simply put, Voodoo is a formal religion whose practitioners often use ritual to heal; Hodoo is an individualistic divination practice with few formal rules.
Unfortunately, many still believe that Voodoo and Hoodoo are one in the same (if they are aware of Hoodoo at all), and may look on them with a skeptical eye.
However, they both have strong legacies of faith in providing spiritual comfort, and individuals from all walks of life still practice to this day.