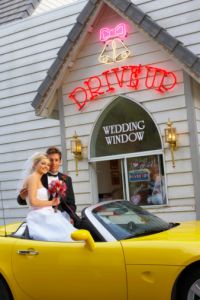 Do people spend too much money on weddings? The alternative for many is the drive-through "quickie" style of weddings performed at places like A Little White Wedding Chapel in Las Vegas. Now, a husband-and-wife pair of ULC ministers have brought the concept to the decidedly less glitzy Upper Midwest, where they have become ordained to perform weddings inside their very own little yellow chapel for couples seeking to scale back.
The Little Yellow Chapel of the Midwest
The cheery chapel in snowy Wisconsin Dells pays homage to its Las Vegas counterpart with a sign above the door that mimics the famous Las Vegas welcome sign. The Little Yellow Chapel's sign, however, reads, "Welcome to Fabulous Dells Bells". The Dells Bells Chapel is the creation of Universal Life Church ministers Scott and Tara Joles, who decided getting ordained to perform weddings might prove more satisfying than their previous careers as mechanical drafter and county clerk. Both had previously been married in typically exorbitant ceremonies and knew cheaper alternatives were growing increasingly popular.
A local, hometown version of Las Vegas-style weddings became the Joles's answer to the mounting costs of modern wedding ceremonies, which usually run into the five figures. When the couple decided to tie the knot in Las Vegas, the "get-'er-done" style for which the city is so famous proved more rewarding than they had anticipated. "Even though there was a service every 15 minutes, once it was your space, they made you feel welcome and comfortable", recalls Ms. Joles, and it only cost about $200. It was just a matter of a little creativity to translate the concept into a nostalgic Midwestern setting.
"Intimate yet Efficient" ULC Weddings
Dells Bells incorporates many of these low-cost benefits, but with a decidedly more "Little House on the Prairie" feeling. Ceremonies usually run about thirty minutes long and cost under $400, and while the standard ceremony is nondenominational Christian, they also perform secular civil ceremonies upon request. The couple are practical in their approach, too: lack of a marriage license is the only thing that can prevent a marriage from being solemnized at a Dells Bells ceremony, since Mr. Joles never asks if anyone objects.
The style of weddings held at Little Yellow Wedding Chapel of Dells Bells might not suit everybody's taste, but they provide an important, cost-effective alternative to the typical lavish ceremony. In this age of downsizing and re-examining priorities, it makes sense.