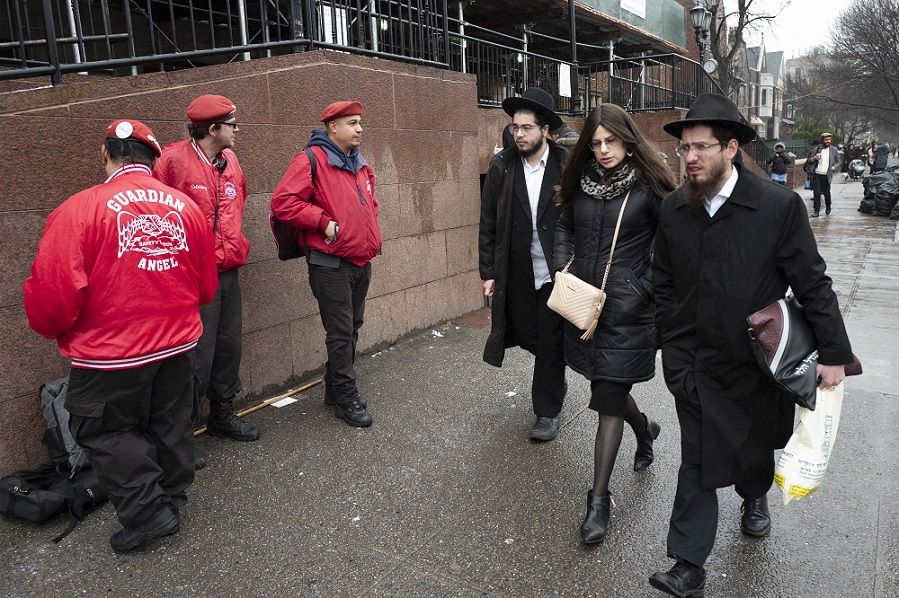 Following a slew of anti-Semitic attacks in and around New York City in recent weeks, a group of vigilantes is taking to the streets to provide protection to the Jewish community. Known as the Guardian Angels, the unarmed volunteers have descended on Brooklyn to bolster what they've characterized as lax police support in response to the crisis.
"These attacks are taking place, and the cops have not been proactive at all. It comes from City Hall and the mayor. He's been just apathetic," said Curtis Sliwa, who founded the private New York City crime prevention organization back in 1979.
Sporting red berets and matching satin jackets, the vigilantes are vowing to intervene in any hate crimes they spot – and hopefully deter attackers from engaging in violence in the first place.
"Nobody's going to commit an attack when we're around," Sliwa says. If the visual deterrence factor alone doesn't cut it, insists Sliwa, "we'll physically restrain the persons responsible, make a citizen's arrest and hold them until the police arrive."
Fulfilling the Call
The Guardian Angels' increased patrols reportedly came at the behest of the Lubavitch Hasidic movement, only hours before an attacker stabbed and wounded five people during a rabbi's Hanukkah house party in New York.
The attack was horrific in its own right – but unfortunately it was far from an isolated incident. NYPD has reported eight different attacks on Jews in Brooklyn alone since Dec. 13, including a woman who openly admitted to a hate crime after she slapping three women on the street simply because they were Jewish. Other victims reported being struck in the face and the back of the head, as well as having drinks thrown at them.
Sliwa thinks his Guardian Angels had little choice but to take matters into their own hands, seeing as the police weren't able to effectively deter the attacks.
Where are the Cops?
In response to mounting criticism, Bill de Blasio clarified that there was "no tolerance for anti-Semitism" in his city, insisting "the best police department in the world" would increase its deployment in troubled neighborhoods and launch a new intelligence unit to prevent hate crimes from occurring. Gov. Andrew Cuomo noted that "this recent spate of hate-fueled crimes is even more disturbing as they occurred during the Hanukkah holiday, a time when Jewish New Yorkers gather to celebrate."
But it's worth pointing out that anti-Semitic attacks have been rising at alarming rates beyond the boundaries of New York, and way before Hanukkah. And the consequences have been deadly.  
In early December, a couple opened fire at a kosher market in Jersey City, the attack apparently fueled by deep-seated anti-Semitic views.
And of course there was the 2018 massacre of 11 worshipers at the Tree of Life synagogue in Pittsburgh.
It is Safe to Be Jewish in America?
There was a time, not too long ago, where this might be considered a silly question. Of course Jews are safe in America – we're one big melting pot of multiculturalism and religious diversity.
But America's reputations as a safe haven for the Jewish people may be shifting; according to a recent study, one in three American Jews say they feel safer hiding their religion in public.
And the problem is far more insidious than just physical attacks. A 2018 report by the Anti-Defamation League estimated that over 3 million Twitter users posted roughly 4.2 million anti-Semitic tweets that either included or contributed to negative stereotypes and conspiracy theories about Jews in a one-year period.
While we may argue about who or what exactly is responsible for that, it's hard to argue that the Guardian Angels are serving a very real need. What do you think is fueling the uptick in anti-Semitism? What will it take to reverse the trend?