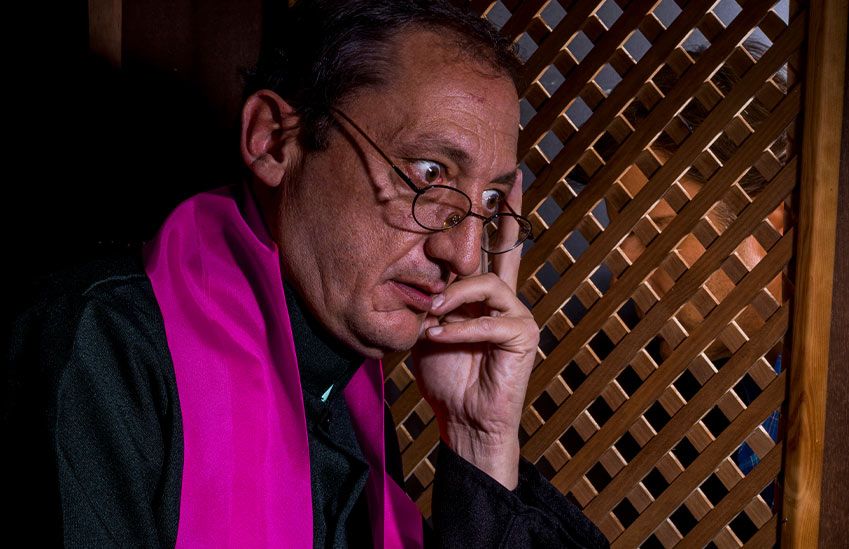 Do clergy members have an obligation to report heinous crimes to police, or does the holy confidence of the confession booth trump all? That is the question at the heart of a strange lawsuit in Oregon.
The wife of an Oregon man is suing the Mormon Church for reporting her now-imprisoned husband's criminal confession to police. The man was convicted of sexually abusing the couple's own daughter for four years, and is now serving 15 years. 
His wife has apparently decided real justice means filing a $9.5 million lawsuit against the Mormon clergy who reported her husband to authorities.
The lawsuit claims the husband, Timothy Samuel Johnson, confessed to the molestation to a local Church of Jesus Christ of Latter-day Saints panel back in 2016 after being encouraged by the church to "repent for his sins", seek spiritual healing and "bring peace within his life and family." 
One member of the panel who heard the confession took it straight to the police.
Johnson was arrested and charged a year later, and finally convicted of four counts of second-degree sexual abuse in 2018.
And now Johnson's wife, Kristine, is suing the Mormon Church. She listed herself and four of her children as plaintiffs, all of whom have been deprived of her husband's "companionship, society, love, affection" and financial support. She is seeking $5.5 million in damages for herself and $1 million each for the children.
The couple's fifth child, the one abused as a young teenager, was not listed - for obvious reasons.
What Happens in Confession, Stays in Confession… Right?
Eric Hawkins, a spokesman for the Utah-based Mormon Church, defended the decision to report. "The Church teaches that leaders and members should fulfill all legal obligations to report abuse to civil authorities. In some circumstances, those obligations may be governed by their professional duty and in others by their role as clergy. We are grateful for the efforts of law enforcement and prosecutors to investigate and pursue justice for those who were abused."
In Oregon, clergy are considered mandatory reporters, and are required by law to report suspected child abuse to authority.
While the law requires a list of "private or public" officials to report suspected child abuse to the Oregon Department of Human Services or local police, that list - which includes doctors, firefighters, teachers, social workers, and clergy  - does include certain exceptions for child abuse uncovered through "privileged" communication. The fact that the clergyman who reported the abuse, Brian Saari, works as a pharmacist for his day job, only compounds matters. Pharmacists in Oregon are also considered mandatory reporters.
Broken Promise or Moral Obligation
And yet Bill Brandt, the Salem attorney representing the family, isn't concerned with mandatory reporting laws at all, but rather faults the church for breaching confidentiality after assuring the family that confession would remain private.
He's painting the reporting as a betrayal of his client's trust and confidentiality. Brandt insists church leaders should have warned the husband they would report him to police. "That was a promise," Brandt argues, that "totally violated church policy."
"It's been devastating on the family," he argues. "They lost a husband and a father."
Righteous Indignation
The lawsuit had drawn outrage from non-profit organizations that support child abuse victims who worry failing to report pedophiles will only victimize more children.
"It's not just a parent's job to protect their kids from predators, it's the job of every single adult," explains David Clohessy, former national director of the Survivors Network of those Abused by Priests. "So adults who do put the safety of kids first should be applauded not penalized."
Of course, the irony of a church being sued for reporting child abuse is impossible to ignore. Advocates fear that if this case moves forward and is sided in Johnson's favor, clergy may be more hesitant to report child abuse that is confessed to them, for fear of being hit with a multi-million dollar lawsuit. Law professor Christine Bartholomew said that "this litigation would push courts and these religious organizations towards less transparency than more", leading to an environment where abuse can run rampant. 
If it moves forward, the case could define how church leaders react to confession in the future. Is confession truly sacred, no matter how heinous the crime? After all, clergy members hear disturbing confessions all the time- isn't that kind of the point? And yet, advocates make a great point. If this case is successful, church leaders will undoubtedly be wary of reporting the most heinous confessions to police.
Where, exactly, is the line between minister/clergy confidentiality and civic obligation to report criminal activity?