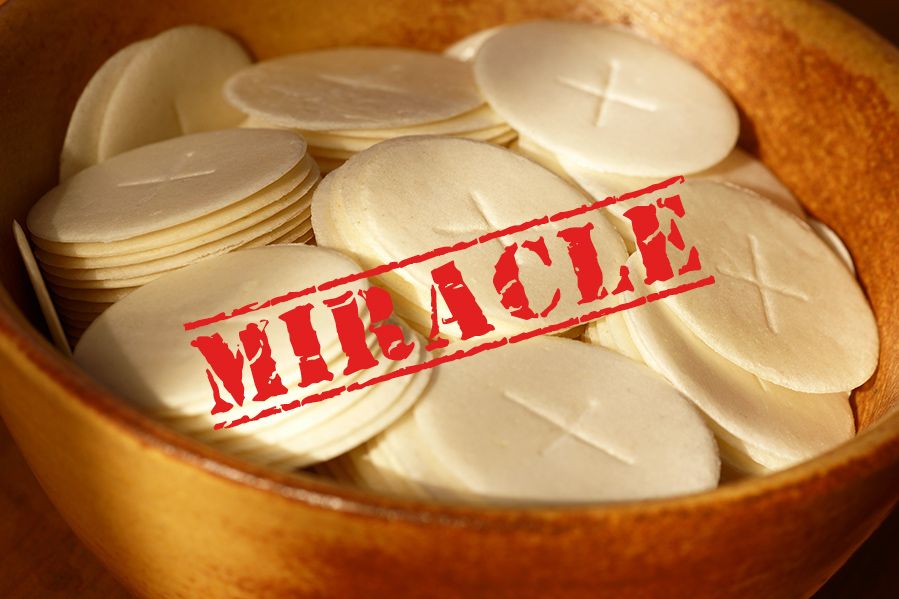 St. Thomas Catholic Church in Thomaston, Connecticut is claiming that they've experienced a bonafide miracle, and now they are calling in the Vatican to investigate.
Church officials are claiming they witnessed a miracle comparable to Jesus' multiplying of loaves and fishes. They reported the alleged miracle to the Archdiocese of Hartford, and now they're kicking the report up to the Vatican.
Did a miracle actually take place?
Go Forth and Multiply
"We had something happen," explains Rev. Joseph Crowley, who presides over the congregation. "God provides… and sometimes it comes in a weird way, in a mystical way, in a strange way," he continued, his voice nearly shaking.
"One of our Eucharistic ministers was running out of hosts, and yet they didn't."
"God has duplicated himself in the ciborium…It's really, really cool when God does these things, and it's really, really cool when we realize what he's done."
Per the church, God allegedly multiplied some Communion wafers. 
During the March 5 service, a parishioner helping with mass noticed a lack of hosts - the wafers used in Communion. Only upon a second look later did they notice the church had plenty. In a clip that's since been viewed hundreds of thousands of times, Rev. Crowley explains the miracle of the reappearing wafers.
Rev. Crowley says the discovery is nothing less than miraculous. "God provides and it's strange how God does that. And that happened," he explains. Rev. Crowley referred the miracle to the Archdiocese of Hartford, which oversees the church. Upon review, the local archdiocese believes this has to go to the top.
"Reports such as the alleged miracle in Thomaston require referral to the Dicastery for the Doctrine of the Faith in Rome. The Archdiocese has proceeded accordingly, and will await a response in due time," explained archdiocese spokesman David Elliott. 
The dicastery is the oldest office among Roman Curia, and is seated in Rome.
Now the church waits for judgment, to learn if the multiplying wafers are deemed a miracle or not.
Misplaced Faith?
While church officials seem convinced of the miraculous multiplying wafers, skeptics say this is no more miraculous than misplacing one's car keys and finding them later.
"Good grief!  Someone saw the container was empty & added a bunch more & they call it a miracle?" said one commenter. "So I guess the stockers at grocery stores are also miracle workers?"
"Oh come on! Either a hoax or someone was confused," exclaimed another exasperated social media user.
Despite the online ridicule and skepticism, the church and the archdiocese are sticking to their miraculous claim.
It would certainly be easy to dismiss the incident as a simple case of miscounted inventory.
Yet, considering this alleged miracle has made it further up the chain than most, perhaps there is something there? The church and archdiocese certainly seem to think so. 
What do you think? Miracle or misplacement?